20 Must Watch Films At Jagran Film Festival
by The Daily Eye Team
September 28 2015, 6:51 pm
Estimated Reading Time: 13 mins, 30 secs
Beginning with 'Standing Tall' directed by Emanuelle Bercot which opened the Cannes Film Festival this year, the 6th edition of Jagran Film Festival presents an exciting collection of 20 must watch films.
1. THE WAKHAN FRONT
(Nil le cielni la terre)
Director: Clément Cogitore
Afghanistan 2014, as the withdrawal of troops approaches, Captain Antares Bonassieu and his squad have been assigned a surveillance mission in a remote valley of Wakhan, on the border of Pakistan. Despite Antares and his men's determination, control of the secluded valley will slowly fall out of their hands. One dark night, soldiers begin to mysteriously disappear in the valley.
The film directed by Clément Cogitore, a writer-director was among the Official Selection at Cannes Film Festival 2015.
2. THE BODA BODA THIEVES
Director: Donald Mugisha, James Tayler
Unemployed teenager Abel spends his days in the company of frauds and petty criminals in Uganda's capital Kampala. His father tries to make an honest living as driver of a motorbike taxi, a so-called "bodaboda". One day, he is injured while working overtime. He still owes his rather unsympathetic boss money, so Abel has to jump in to prevent his father from getting into serious trouble. But instead of working hard, Abel decides to use the motorbike taxi for criminal ends. Things go very wrong and the bodaboda ends up being stolen. All Abel can do is go looking for the stolen motorbike taxi in the large city he calls home.
Straight out of Berlinale 2015, Durban and Seattle film festivals, the film is a must watch.
3. THE SNAKE BROTHERS
(Kobryaužovky)
Director: Jan Prušinovský
The brothers Viper and Cobra are unable to build up a life to be satisfied with. Viper, unemployed and lonely, does not know how to escape from the shadow of his junkie and troublemaker brother. Until one day he decides to teach him a life lesson he should never forget…. A lesson that without control will turn into a nightmare.
The film had its international Premiere in Competition at Vukovar Film Festival and won Best Actor Award (KryštofHádek) at Karlovy Vary IFF!
World Premiere in Competition at Karlovy Vary International Film Festival recently.
4. POSTMAN'S WHITE NIGHTS
(BelyenochipochtalonaAlekseyaTryapitsyna)
Director: Andrei Konchalovsky
The film represents life in a godforsaken Russian village. The only way to reach the mainland is to cross the lake by boat and a postman became the only connection with the outside world. A reserved community has been set up here. Despite the modern technologies and a spaceport nearby the people of the village live the way they would in the Neolithic Era. There is neither government nor social services or jobs.
The postman's beloved woman escapes the village life and moves to the city. Postman's outboard engine gets stolen and he can no longer deliver mail. His normal pattern of life is disrupted. The postman makes a decision to leave for the city too but returns before long with no certain reason. The script is based on real characters' stories. People from the village play their own parts in the film. The search for the protagonist lasted for over a year.
Winning a Silver Lion at Venice Film Festival, the film is a must watch.
5. BRIDGEND
Director: JeppeRønde
"Bridgend" follows Sara and her dad, Dave as they arrive to a small village in Bridgend County. The village is haunted by suicides amongst its young inhabitants, and Sara falls dangerously in love with one of the teenagers, Jamie while Dave as the town's new policeman tries to stop the mysterious chain of suicides. The film is an uncompromising story focused on the relationship between vulnerable teenagers and their parents who are left in the dark. The story of the film is based on a mysterious suicide cluster that took place in Bridgend County, a small former coal-mining province in Wales. Between December 2007 and January 2012 seventy-nine suicides were officially committed in the area. Most of the victims were teenagers, they hanged themselves and left no suicide notes. Danish documentary filmmaker JeppeRønde followed the teenagers from the area for six years and wrote the script based on their life stories. Bridgend is Rønde's fiction film debut. It is entirely shot on location in Wales, with many of the local teenagers casted as actors.
Winning the Hivos Tiger award at IFF Rotterdam, the film has been to Tribeca, Krakow and many other festivals and is on the 'must watch list'.
6. FISHING WITHOUT NETS
Director: Cutter Hodierne
A desperate Somali father becomes a pirate in order to feed his family, but experiences an intense crisis of conscience in this thought-provoking drama. Abdi knows that his wife and child could starve should he fail to find work fast. After falling in with a band of local pirates, he helps to capture a French oil tanker, and the ransom negotiations begin. Meanwhile, as the money is being transported, Abdi strikes up a tenuous friendship with a frightened hostage. Abdi's resolve is soon tested, however, when some of his fellow pirates display a shocking tendency towards violence
The film won the Best Film award at the Sundance Film Festival.
7. CHOTODER CHABI
(A Story about small people)
Director: Kaushik Ganguly
Focusing on the predicament of those born with genetic defect causing dwarfism, the film is the love story between Khoka and Soma. Shibu is a trapeze artist who is confined to his bed after a horrific accident. His juniors are angry with the Circus Manager for paying only Rs. 15,000 as compensation to the family, but they can't do anything about it as the Circus is the only place where they can earn a regular income. Khoka, Shibu's closest friend, is moved by the condition of the family and decides to protest the Manager's apathy, and finally leaves his job. He becomes the go-to man for Shibu's family which constitutes of his wife and daughter Soma Struggling with debt, poverty and the society's indifference to them, the film takes flight when Khoka realizes that he is failing in love with Soma.
8. ASHA JAOAR MAJHE
(Labour of Love)
Director: Aditya VikramSengupta
Set in the crumbling environs of Calcutta, the film is a lyrical unfolding of two ordinary lives suspended in the duress of a spiraling recession. A young Bengali couple living in a recession-hit Kolkata, their humdrum middle-class existence filled with monotonous jobs and punctuated by meal breaks and sleep. They never meet each other. For, the man works at night in the printing press of a newspaper, and his wife during the day in a handbag factory. With Ritwik Chakraborty as the husband and Basabdutta Chatterjee as his wife, the movie chugs along sporting only two characters, the tedium of their lives coloured by the couple's love for each other, which is exemplified through her cooking and his washing up.
The debut feature by Aditya won the National Film Award this year.
9. DETECTIVE BYOMKESH BAKSHY!
Director: DibakarBannerjee
In a contemporary interpretation of war torn Calcutta during the 1940's, the film follows the first adventure of Byomkesh, a fresh graduate, as he pits himself against an evil genius who is out to destroy the world. It's his wits against the most villainous arch criminal the world has seen, in a world of murder, international political intrigue and seduction.
Even though released commercially, the film is a visual treat for its set design and brilliant directorial craft.
10. KAAKKAA MUTTAI
(The Crow's Egg)
Director: M. Manikandan
Two slum kids want nothing more than a slice of pizza. PeriyaKakkaMuttai and his younger brother ChinnaKaakaMuttai growing up in a slum, who make their living stealing coal from the railway yard. Their father is in the jail while mother brings them up. The urchins have their own dreams like any other kids and here, they want to try out a Pizza from the newly opened Pizza shop. Their curiosity about pizza is because, the new shop is opened by Tamil star Silambarasan. They decide that by hook or crook, they will gain entry into the upmarket Pizza shop and have a slice of it with their own money. Will they succeed in their attempt?
Director Manikandan's debut is wonderfully crafted film and a must watch.
11. AROHI
(A flight of steps)
Script, Cinematography, Direction: Arup Manna
The story revolves around a small middle-class family consisting of the husband Raja, his wife Rani and the nine years old daughter Violina. Rani dreams of a bright future through her daughter but Violina despite trying hard, fails to keep pace with her mother's expectations. To improve chances of Violina's success, she is even dispatched to a boarding school but even there she cannot succeed. The poor girl begins to suffer from a fear-psychosis about her studies. Rani's dreams shatter but once back from the hospital, Violina realizes her Mother's pain, and determines to fulfil her mother's expectations. Rani too advised by the Doctor begins to go soft on the girl understanding her trauma.
National award winning director Arup Manna's Assamese film is in the Indian Competition section and a must watch.
12. KALIPPATTAKAARAN
(Toymaker)
Director: Shinos and Sajas Rahman
The film tries to define 'solitude' along with showcasing a young man's struggle for existence to find his self-identity. To suppress himself from the aching reality that his long lost childhood friend ANNA may never comeback, SEBA hides himself in a mask of his own fantasies. He meets RADHA and slowly she became his childhood friend ANNA and the sole possessor of his TOYS. For Radha, Seba was an elopement from her own aching realities and she metamorphoses herself into Anna. SEBA finds his fantasies and realities merging into one and happiness of finding his childhood friend is followed by a sorrow of losing his beloved mother. Radha willfully transforms herself into the dual roles of being his girlfriend ANNA and his mother at the same time.by the time both of them have their first Child and they named their Child 'RADHA'. One day, a dream disrupts everything. It helps Radha to realize her true self. The false identity haunts Radha so much so that she returns home to be the real RADHA. When Seba and his daughter (child Radha) are about to plummet into the deep trench of solitude, another ANNA appears. From here on the movie truly treads in the planes of fantasies. At the end ANNA has to return to where she came from, but this time when she leaves, she is taking a special toy that SEBA presented to her, his daughter RADHA.
Another debut film in Malayalam language by these Director brothers is an awards contender and a must watch.
13. LAJWANTI
Director:Pushpendra Singh
The light in the Thar Desert in Rajasthan makes the saris worn by the women on their way to the well appear even brighter than they already are. In this almost archaic seeming procession, Lajwanti remains hidden from sight behind her veil, until a man with an odd obsession for pigeons crosses the women's path. Lajwanti's curiosity is aroused, as she removes her veil and steps out of her invisibility. She becomes a woman of her own free will, no longer waiting fearfully to see if happiness will find her.
Premiered at Berlinale, this FTII Professor's film is also a brilliant debut.
14. MASAAN
Director: NeerakGhaywan
Four lives intersect along the Ganges: a low caste boy in hopeless love, a daughter ridden with guilt of a sexual encounter ending in a tragedy, a hapless father with fading morality, and a spirited child yearning for a family, long to escape the moral constructs of a small-town.
The film doesn't need any introduction now. Although released commercially, a must watch.
15. CHIMES AT MIDNIGHT
(Campanadas a medianoche)
Director: Orson Welles
Sir John Falstaff is the hero in this compilation of extracts from Shakespeare's 'Henry IV' and other plays, made into a connected story of Falstaff's career as young Prince Hal's drinking companion. The massive knight roisters with and without the prince, philosophizes comically, goes to war (in his own fashion), and meets his final disappointment, set in a real-looking late-medieval England.
A Swiss adaptation of Shakespeare's work by Master Director Orson Welles, the film is a must watch.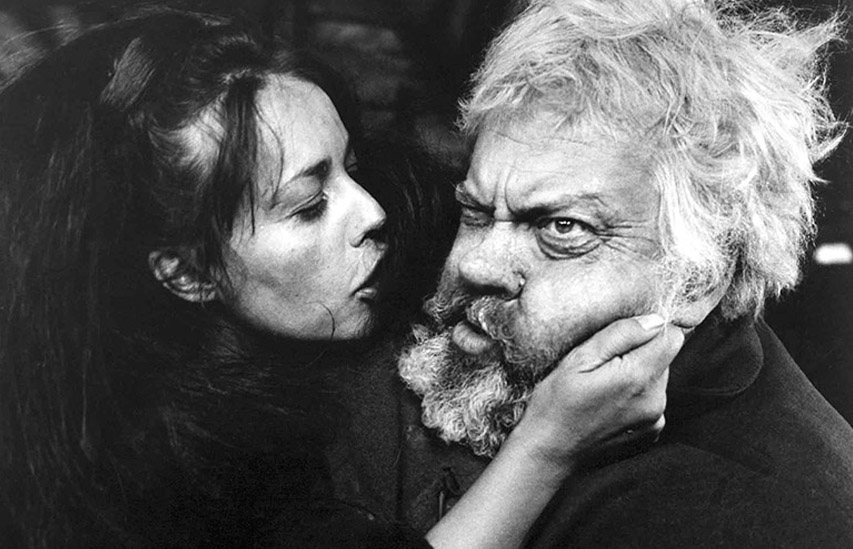 16. KING LEAR
Director: Jean-Luc Godard
Everything returns to normal after Chernobyl. That is, everything but art. Most of the great works are lost, and it is up to people like William Shakespeare Junior the Fifth to restore the lost artwork of the human race. He finds strange goings-on at a resort enough to remind him of all the lines of the play, dealing with mob boss Don Learo and his daughter Cordelia, a strange professor named Jean Luc-Godard, who repeatedly xeroxes his hand for no particular reason. He is followed by four humanoid goblins that keep tormenting Cordelia. There is also the gentleman whose girlfriend, Valerie, isn't always visible. Then the film is sent off to New York for Mr. Alien to edit.
Anything from Jean –Luc Godard is a must watch.
17. CAESAR MUST DIE
Director: Paolo Taviani, Vittorio Taviani
Inmates at a high-security prison in Rome prepare for a public performance of Shakespeare's "Julius Caesar."
Winner of Golden Bear at Berlinale, this Shakespeare adaptation is a must watch.
18. The Pursuit of happyness
Director: Gabriele Muccino
A struggling salesman takes custody of his son as he's poised to begin a life-changing professional endeavor. His grit and determination to succeed at any cost despite the challenging poverty and frustration make him a winner at last.
Winner of several awards, this heart rending tale of a father is a must watch.
19. Life is beautiful
("La vita è bella")
Director: Roberto Benigni
"A bureaucrat tries to find a meaning in his life after he discovers he has terminal cancer. As the story proceeds he explores satisfaction and fulfilment in others' happiness."
A cult film now by Benigni this one is also a 'must watch'.
20. Little Jerusalem
Director: Karin Albou
"The Tunisian-French Laura is a young woman that lives with her Orthodox Jewish family in the Jewish community in the suburbs of Paris. Her mother is a widow that left Tunisia; her sister Mathilde is having troubles in her marriage because she repressed her sexual desire based on her misunderstandings of the principles of her religion. Laura is an open minded student of philosophy and works cleaning a school in the nightshift. While Laura feels a strong passion and desire for her Muslin Algerian colleague, her sister finds that her husband had an affair with a woman and looks for an advisor that helps her to interpret the true meaning of love and the duties of a married woman."
Last but not the least, Winner of Best Screewriting award at Cannes Film Festival (2005), Little Jerusalem is yet another 'must watch film'.
Dates: Monday, 28th Sept' 2015 – Saturday, 4th Oct' 2015
Venue: Fun Cinemas and Prithvi Theatre
Time: 10.00 am onwards
Registrations: www.jff.co.in
*****
About Jagran Film Festival:
Jagran Film Festival (JFF) is an initiative by the Jagran Group towards creating a culture of cinema appreciation. JFF is an honest and sincere attempt by Jagran to spread this culture, and create a platform that connects great content with audiences across the country. The festival screens films across genres, documentaries and world classics apart from student films and ad films. A unique feature of JFF is that the cast and crew of a few select films are invited to a discussion with the audience on various elements of the film. An important aspect of the festival is to generate a discussion on the various aspects of Cinema and its impact on society and popular culture. A series of Panel Discussions will be held with deliberations by eminent personalities from the film industry.