Damien Chazelle's 'First Man' premieres at the Venice Film Festival
by Sukanya Sudarson
September 6 2018, 4:37 pm
Estimated Reading Time: 2 mins, 23 secs
Damien Chazelle's American biographical drama First Man had its world premiere at the Venice Film Festival on August 29, 2018. Chazelle attempts a biopic on the first man who landed on the moon, Neil Armstrong and the movie is the director's next work after his much-acclaimed musical drama La La Land. The film stars Ryan Gosling as Neil Armstrong, alongside Jason Clarke, Claire Foy, Kyle Chandler, Corey Stoll, Ciarán Hinds, Christopher Abbott, Patrick Fugit and Lukas Haas, and follows the years leading up to the Apollo 11 mission to the moon in 1969.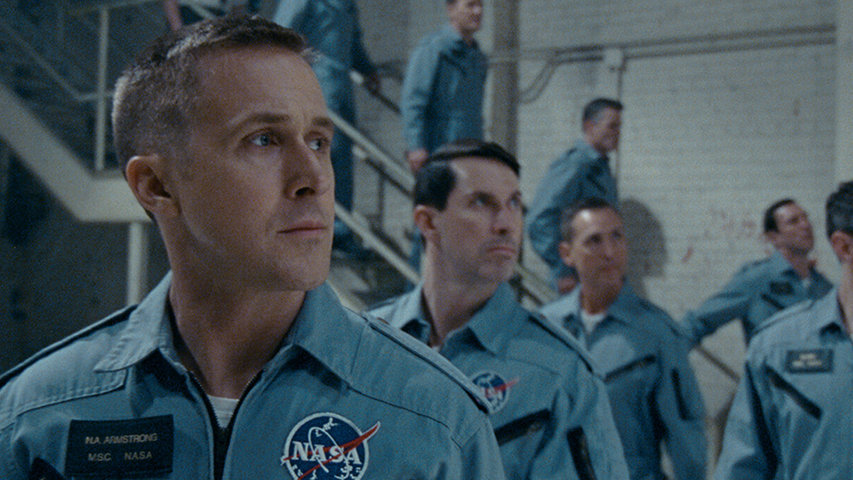 LRyan Gosling in the First Man
First Man is written by Josh Singer based on the book First Man: The Life of Neil A. Armstrong by James R. Hansen. The film has already started garnering positive reviews with praise for Gosling and Foy's performances and Chazelle's direction. Nicholas Barber of the BBC gave it a five-star rating stating that "Gosling and Foy's performances in First Man are probably too unshowy to win awards. But they should, because they could hardly have been bettered. The same goes for the whole of this extraordinary film."
Gosling, who dons the lead role, told Venice Press, "I've never had more help in my life on a film. Whether it was Neil's sons or his late ex-wife Janet or Neil's sister, his childhood friends… NASA opened the door to the facilities. Neil was a very famously introspective quiet humble person so the challenge was to honor that but also to create windows into what he might be or had been experiencing emotionally at the time."
Ryan Gosling, Claire Foy, Damien Chazelle (Shutterstock)
Owen Gleiberman of Variety called the film "so revelatory in its realism, so gritty in its physicality, that it becomes a drama of thrillingly hell-bent danger and obsession." Writing for IndieWire, Michael Nordine awarded the film a B+, describing as "A powerful experience that will inspire renewed awe of what Armstrong and his ilk did." Nordine praised the opening flight sequence, Gosling's performance and Chazelle's direction. Diana Dabrowska from Cinema Scope wrote, "Armstrong's trip becomes a means for emotional emancipation, a backdrop for an intimate, universal story about dealing with trauma." She also praised The Crown's actress Claire Foy calling her "The true heart of the film".
The film also screened at the Telluride Film Festival on August 31, 2018, and will screen at the Toronto International Film Festival on September 9, 2018.
While the film's first trailer centered around NASA and the tense build-up to the moon landing and the second trailer focuses in on Ryan Gosling's dour Neil Armstrong and his family, including his sons and his wife, Janet, played by Claire Foy. First Man is scheduled to be released in October 2018, by Universal Pictures. Until then, watch the incredible trailer above.