DARE TO DREAM
by Khalid Mohamed
June 24 2022, 12:00 am
Estimated Reading Time: 13 mins, 33 secs
Khalid Mohamed interviews Shriya Pilgaonkar, the multi-faceted actor who has knocked out bravura performances in films, theatre, and web series including Mirzapur, Guilty Minds and Broken News.
Her resume would wow Elon Musk, Bill Gates and more. She's a professional swimmer, a trained Kathak dancer, a graduate from St Xavier's college. She has studied basic Japanese, and is a model, a film, web series and theatre actor. Hang on.
She made her Hindi film debut in the Shah Rukh dual rolewala Fan (2016) and had earlier featured in the Marathi film Ekulti Ek (2013), then hopped over to Harvard for a summer course, which enticed her to direct a short film (Painted Signal), besides co-directing another short film Dresswalla as well as a documentary, Panchgavya, on the plight of wandering cows in Bikaner. No full stop here.
As importantly, she's featured in a clutch of web series including Mirzapur, the British series Beecham House, House Arrest, Guilty Minds and, lately, Broken News on the Machiavellian ways of prime time TV channels. That's some varied way to go, right?
Now something told me that I should have contacted the daughter of seasoned actors, Sachin and Supriya Pilgaonkar, way earlier. That was after watching one knockout of a performance by her in Broken News as a TV producer-cum-anchor. Ergo, there I was Whatsapping her for a belated parlez-nous, which did transpire over a clear cell line on the phone. Over then to excerpts of my confabulation with Shriya Pilgaonkar:
Is there any question you have never been asked before?
What? No, no, probably that's the only question I've never been asked. Really, sab toh poochh liya hai sabne.
Think! You have no deep and dark secrets to spill?
I'm taken aback. What should I say? No, there aren't even semi-deep and dark secrets. (Getting formal) All I can say is that right now I'm trying to evolve as an actor, there are so many aspects within me to explore. It would be boring to describe myself as a good girl, the trouble is I happen to be one. I bear no grudges against anyone, there is no one I hate. Hate is a strong word. I wouldn't want to give that control or energy to anyone, it's too draining. I'm protective about myself.
No confrontations ever on the sets or locations at shoots?
Only trivial ones. Like a vanity van kept changing, one of them was even broken during a shoot. Inefficiency does bother me. Everyone deserves to be respected on a film set. Nobody should be taken for granted. Neither can we live in a bubble. Anyway if a production team goofs up, it's sorted out, so the best thing is to be patient. Chaos toh har set pe hota rehta hai. In any case, I have no qualms about apologising. An actor can lose one's perspective momentarily. In such circumstances, I just Google a picture of The Galaxy and realise how insignificant we humans are. That always puts things in place for me in my head.
You've never thrown a tantrum?
Never! I wouldn't know how to throw one. Believe me, tantrum kabhi nahi hoga, kabhi nahi hoga.
You're sounding as repetitive as Vyjayanthimala from the Sangam song: Hoga, hoga, hoga…
(Laughs) I'm sure I am. The point is I'm just not rebellious. Doing the right thing comes naturally to me. Although I'm the only child of my parents I was never pampered in a way that would spoil me. I have always been grateful for my simple non-filmy upbringing. I have never felt the need to throw a tantrum for anything either.
Oh, oh, that makes me sound much too privileged, doesn't it? See, it's like this. When I was a kid I wanted to get into sports. So my mother had imposed a super strict diet on me. I have a sweet tooth and if I craved a sweet, a laddoo for instance, that was strictly forbidden. Once when I was in the U.S. for a training session, I insisted on having this one kind of ice-cream. And guess what my mother did? She got me a healthy option and it tasted terrible. But it helped me, haha.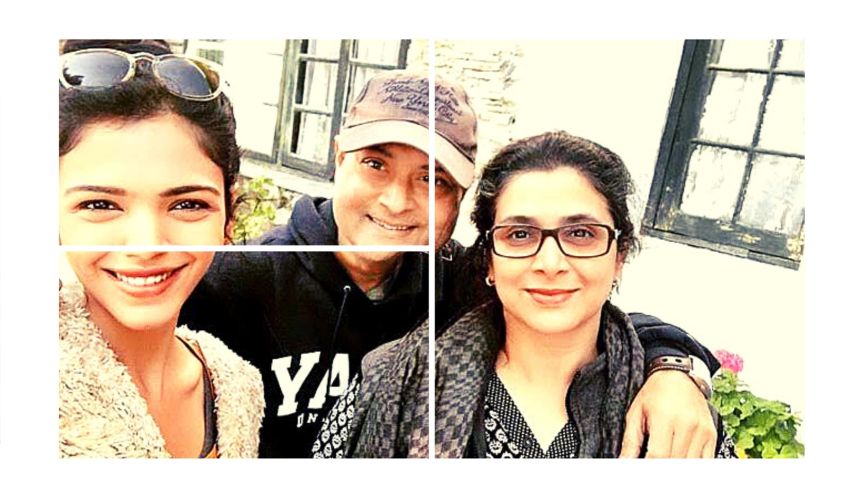 Right. To paraphrase my first question, is there anything in particular you would like me to ask you?
Just give me a minute. (Pause) Yeah, what did you dream about last night? I have very vivid dreams, For years, I've been noting them down in a diary. Believe it or not, I'm quite intuitive. If not the next day, then some days, or weeks later, I meet up with that person or land up at that place I've dreamt about.
Example, if I dream about a school friend I haven't met in years, then I suddenly do in real life. So, I look forward to my dreams, maybe it's a way of escaping into a wonder realm. I feel there's a lot that surfaces in our dreams, which taps our subconscious. There are no ghosts or demons mercifully. As soon as I wake up, I share my dream with mom or dad, so that it remains fresh in the memory.
Are you likely to ever publish a book of your dreams?
No way, that would mean a lot of refinement because most dreams by their very nature, are fragmentary. I've never over dissected them. I want that mystery to remain.
Let's suppose you did publish this book of dreams. What would you call it?
Ha, ha. Daring to Dream maybe.
Years ago, I would hear about you as a gifted actor from other hopefuls of the Vile-Parle, Juhu, Andheri belt. Did you have to struggle to find your place in the sun like all of them do, often in vain?
Most definitely, I've been a struggler like them.
But I don't see 'struggle' negatively at all. It's a part of the process, which can evolve into different connotations at different stages of your career. Because I'm a daughter of actors, it doesn't mean it has been a cakewalk for me at all. I have had to carve out my own niche because it's not as if I got some grand debut. I have earned my place through my work.
Frankly, I had no intention whatsoever to act. Anyway, opportunities don't knock out of thin air, do they? Some 10 years ago, Karan Shetty asked me to audition for a short play, Freedom to Love, which was to be a part of the Short and Sweet Festival at the NCPA. The audition required me to act, sing and dance, which I did and I was in the play.
In a way you've been all over the place… er… like an amoeba.
Ha! I guess I love to explore, I'm a nerd at heart. Just give me an audience and I'm ready to perform, it's as if I lose myself in whatever I'm doing. In fact, I'd like to be a producer, director, actor, and participate in any form, which involves storytelling.
I have always had a performer's instinct, but I discovered my love for acting organically. I never took it for granted. Acting happened because my dad had completed a script for the Marathi film Ekulti Ek about a relationship between a father and daughter who meet up for the first time after years. I wasn't sure about doing the role but he said, "I would be stupid to invest in you if you weren't right for the part." The first time I ever faced the camera was with dad and Ashok Saraf, it went off quite smoothly in two or three takes. I get a kick out of acting, exploring a character seems to come naturally to me.
Incidentally, for me the success of Mirzapur was a major turning point, the popularity of my character Sweety Gupta really changed the momentum for me. I experienced what fame is like for the first time in a proper way, which I'm grateful for. Then the series Guilty Minds was one of my first opportunities to sink my teeth into the character - Kashaf Quaze remains very close to my heart. I received so many messages from young lawyers, which were inspiring.
You use the word 'exploring' quite frequently.
What to do? (Laughs) Maybe I have a limited vocabulary. And I am an explorer at heart.
What was it like working for the Oscar-winning French film auteur Claude Lelouch, who's 84 now, in Un Plus Une?
It was unbelievable. Claude Lelouch was so full of fun and life and is a great lover of India. I'd seen his Un Homme et Une Femme, which is a classic. And after my audition, I was shocked to know that Un Plus Une starred Jean Dujardin who was in The Artist, which I'd seen at the Mumbai film festival. Everyone was immersed in the project, there were no language boundaries at all.
And though I just had a cameo role, I was at the film's premiere in France. I think Un Plus Une and the British series Beecham House were steps in the right direction because my aim is to work in many more international projects (laughs) - that's an area I'd like to explore.
Are any questions from me forbidden?
Go ahead. I presume it's about whether I'm seeing some guy! Sure, I've fallen in love once during and once after college. Sadly, love didn't materialise. I was heartbroken, then got over it. Now when I say I'm single, I'm not willing to disclose whether that's true or not. I'm super private.
Ah, I get it, it must be kept a secret. No dream guy even?
(Pause) Oh, I've developed a crush on Andrew Garfield who's so fantastic in the movie Tik Tik…Boom! Earlier, I had a crush on Benedict Cumberbatch, and before that, Shah Rukh Khan of course.
Which of our female actors do you admire?
Alia Bhatt, who's so good. And Tabu, whose choice of films and performances have been so amazing. And you might be surprised but whenever I'd work in a film or play, Geet of Jab We Met was often mentioned as an 'adjective'. Directors would say, "Do that like Geet would." The way Kareena Kapoor approached and enacted her character, continues to have an emotional resonance.
Which films have influenced you?
There are so many. Off the cuff, besides Jab We Met, I would mention Asghar Farhadi's A Separation and Mira Nair's The Namesake... Irrfan Khan was stupendous.
And which books have shaped your values?
Two years ago, I started reading The Mahabharata. It has so many philosophical aspects that one lifetime isn't enough to understand its depth and philosophy. I also read Yuganta, Irawati Karve's study of the female characters in the epic, which is so insightful.
The lockdown during the pandemic made me return to my habit of reading every day. I was quite bowled over by Nicole Krauss' History of Love. Currently, I'm into Elif Shafak's The 40 Rules of Love.
To move on to your role of Neha, who works at a call centre, opposite Shah Rukh Khan in Fan, it didn't quite register with the audience, did it?
I was quite aware of the fact that it wasn't my great big debut in mainstream cinema. But I didn't want to lose the opportunity of acting with Shah Rukh Khan. Whether a role is brief or lengthy shouldn't matter to an actor.
It's not all about acting though. Perhaps if the film had done well, it would have made a world of a difference. Also the perception of the audience about a good actor depends on his or her projection and image building in the media. So many newcomers are seen on the covers of magazines before their debuts. I could and should have been more visible during the release of Fan.
On another note, casting doesn't depend solely on an actor's merit. A filmmaker may want to introduce a newcomer or a more saleable name, which is fair enough. It's only rarely that an Adarsh Gourav (White Tiger), Pratik Gandhi (Scam 1992), and Rasika Dugal who has excelled in so many series and films, have made their mark on their own steam.
At present I'm playing a sex worker in Taaza Khabar, which is quite a U-turn from the morally righteous Radha of Broken Dreams and Kashaf of Guilty Minds. I'm also into the action terrain with Apoorva Lakhia's Crackdown. Besides there's a film called Ishq-e-Naadan, a romcom. Matlab koshish jaari hai. I'm very grateful for the exciting phase that I'm in and want to explore my versatility.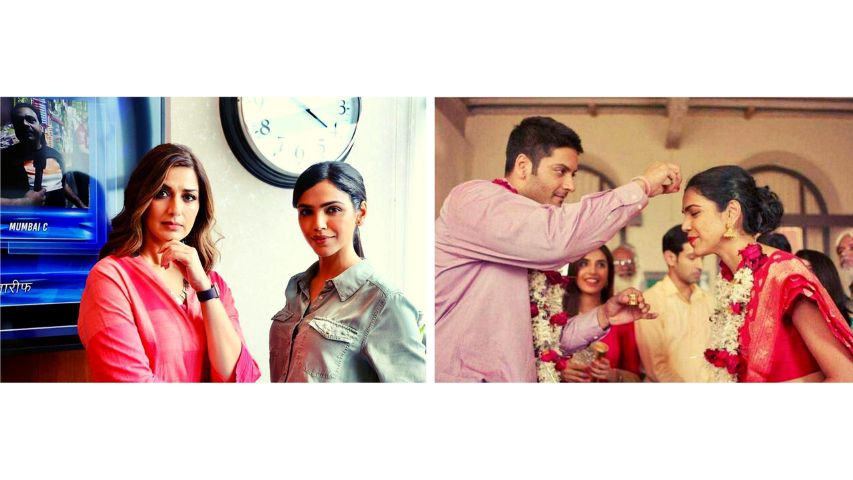 Explore! Okay, to portray the journalist Radha did you get into any research for Broken News?
To be honest, no. I wasn't playing a full-time anchor but a behind-the-scenes TV producer largely. She is a super passionate character who can also be temperamental. She is complex, which is fun to play. That I could do spontaneously. My favourite scenes are those between my boss, Sonali Bendre. They could have been shown as bitchy and competitive but the director, Vinay Waikul, created a mutually empathetic bond between the two women.
I also loved my dynamic with the character of Jaideep (Ahlawat). He is one of the finest actors we have today. What an honour it was to do those scenes with him.
Were you cool about what are called 'intimate scenes'?
There was just one kissing scene in Broken News, which was necessary to drive the plot forward because of the revelation at the end of that scene. In the original script, there were some more intimate scenes. I discussed them with Vinay and he agreed that they weren't essential. I'm not prudish at all. I do intimate scenes if I see them making a difference or an impact on the overall story. I always have boundaries about what I am okay with and not okay with.
What's the wildest thing you've done?
(Dog barks in the background) Oh, that's Jack, my One-Eyed Jack, we adopted him eight years ago. I think he's saying it's time I took him for his walk.
As for the wildest thing I've done, I may not want to share that right now, ha! Let's just say I've had a lot of adventures, especially while travelling. Backpacking all over Japan alone is one of the wildest things I would say. (Laughs) I don't know if that's your definition of 'wild' though.
About the craziest thing I've done most recently is to finish a shoot at 12.30 a.m. and rush to attend the celebration party of Broken News, after which I partied till 4.30 a.m. and returned to the shoot at 5 a.m. Don't worry, I was wide awake at the dot of time before the camera. But for once, I missed out on my dreams that night.