'Evening Shadows' spreads the message of Sweekar
by The Daily Eye News Desk
July 12 2018, 4:35 pm
Estimated Reading Time: 4 mins, 3 secs
While currently the Supreme Court is hearing a clutch of petitions around Sec 377, the film Evening Shadows is propelling the dialogue through cinema and discussions. This award winning narrative film is continuing it's very successful festival run with official selection at 18 international film festivals across the globe and garnered two awards. But more importantly it is raising awareness about acceptance of LGBTQ persons by their families, which becomes more important in the Indian context where social prejudices and dogmas are still prevalent.
Sridhar Rangayan, director of the film, has been invited to Los Angeles to present the film at Outfest Los Angeles on July 15th, one of the largest LGBTQ film festivals in the world with an attendance of more than 45,000 people.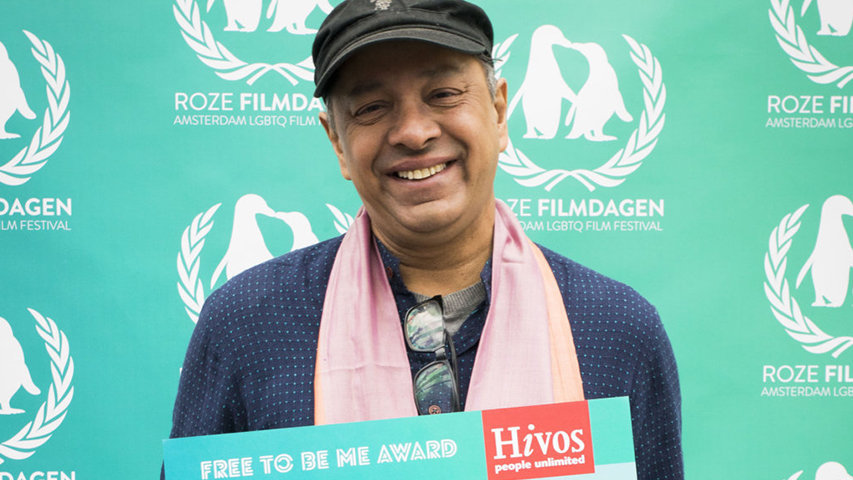 Sridhar Rangayan I Pic- Luna Pols
Rangayan has also been invited to speak at PFLAG Los Angeles, the local parent's support group on July 18th – about the film and about 'Sweekar – The Rainbow Parents', which is the Indian support group for parents of LGBTQ persons. PFLAG, which stands for Parents, Families and Friends of Lesbians and Gays, is a pan American support group with chapters in several cities. (http://www.pflagla.org/events.html)
"I am delighted to be invited to screen the film at Outfest, and doubly delighted to be invited by PFLAG Los Angeles to speak at their monthly meeting. I will be speaking about Sweekar, the parents support group in India which is doing amazing work around spreading the idea of acceptance by parents of LGBTQ children. Both the film Evening Shadows and the group Sweekar are very dear to me", said Rangayan.
Mariette Sawchuk, President of PFLAG Los Angeles said, "We are delighted that Sridhar Rangayan is speaking at the July 18 meeting of PFLAG Los Angeles. His film Evening Shadows movingly depicts the severe challenges LGBTQ persons face in India and other parts of the world. It's important for allies like us to be aware of these hardships. The brave parents who have formed 'Sweekar - Rainbow Parents' remind us of our founder Adele Starr. If we can support them in any way, we stand ready to help."
As part of Evening Shadows film's mission to spread awareness about acceptance, the producers Solaris Pictures donated 10% of the money raised through crowdfunding for the film, to help kickstart a parents' support group: 'Sweekar - Rainbow Parents' which now has more than 40 parents in Mumbai and other parts of India. They have participated in Pride marches in Mumbai and Pune, been part of panel discussions, including the recent one at KASHISH Mumbai International Queer Film Festival and also have meetings where they share stories and plan future activities.
Padma Iyer, who is one of the core team member of Sweekar said, "The pain and agony that a child goes through in the closet, is also the pain that the parent goes through when they understand that they are alone in this journey of acceptance. Sweekar means acceptance and that's how the support group 'Sweekar - Rainbow Parents' was formed. The group is a movement that has no boundaries and we are thrilled that Sridhar Rangayan will be connecting our group with the larger PFLAG group through his talk at PFLAG Los Angeles".
Another mother Aruna Desai, who is core team member of Sweekar and one of the Co-Producers of the film Evening Shadows, having contributed to the crowdfunding campaign said, "As a mother and a co-producer of the film, I am very happy to see overwhelming positive reactions from the audiences across the world. The intention of the movie is to help people understand that LGBTQ are just like everyone else and deserve the same rights and respect. I hope this film reaches to more and more people and brings about a change."
Evening Shadows is a film about mother son bonding that is put to test when the son tells his mother that he is gay. The film stars Mona Ambegaonkar, Ananth Mahadevan, Devansh Doshi and Arpit Chaudhary in the lead.
The film has received a UA certificate by the Censor Board, which the producers hope will enable it to have a wider release in theaters and on television.
Since its first screening in February at the Mardi Gras film festival in Sydney, Evening Shadows has already been selected to screen at 18 international film festivals. It has won two awards - 'Celebration of Courage' award at Out Here Now: Kansas City LGBT Film Festival and the 'Free To Be Me' award at Roze Filmdagen, Amsterdam.
Event Page of Los Angeles festival: https://www.outfest.org/filmguide/eveningshadows/
Event Page of PFLAG event: http://www.pflagla.org/events.html
Facebook link to Sweekar: https://www.facebook.com/SweekarTheRainbowParents/