Bill Gates salutes 'Heroes from the Field'
by Yash Saboo
August 29 2018, 4:07 pm
Estimated Reading Time: 2 mins, 48 secs
Billionaire philanthropist and Microsoft founder Bill Gates is a source of inspiration for many people. But, who were his inspirations, who shaped him to be the person that he is today? Bill credited his teachers on his blog GatesNotes and wrote, "When I was a student, I was lucky to have some inspiring teachers - including a wonderful librarian when I was in the fourth grade and a chemistry teacher in high school - who challenged me and brought out my best. They helped make me the person I am today."
Speaking of teachers, Gates also wrote about Mandy Manning, a teacher who works at Ferris High School's Newcomer Center in Spokane, Washington and specializes in teaching English language development to immigrants and refugees. She received a huge shoutout and video interview with the Microsoft mogul in his blog as part of his foundation's back-to-school awareness campaign, reported Fast Company.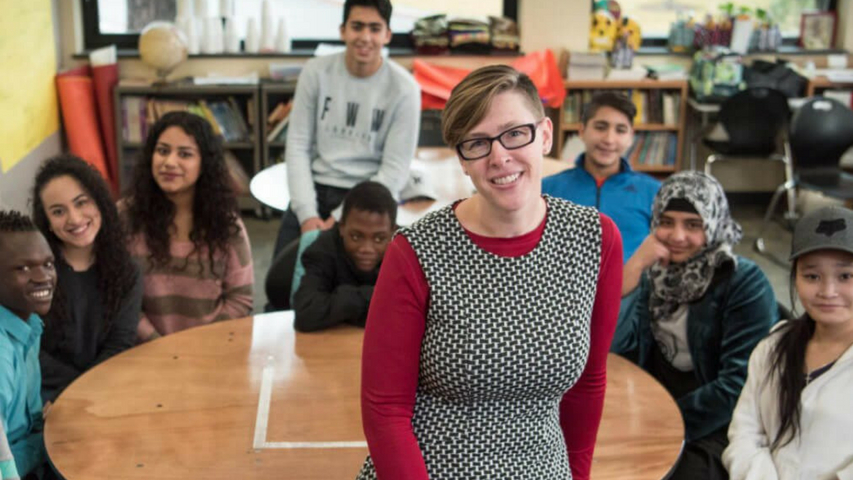 Mandy Manning with her students (ewu.edu)
"Hearing Mandy talk about her students reminded me of one of the biggest strengths of America's public schools: They are intended to help every child succeed," Gates wrote.
According to CNBC, Manning told Gates that many of her students have fled war and extreme poverty in their home countries and arrived in the U.S. with no English, but they are "innately hopeful, because they came out alive."
So she strives to show them how a school is relevant and can lead to a more optimistic future. "You can become a time traveller, seeing yourself in the future going to a university," Manning is quoted as saying in Gates' post. Manning, who has been a teacher for 19 years, said she believes demonstrating the value of education is important not just for students but for wider society.
"To be welcomed with open arms and to know that people want you there; that is going to make a tremendous difference in how they interact in their new community ... how they move forward in life," she said.
She was asked by Gates to share her thoughts in a separate piece on "how teachers can collectively continue to impact the country". Manning wrote that she has witnessed first-hand how teachers can influence change when she attempted to distill a federal law in Washington State. The law was meant to improve kids' access to recess in order to promote health and fitness, but was "vague enough to be interpreted differently among school districts," according to the report.
"It's mostly about cultural exchange," she said. "I bring back what I learn, and they hopefully have learned a little from me."
"Some had up to 60 minutes of recess a day, while others had virtually none," she wrote, noting that those who suffered the most were in low-income areas. Recess policy in the Seattle area changed when local educators corrected the problem and mandated that all districts allow for 30 minutes of unstructured recess a day.
"This is a prime example of how educators can use their experience to impact local policy," Manning said. "As the people who interact with students every day, we know what is best for them in the classroom, and we must lead not only in carrying out policies, but in developing them in the first place."