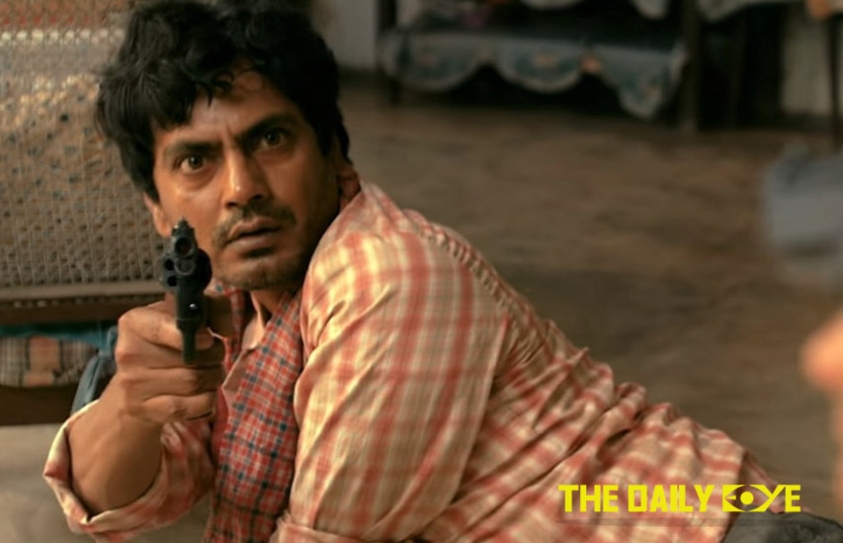 Babumoshai Bandookbaaz
by Himanshi Saboo
August 25 2017, 8:22 pm
CAST: Nawazuddin Siddiqui, Bidita Bag, Shraddha Das, Jatin Goswami, Divya Dutta, Anil George
DIRECTION: Kushan Nandy
GENRE: Action
DURATION: 162 min*
The Bandookbaaz Nawaz might have fired his dialogues with the right aim, the other parts of the movie are precariously arranged. Evidently similar to the film's title. One of the additions to the gangster sagas we have been watching since a decade, it had the look and feel of Kashyap's prized possession Gangs of Wasseypur.
Infinite slurs and bullets fired from every direction, this is a story about a contract killer Babu who savagely goes around killing people and making it look as easy as eating pie, soon his path crosses with another known contract killer Banke, often both receive the same contract and get into a dirty fight with him again and yet again.
Nawaz gets his contract through a paan spitting female politician Sumitra played wonderfully by Divya Dutta and a corrupt and sleazy businessman Dubey. Babu has been killing since he was 10 and very hungry and from there on the killing spree hasn't stopped.
Soon the story-line get fuzzy, there are too many characters without a significant story, the viewer expects a single story to be larger than the other but it never happens. Though there is a dearth of talent with Nawaz being at the top there are too many bullet holes to the story that stops it from being intriguing.
Before the intermission, the story takes an 8-year leap and Banke is shown to be in an open marriage with Shraddha a dancer at a bar, while Babu is now a shoe mender married to Phulwa who orders him to kill people, this part of the story feels like an unnecessary addition to bring sexuality and titillation in the context. When Banke meets Phulwa he is attracted to her also.
The look and feel of the film is exactly like Gangs Of Wasseypur but when it comes to a plotline it doesn't have any. Not even performance driven actor like Nawazuddin Siddique can save from the misfire. Bidita plays her role extremely well and both her seducing and the emotional drama feels nothing but real. Divya Dutta stands out in a powerful performance full of expletives and spitting that will be remembered even later. Jatin Goswami too makes his presence felt.
The story ends with a Russian roulette and Banke and Babu's life and death contest that is fairly predictable. One of the most important parts of a gangster story is a strong motive and persona, the viewers might get confused as even though Babu kills left and right he doesn't impart fear.
The movie has raw sexuality, ganger dialogues spoken without an error and the right cast but misses on story and plotline to make it stand out from all the other gangster movie we have watched. There are too many stories within which is trivial and inconsequential to the climax after a point one tries to detach itself from the movie and watch the actors deliver their performances.
Bandookbaaz easily transfers to Dialoguebaaz and leaves us disappointed, only watch it if you are a Nawaz fan.