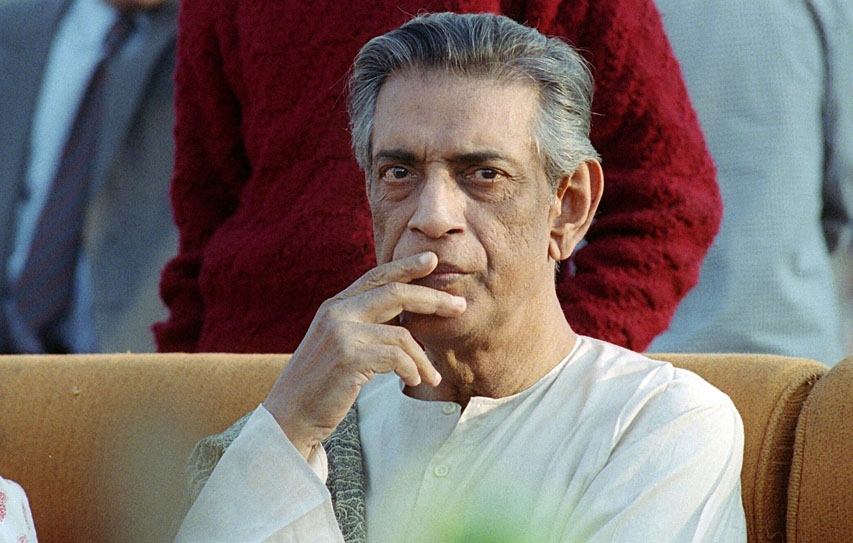 Rediscovering Hidden Treasures : Hirak Rajar Deshe
by Rinki Roy Bhattacharya
February 4 2016, 9:47 pm
Estimated Reading Time: 4 mins, 27 secs
The most renowned Indian film maker internationally, doubtless, is Satyajit Ray. His advent with the iconic debut, PatherPanchali (The Song of the Road) heralded an outstanding artist who attained meteoric heights at home and the world. It is no surprise that his name is familiar to a discerning audience in the West and other parts. It may strike one as ironical therefore that his works are not equally familiar to Indian audiences in other States as much his home state, West Bengal.
Unless one is a film buff, a viewer in Mumbai may not even know the titles of Ray's outstanding works. And this is truer of his children's films. Goopey Gyne or Hirak Rajar Deshe, for example, remain inaccessible to Ray admirers at home or abroad. There are, of course, numerous reasons for this, language being the main culprit. The average Indian viewer is not comfortable reading subtitles. For a viewer in Chennai or Chandigarh or Mumbai, Ray's films have to be watched with English language- subtitles. As a result, his body of work belongs to a cluster of films that appeal to those interested in cinematic heritage to film society members more than the average Indian viewer.
During one of my infrequent visits to meet, Manikda, as I called him, I ventured to ask why his delightful children's films were not known outside Bengal. He was quick to answer:
"These works are essentially for a Bengali audience" adding: "What happened was that these films took three to four years to reach the foreign market. There was a definite time lapse in showing them here and there."
Language is the greatest single obstacle for a film, or a book, to find its audience outside. This is true of most writers and film makers. A born film buff, I could not have enjoyed a Fellini or Kurosawa had their works not been subtitled. In the case of Ray his first major children's film, the delightful musical Goopey Gyne, Bagha Byne, adapted from his Grandfather Upendra Kishore's celebrated book swept the Bengali audience. But it is virtually unknown to his audience outside West Bengal. Even the most enthusiastic overseas Ray fan, may find it difficult to enjoy this delightful fantasy. That has not prevented that film and its sequel Hirak Rajar Deshe to gain classic stature in Bengal. And justly so. The simple parable of two leading characters, Goopey the singer and Bagha, the drummer have become celluloid folk heroes. This film's shoddy subtitles do not do it justice. The many songs written in a rural dialect refuse to translate. I remember struggling to subtitle Hirak Rajar Deshe when NFDC assigned me this work. I decided to catch up with Manikda and watched Hirak Rajar Deshe late one night.
I am still very partial to Goopey Gyne, the black and white precursor of Hirak Rajar Deshe. The film, technically dated, proved a fun viewing, sparkling with wit. It has two of my all-time favourite comedians, Utpal Dutt and Robi Ghosh. Utpal Dutt made the happy cross over outside Bengali stage and cinema. To mention one, his forceful performance in Golmal was a laugh riot. I doubt however if anyone outside Bengal knows of Robi Ghosh, the superlative actor. He got a fleeting part in some forgotten Hindi film. Robi Ghosh is not just a superlative actor, he is a world class comedian who can deftly turn the most mundane situation seamlessly into a hilarious experience. Spontaneous, wearing a deadpan expression – which is the true hall mark of all great comedy stars - he charms viewers almost instantly. I have no hesitation in putting Robi Ghosh in the same league as Robin Williams, another great favourite of mine.
Watching Hirak Rajar Desh was a revelation. An eye-opener. It is amazing how Ray skilfully tucked in a biting political satire deceptively disguised as a children's film. Unlike his renowned works,it is a fantasy film where reality takes the back seat. Layered with coded meaning, the film expressed sharp criticism of a dictator's despotic zeal to mind control his subjects. The code word in Bangla is magaj dholai – brain washing, in plain English. Ray's colourful, jocular characters speak against intolerance, condemn regimentation, fanaticism, and ruthless repression of social dissent. All the issues we are grappling with today.
Hirak Rajar Deshe is a timely warning how human values are slaughtered daily at the altar of the mindless ruling minority hell bent on destroying democratic ideals. It is surprising to find contemporary social content in a film ostensibly made for kids made at a relatively less troubled time! A clever strategy, why be surprised? Poets, film makers, painters have always found escape routes to free art from the shackles of blood-thirsty despots.
And all through his film, Ray engages with his audience marvellously yet remains the outsider, the sutradhar, commenting on the social situation with satirical lyrics, double meaning dialogues he wrote. A film like Hirak Rajar Deshe makes us rediscover our sense of humour lost in the frenetic pressures of urban living. And we also become aware how a serious artist like Satyajit Ray created his own inimitable brand of laughter therapy. We need it more than ever, watch the film.