Count your blessings: name them One by One
by Aroona Bhat
April 16 2020, 12:58 pm
Estimated Reading Time: 5 mins, 6 secs
Roads utterly empty, except for a stray vehicle here and there, I proceeded to drive towards the vet's clinic. Lucy Diamond needed to see him that very morning and I managed to get an 11am slot from him. By the time we had reached his clinic, this little brat of mine was perfectly fine. Considering the vet is good looking and everyone of his patients 'mothers' & 'Grandmothers' have a crush on him, including my mother in law, who swears to follow him to the other end of the earth, I am quite certain that Lucy Diamond too wanted to break her quarantine, locked down at home status and be seen with him.
Post being told that she was a good girl, a sweet many times by the handsome vet, we hopped into the car to head home. I just got in from the drivers side and just as I was settling in, I heard a knock on my window. An absolutely old lady, no mask, just a sari on her and her head covered to keep away the immense heat that has already hit Ahmedabad. On top of her head, was a little bundle, also wrapped in an old cloth? I figured that was what we would typically call "Bori Bister." I partially lowered the window and asked her how I could help her. She could barely speak and appeared very parched. I gave her a small bottle of water that we had carried for Lucy Diamond. She gratefully took it from me; wet her lips with just a little water. I suggested to her to drink up. She said she couldn't as her husband was sitting under a tree in the middle of the divider and pointed out to him.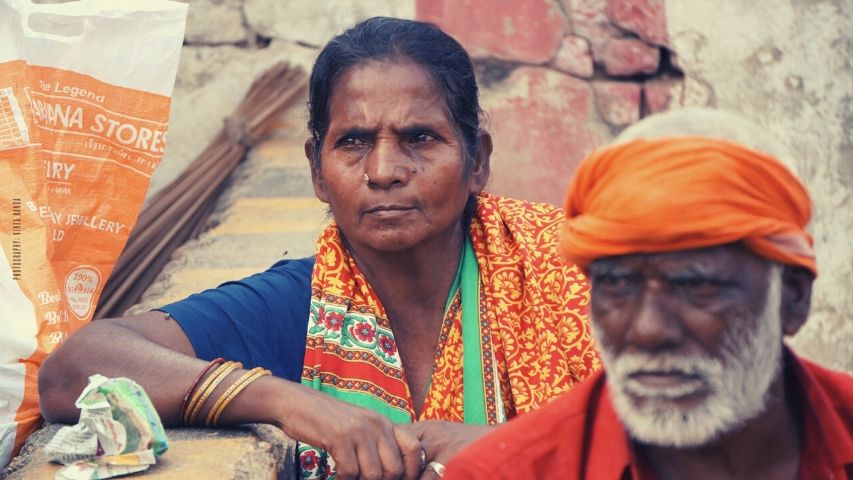 A few more minutes into our conversation, I figured it all. They are daily wage workers in one of the construction sites and so are her kids. Her four sons had walked back to their village in Rajasthan after the parents assured them that they would manage. But they clearly could not. I asked her where they were staying, and she said "we are moving and walking about so someone can take pity on us and take us home too." I broke the news to her. I told her that that would not be possible for a few days at least. Obviously the Prime Minister's speech was never ever going to be heard by people like her. Nor where they're any one who would or could tell them about it and guide them. Their only possible source would have been their sons, but they were long gone.
I asked her to go and sit with her husband and we went off to the closest supermarket and bought them ready to eat things like Khakras and Bread, small tetra packs of juice that didn't need to be refrigerated, water to drink and masks so that they would walk around once food we got them, got over. We even gave them some money and asked them to be safe.
We went back the next day to check on them and they were gone. I pray for them and hope they will be able to reunite with their children somehow given the further extension of the lockdown.
From the very first day of the lockdown I was constantly talking about this very thing, the labor class that works for us, either for a monthly salary or the daily wageworkers. The PM's addresses never seem to cover them at all. There was another set of people, about whom I never took anything at all seriously, despite various messages on Facebook and Whatsapp - people like you and me, people with resources. What was the point of worry you may ask, our mental well-being.
And I read about one such - You and me kind of person. I saw her post on Facebook, openly admitting that she had lost it this particular morning and was fortunate enough to reach out to her father who had the right wisdom and attitude to get her out of this situation.
That took me straight back to another conversation I had had, with a neighbor who lives alone and seems to be surrounded in utter paranoia. She lives alone post her old mother's passing. She couldn't even get herself to come out of her locked home and step into mine in a situation where I desperately needed help. And I never knew her to be thus.
Isolation has turned into fear and fear into paranoia. Escalated nervousness seems to be part of every one's reactions. I dread to think what it must be doing to people with already existing preconditions like OCD, anxiety and high levels of stress. This invisible virus is also creating havoc amidst the elderly. Loneliness, helplessness seems to be their breakfast, lunch and dinner. While the whole world believes that the elderly need to spend their time with their grandchildren and interacting with others, so that they can fight loneliness, helplessness, anxiety and possibly depression too, here comes a situation where they cannot touch or feel the very beings that give them emotional stability. Just imagine that.
For the rest of us, I hope this is a lesson. Watching the elderly and reading about what they may be going through, I hope will teach us a few things. Regardless of circumstances I hope we learn to take a moment to celebrate life, every now and then. If you feel you are slipping, then do what Jay Shetty advises you to – SPOT – STOP - SWAP. Spot when you are slipping, stop whatever the negative thought is and swap that for something positive.
Like I was reading somewhere - Yesterday is not ours to recover, but tomorrow is ours to win or lose.
Stay positive, Stay Kind, Stay compassionate and the universe will see you through.