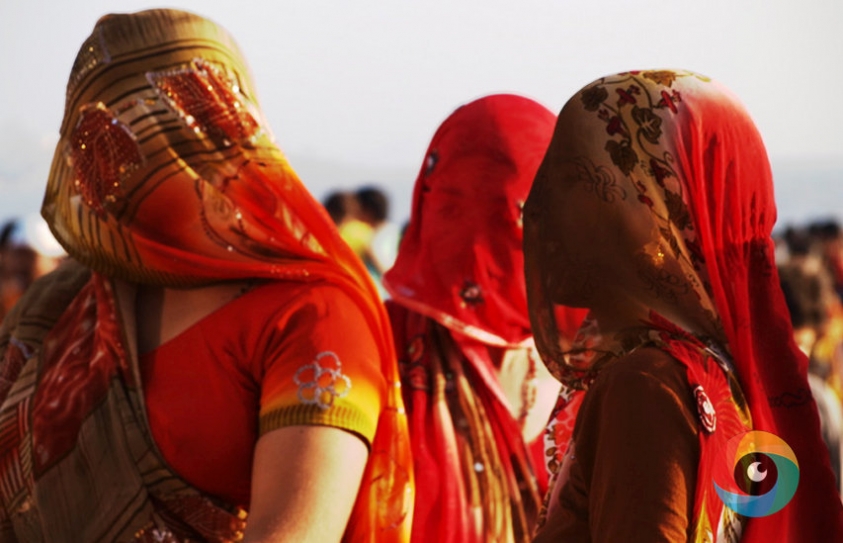 Ghoonghat - Haryana's veiled identity!
by Aakanksha Solanki
July 27 2017, 6:20 pm
Women's acquiescence and sanctity plays a vital role in demonstrating the honor of a family, society and the entire nation with several other connotations. We've never seen a woman happy in her discreet self and her independence is often considered to be insecure or inappropriate by the patriarchal society we live in.
A government-run monthly periodical in Haryana has mentioned that ghoonghat or veil as the identity of Haryana, causing a huge chaos. It clearly says, "Ghoongat ki aan–baan, mhara Haryana ki pechchan (The veil is the pride and identity of my Haryana)" that shows a photograph of a veiled woman alongside the caption that appeared in a recent issue of Krishi Samvad.
There's a disjunction in this recent issue that was published. Haryana is the only state with the most gradient sex ratios amongst all the states. Once with the most assertive campaigns about saving the girl child and with all the selfies posted with daughter just to spread the quintessential message of educating the girls. A state that has brought about Olympic women champions which was very much male-dominated. Where is all that now?
It comes as an utter disgrace that with so many campaigns being shouldered to spread the message of educating the women, Haryana government chooses to publish a picture of a woman in ghoonghat that covers her face as the pride of their state. The veil still been considered as archetype for a woman's dignity whereas, wearing a ghooghat never a cultural norm. In fact, it was a practice of ancient times during foreign invasion to guard our women from the terror of intruders.
This custom came into being to safeguard not only a women's prestige but also that of her family, community and nation. During the war for independence, men sexually abused women and sexual slavery was enforced on women. Chastity of a woman is the biggest asset of a community and if it is not held high patriarchy is struck.
A woman is often found guilty for no fault of hers, when patriarchy is infringed. Bina D'costa once mentioned an unpleasant story of a woman who was raped at the time of Bangladeshi Liberation War in 1972. The victim was forbidden from fetching water from the well and as soon as the community found out, she was labeled as 'Birangona' also referred as the war heroine in their local slang, which meant the women who suffered rape during the Bangladeshi Liberation war. The victim is considered as a living example of the wounded male ego. And hence retreats herself from the society for survival. This act however goes to fuel the masculine ego and that is how the customs go on and on.
However, exercising claims on a women's freedom of choice is synonymous to cuffing her for being a woman. Even to this day the society in inclined towards supporting the orthodoxy and traditional mindset. The women struggle each day to break this praxis, which has been going on since eternities.
On a concluding note, this entire act can be considered as absolute hypocrisy and it's about time we uproot these deep-seated traditions and give our women the deserved freedom.