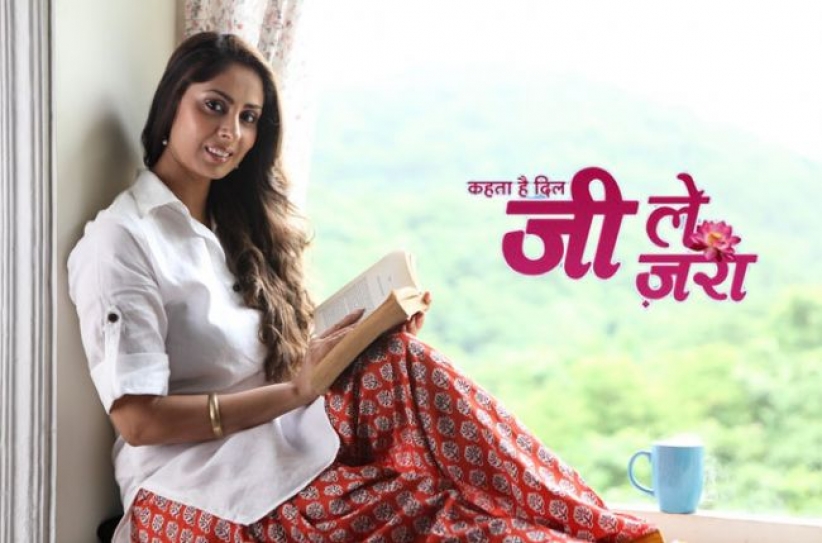 Fresh & Sharp @ Prime Time – Kehta Hai Dil…Jee Le Zara
by Piroj Wadia
February 5 2014, 2:44 pm
Estimated Reading Time: 3 mins, 47 secs
Well, Kehta Hai Dil…Jee Le Zara completed 100 episodes in January end. Wonder what the detractors have to say now. Because when it started on August 15, 2013, there was some uncertainty about how viewers would take to a love story between a 30+ woman and a 20+ young man. This wasn't the first time that Indian television viewers were watching an older woman-younger man love story. In 2003- 2006, Zee TV telecast Astitva – Ek Prem Kahani, which had already explored this concept where the age difference was 10 years. Considered among the 'boldest' shows in television history, the plot soon digressed into extramarital affairs, divorce, kidnap etc. Director Ajai Sinha had taken it down a serious, mature and intense path. Niki Aneja and Varun Badola played the lead; Aneja's was a sterling performance. But as it progressed and when it ended, the viewer well forgot that the plunge was an older woman marrying a younger man, etc.
Jee Le Zara is a more peppy kind of a love story, almost a RomCom. Sangeeta Ghosh returns to TV post-marriage in a role which might seem tailor made for her. Ruslaan Mumtaz is an actor who has made an offbeat switch — from films to TV. There's certain freshness in the series despite the presence of television's long time talent like Delnaz Irani and Amit Behl, along with Sulbha Deshpande. Most episodes crackle with hilarity. The chemistry Sangeeta and Ruslaan share on screen energizes the viewer too.
Never mind the TRPs, etc., Kehta Hai Dil…Jee Le Zara reached where it has because of several factors. First, it is a fresh concept in the current milieu, where the saas-bahu and family melodrama don't have the driver's seat. Two, it has taken much of the action out of Mumbai and any other city, to Panchgani. Even a camera pan across the forest cover and the new dwellings in the hill station is a relief from skyscrapers and Mumbai's teeming roads. It has two very able actors in the lead. Sangeeta Ghosh has certainly matured as an actor. Earlier viewers were irritated with her eye expressions which in themselves were a handful and her trademark wide eyed anger and frown. Today, the actor is using her face much to advantage and her eyes too are more expressive. Ruslaan Mumtaz' DV brings energy to the screen, teasing the audience as much as he does Sanchi. He is the epitome of attitude and cockiness which today's young men flaunt. At the same time, he brings in a softer, vulnerable touch when hurt.
Most of the other performances are evenly matched, right down to the nosy neighour Ulka. Shulbha Deshpande and Meenakshi Sethi are just the pair of foils Sanchi needs in her staid life. Sure they worry about her and want her to marry, but with they give the grand daughter enough cause to worry too. Among the finer performances are Delnaz Irani and Amit Behl both experienced and capable actors, otherwise underutilized on TV, because they are selective in the roles they choose. This time, both have roles which they flesh out in their own ways. Amit Behl is a master of being menacing without resorting gestures or raising his voice, the soft, enunciated tone and a subtle facial expression deserves plaudits. Delnaz Irani is increasingly refining her performances from over-the-top funny woman, to a soft, but funny warm likeable nuanced performance.
What has really contributed to the series' overall impress is that the producers Shristi Arya and Goldie Behl have a fine script team with Niranjan Iyengar, Anjum Abbas and Purva Naresh doing duty with script, screenplay and dialogues. The direction team of Sidharth Sen Gupta, Mohit Hussain, Bhavna Sharma and Shivani Gujrati has fine tuned each episode to hook the viewer. Vishnu Pandey and Mukesh Mandloi sharp editing is the finishing touch.
The current episodes show, the band and bajaa are ready for the baraat. But, the pheras won't be smooth, as we all know. After that what else is in store?
So far the producers have kept the twist in the plot turning sharp and quick. We hope the producers adhere to this style and that the plot doesn't digress into prime time tedium.