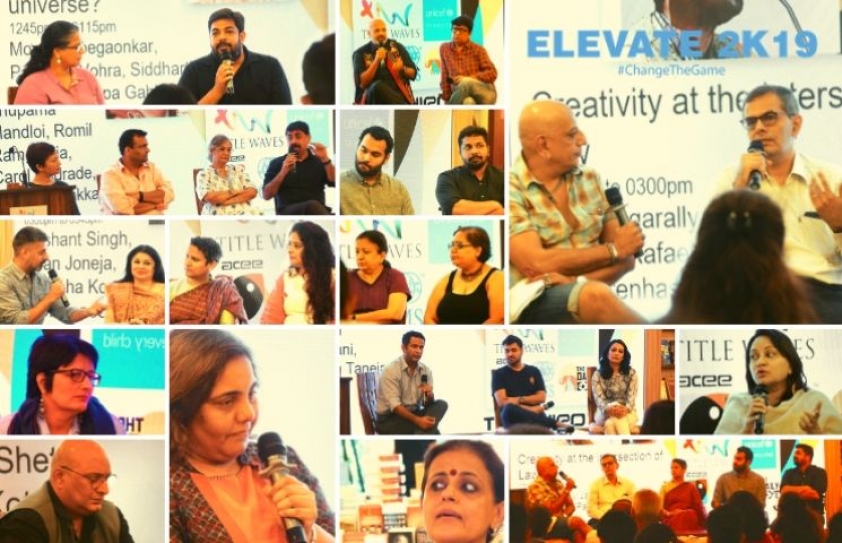 Elevate 2K19: Over 20 speakers took stage to explore different varieties of Storytelling
by The Daily Eye News Desk
June 18 2019, 8:42 am
Estimated Reading Time: 4 mins, 52 secs
Asian Centre for Entertainment Education and its flagship program The Third Eye launched its annual conclave, ELEVATE, in July 2013 as a platform for thought leaders and specialists to share their experiences with creative communities of media and entertainment in India. The one-day annual conclave is a platform for journalists, writers, authors, producers, directors, networks and studio executives to meet experts, specialists and social scientists and to participate in interestingly curated interactive sessions to discuss contemporary ideas, innovations and concepts surrounding storytelling. The objective of hosting this exchange annually is to create synthesis between diverse specialisations and creative communities that, will evolve storytelling progressively and help leverage popular and mainstream entertainment to transport latest paradigms of change to their audiences. Global leaders from the industries of entertainment, development sector and academia have participated in Elevate over the last five years.
During these discussions, which started in 2013, the participants have collectively envisioned strategies for mainstreaming innovations and ideas that promise us progress and change, through all varieties of storytelling. They have set goals for themselves at each of the conclaves held so far and everytime when they reconvened over the years, they have taken stock of progress and approved the next set of targets to be achieved.
It was at Elevate 2K18 held last year that, the participants decided to work with each other and The Change Narratives Alliance (TCNA) was born. Today the alliance has partners from all varied fields of development, research and storytelling from around the world. UNICEF, Centre for Media Studies and ACEE have collaborated to bring the alliance partners together for a number of meetings over the last one year, in which several targets were set and met with. The partners in TCNA include Foundations (BMGF, UNICEF), NGO's (Population First, Population Foundation of India, BBC Media Action), Research and Evaluation partners (World Banks DIME unit and Centre for Social and Behavioural Change), Academic Institutions (Ashoka University), Audience Research Council (BARC India), Networks, Studios (ZEE, Star), Content Strategists (Cinema Collective, ACEE), Producers (Sesame Street, ACEE), Digital Platforms (Indian Television.Com, The Daily Eye), Legal Illuminators (International Legal Alliance) and Associations that govern the Industries of Media and Entertainment, like the Producers Guild of India, Cine & TV Artistes Association (CINTAA) Screenwriters Association (SWA), Creative Council of India (CCI) convened by ESSAY and Rising Phoenix and Progressive Directors Alliance.
Many of the members who have participated in discussions with the partners and have joined the alliance along the way include writers and directors Zama Habib, Gajra Kottary, Atul Tiwari and Veena Bakshi, Lawyers Jamshed Mistry, Rafael Pareira, Producers Priti Chandriani, Kulmeet Makkar, Fashion Designer and convernor of Creative Council of India Salim Asgarally, Models and Actors Sandhya Shetty, Amit Behl, Sushant Singh, Sunil Sinha, Ayub Khan, Paayal Nair, Ananya Datta, Deepak Qazir, Mona Ambegaonkar and Raj Zutshi and HR professional Kishore Velankar.
While technology has unleashed several avenues for creative communities to harvest their craft in numerous ways, audience involvement has got splintered and is therefore challenging storytellers to address multiple experiential formats. Elevate 2K19 held at the bookstore Title Waves on 13th June 2019, threw light on the emerging media and entertainment landscapes to determine the many varieties of storytelling art and thus their appeal to diverse demographics, cultures and socio-economic population segments.
As we are all experiencing it now, media and entertainment has faced multiple disruptions over the last three years, which has impacted entertainment consumption exponentially. It has thus resulted in not just changing media and entertainment viewing habits but even altered the presentation, formats, structures and styles of storytelling. Today there is a hunger among populations to see how the universe responds to their needs as well as how their own lives are reflected through storytelling to the rest of the world. In a country as diverse as India, where there are several languages spoken and many more cultures expressed through storytelling across genres, it is inevitable that content now becomes a conglomeration of a variety of impressions.
In the 4th edition of Elevate, Asian Centre for Entertainment Education hosted panel discussions, presentations and interactions amidst a powerful exchange of ideas between speakers belonging to diverse specialisations and expertise.
This year the program brought together creative communities of the industries of media and entertainment with development and legal luminaries, social scientists and experts from multiple disciplines.
Panelists who lit fire to the discussions at Elevate 2K19 were Vinata Nanda CEO ACEE, AL Sharada, Director Population First, Writers Gajra Kottary, Manisha Korde, Jyoti Kapoor, Selina Sheth, Author and columnist Deepa Gahlot, Paromita Vohra, Agents of Ishq, Siddharth Khaitan, Creative Director Applause Entertainment, Kiran Joneja, Actor and Director Ramesh Sippy Academy of Cinema and Entertainment, Romil Ramgarhia, CEO Broadcast Audience Research Council, Carol Andrade, Dean St Pauls Institute of Communications Education, Anupama Mandloi, Former Managing Director Freemantle and Creative Director and Consultant, Ankur Mehra Head Media Partnerships Facebook and his team Diwaker Chandani and Jasleen Taneja, Luis Miranda Chairman CORO India, Salim Asgarally, Director ESSAY and Convenor Creative Council of India, Lawyers Jamshed Mistry (International Legal Alliance), Rafael Pareira and Ruben Mascarenhas, Actors Sushant Singh, Amit Behl, Producer and CEO Producers Guild of India, Kulmeet Makkar, PN Vasanti, Director Centre for Media Studies and Alka Malhotra, Communications for Development Specialist UNICEF India.
The partners who collaborated to make the event successful were, UNICEF India, The Change Narratives Alliance, Title Waves, Creative Council of India, Cine and TV Artistes Association (CINTAA), Screenwriters Association (SWA), Producers Guild of India, Broadcast Audience Research Council (BARC), The Daily Eye and Centre for Media Studies (CMS).
The interactions, discussions, presentations and talks provided knowledge support to the participants; namely creative communities from across all desciplines of storytelling, grassroots organisations, academic institutions, councils, alliances and the associations that govern the business of media and entertainment in India; on issues surrounding health, gender, environment and sustainability.