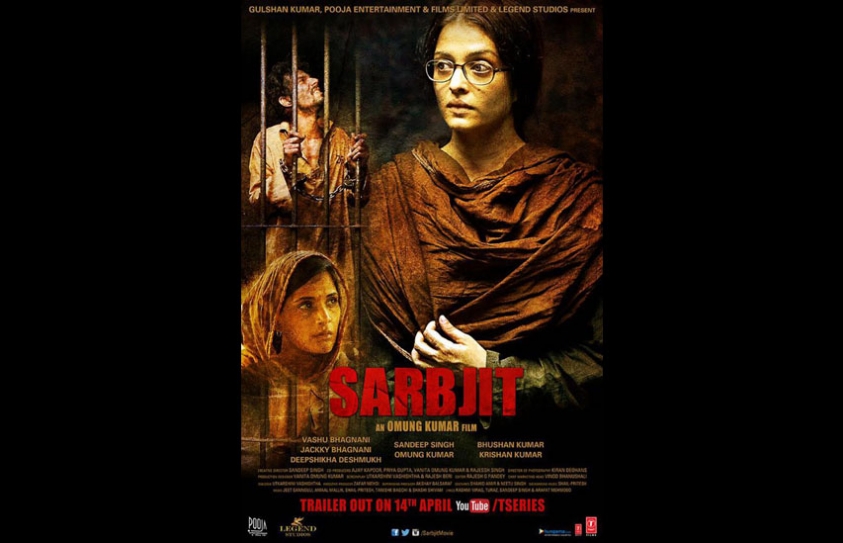 True Review Movie - Sarbjit
by The Daily Eye Team
May 22 2016, 3:29 pm
Estimated Reading Time: 1 min, 25 secs
Cast: Aishwarya Rai Bachchan, Randeep Hooda, Richa Chadha, Darshan Kumaar
Direction: Omung Kumar
Produced: Vashu Bhagnani, Bhushan Kumar, Sandeep Singh, Omung Kumar, Deepshikha Deshmukh, Krishan Kumar, Jackky Bhagnani, Rajesh Singh.
Written: Utkarshini Vashishtha, Rajesh Beri
Genre: Biography
Duration: 131 Mins*
Omung Kumar's Sarbjit is a film trapped in no man's land. Based on a newsy real-life story, it takes cavalier liberties with reality. The result is a disappointment of monumental proportions.
Aishwarya Rai-Bachchan is woefully miscast as the dogged sister of the titular character.
But, then, what do you expect from a director who roped in Priyanka Chopra to play Manipuri pugilist Mary Kom on the big screen and got away with it?
The earlier decision was batsh#t crazy. This is ill-advised at worst. But that does not make the final outcome any better.
Aishwarya as Dalbir Kaur, a gutsy woman who put everything at stake in the fight for the release of her brother from a Pakistani jail, neither looks nor sounds like a true-blue sardarni.
Her tinny dialogue delivery and wayward diction come in the way and prevent the film from acquiring any genuine heft and height. And that by no means is the only problem that besets Omung Kumar's persistently shrill but ineffectual drama.


It has no clue where to draw the line between actuality and falsification. The film tilts overly towards the latter because much of what is set in a Pakistani jail is driven more by the filmmaker's imagination than by any recorded evidence.
While the makers of Sarbjit could be lauded for attempting to tell an important story, the methods that they employ for the purpose are utterly out of place.