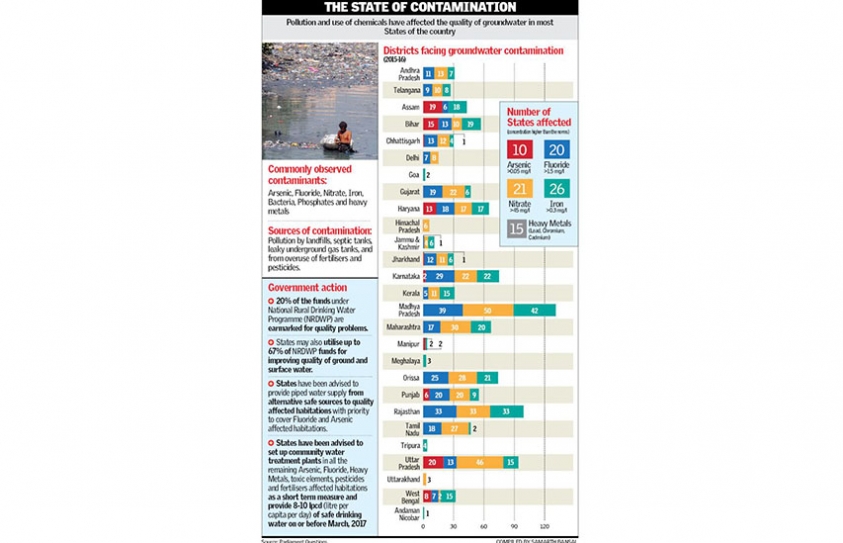 Drinking Water, Sipping Poison?
by The Daily Eye Team
May 7 2016, 4:49 pm
Estimated Reading Time: 1 min, 6 secs
India's water quality problem is reaching crisis proportions, and today at least 1.95 crore habitations are affected by poor water quality. Over 3.6 crore people are exposed to health hazards owing to drinking water containing excess arsenic, fluoride, iron, salinity or nitrate. 66 million Indians are at risk due to excess fluoride and more than six million have already been crippled by high fluoride content in drinking water. In some cases such contamination occurs due to the overexploitation of groundwater. Besides metal poisoning, bacterial contamination affects at least 37.7 million Indians annually, with 1.5 million child fatalities due to diarrhoea. Urgent investments are needed to stave off the crisis of water quality focusing on water treatment solutions such as reverse osmosis, and also on improving water storage infrastructure so that the water table is recharged . The third of a six-part series is on the effects of poor water quality in drought-prone Dharmapuri and Krishnagiri districts in Tamil Nadu.
Tears plop down Ammasi's sunken cheeks that get bruised every time she gets one of her epileptic seizures. Married off at 18 years, Ammasi was abandoned by her husband a month later, after one such seizure. Today this 26-year-old finds her single status debilitating. "Is it the water?" asks her brother Karthik, who too suffers epilepsy.