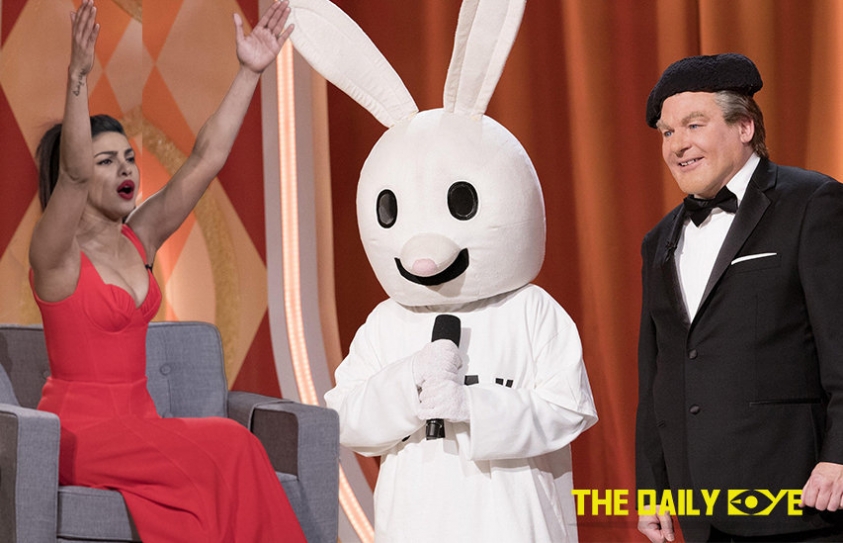 Absurdist Humor with a tinge of Ambition
by Denver Fernandes
August 9 2017, 6:10 pm
Years before American Idol and America's Got Talent, America had an uncanny amateur talent show called 'The Gong Show'. Chuck Barris was the creator of this absurdist 70s game show that celebrated the weird and quirky. Each act was given about 90 seconds to make an impression on the celebrity judges without getting gonged. Getting gonged would lead to disqualification. The act with the highest score gets a check worth $2000.17 at the end of the show. ABC's renewal of the game show for a much more millennial audience has a British comedian drowned in prosthetics and makeup as the host. This host is more likely than not Mike Myers moonlighting as Tommy Maitland, however ABC and executive producer Will Arnett refuse to confirm. But hey, Priyanka Chopra will be one of the three judges for one episode on this show, which will air on August 17th. Along with her, 'Community' star, Joel McHale and 'Goldbergs' star, Wendi McLendon-Covey will also be a part of it. Although it might seem like this show is just for fun-zees, it has an underlining social message. All you have to do is look a little closer.
The revived Gong Show is possibly one of the most entertaining shows out right now. Tommy Maitland's personality is cheeky and the show is filled with epic one-liners. From hilarious introductions of the hosts to dancing like a lunatic, Tommy has it all. Furthermore, the judges are Saturday Night Live alumni, thus there is no shortage of humor. What this show does differently is it provides people who have unique skills, a chance to showcase their talent to the world. A man on unicycle, blindfolded and solving a Rubik-cube is a talent that is as good as a professional vocalist, maybe even better. Most times the acts that don't win are more memorable than the ones that do win. This show is not about winning a prize, it's about making a statement.
The premiere episode of the Gong Show gave away the winning check to the act 'Married with Bananas', a husband-wife duo who catch banana with their mouth. No doubt it requires practice like any other skill and The Gong Show gives the weirdest and most outrageous talents a chance to shine. Priyanka Chopra who is best known in India for the one actress who broke out of Bollywood and went on to make a mark in Hollywood has made a rather bold choice of being a part of this endeavor. The Baywatch star is still 'a somewhat new' face in Hollywood and it's great to see her featured as a judge of the rare. It seems like there's nothing Pee Cee can't do, from releasing singles to donning the shoes of a producer for ABC's upcoming series on the life of Madhuri Dixit.
The Gong Show is back with a bang and it gives people around the world who have unique skill sets, hope. Hope that they will be accepted. It gives kids who do head spins while drawing portraits hope, that their weirdness will be recognized and loved. The show doesn't look for how good you are at what you do; it looks for how different you are. Maybe India needs something like this. Maybe we've had enough of exploited singers, dancers and participants who are pushed to the limits with tasks. Maybe we need shows where you can be yourself and you're judged on how much you embrace your weirdness. Not for mere entertainment, but to give the kid who stacks glasses really fast or the one-man-band or average man, hope.