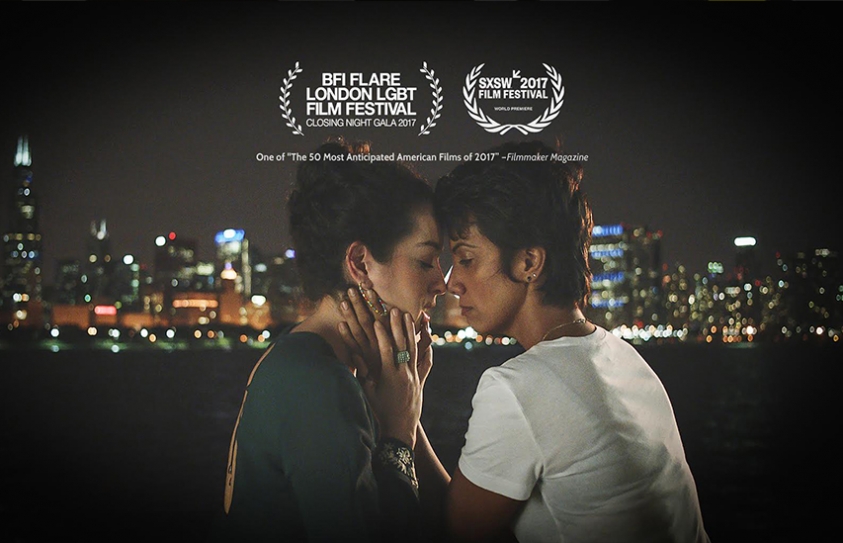 Signature Move, starring Shabana Azmi is opening film at KASHISH 2017
by The Daily Eye Team
May 18 2017, 3:33 pm
Estimated Reading Time: 4 mins, 12 secs
South Asia's biggest LGBTQ film festival will screen 147 films from 45 countries
American film "Signature Move", starring Indian actor Shabana Azmi will open the 8th edition of KASHISH Mumbai International Queer Film festival - South Asia's biggest and India's only mainstream LGBTQ film festival. Signature Move directed by Jennifer Reed also stars Fawzia Mirza and Sari Sanchez (from the hit TV series Empire). The opening night film will be screened at Mumbai's iconic art deco theatre Liberty Cinema on May 24, 2017. The five day film festival that will screen 147 films from 45 countries will be held in South Mumbai at two venues - Liberty Cinema and Alliance Francaise.
"This is a deeply important story about love and families. One of these families is South Asian - such a beautiful culture. I am so honored to be a part of this film and to bring it now back to South Asia," said Jennifer Reed the director of the film.
Shabana Azmi, plays a "sweet and TV-obsessed mother in Chiacago" whose daughter (played by Fawzia Mirza) falls in love with a Mexican woman (played by Sari Sanchez). Shabana Azmi is acting in a LGBTQ film 21 years after the acclaimed film Fire (1996). According to Jennifer Reed, "the film is a lesbian love story between a desi American Muslim immigration lawyer and Mexican‐American bookstore owner in a peaceful diverse Chicago."
"We are thrilled to be presenting the Indian Premiere of the film SIGNATURE MOVE starring our iconic actress Shabana Azmi who gives a compelling performance as mother of a lesbian daughter. The film highlights this year's theme of Diverse, One with a story of same-sex, racially diverse relationship, and the importance of acceptance by family members," Sridhar Rangayan, festival director of KASHISH Mumbai International Queer Film Festival.
For Canadian desi actor Fawzia Mirza the film was a return to roots and is planning a trip to Mumbai for the opening of the film. "I am deeply inspired by my culture, by my family, by my roots. I am of the East and of the West. To screen my first feature film in India, in Mumbai, as the opening night film of KASHISH is a dream," said Fawzia Mirza, who has also co-written the movie. "I was blessed to tell this story and play this character and to have the great film legend, Shabana Azmi play my mother in the film. The role she has played in changing the narrative for marginalized communities around the world is inspirational. I believe in the power of comedy and art and storytelling as a way to create change in our communities. If I tell my story, hopefully it connects with audiences and shows them they are not alone in the world. I've never been to India, so it's going to be an amazing experience to watch the KASHISH audience watch the film," added Fawzia Mirza.
KASHISH Mumbai International Queer Film Festival
Founded in 2010, KASHISH MIQFF is held over 5 days at two venues. The festival this year will be held at Liberty Cinema and Alliance Francaise in South Mumbai. It is the first Indian LGBT festival to be held with approval by the Information & Broadcasting Ministry, Government of India. Voted as one of the Top 5 LGBT Film Festival in the world, KASHISH Mumbai International Queer Film Festival is South Asia's biggest queer film festival and the only LGBT film festival in India to be held in a mainstream theater. The film festival this year will be held between May 24-May 28, 2017, at two venues in South Mumbai – the city's iconic art deco theatre Liberty Cinema and Alliance Francaise. Delegate Registrations are open on Book My Show https://in.bookmyshow.com/festival/mumbai-international-queer-film-festival
THEME of KASHISH 2017 : 'Diverse, One'
The theme of KASHISH 2017 explores the diversity of the LGBTQ communities. The diverse shades of the rainbow remind us that as people we are all different and we are all unique. In the fight for an equal society, basic human rights and against laws that criminalize and discriminate, it is our shared values that bring us together. We are strongest when we come together, when we embrace one another's uniqueness and celebrate our differences. We are Diverse, We are One.
Crowdfunding for KASHISH 2017
For the fifth year in a row, KASHISH Mumbai International Queer Film Festival will be raising funds through crowdfunding. The global campaign to raise funds was launched on India's leading crowdfunding portal - Wishberry:https://www.wishberry.in/campaign/kashish-2017-diverse-one/
The target for this year is to raise Rs 3 lakhs, which will partly fund the festival expenses including theatre and equipment rentals. To further deepen its engagement and provide a platform for Indian filmmakers who make films on LGBT themes, KASHISH 2017 crowdfunding campaign will also use part of the funds raised for a scholarship for selected filmmakers from outside Mumbai to come to the film festival and interact with the audience, film making fraternity and showcase their films.