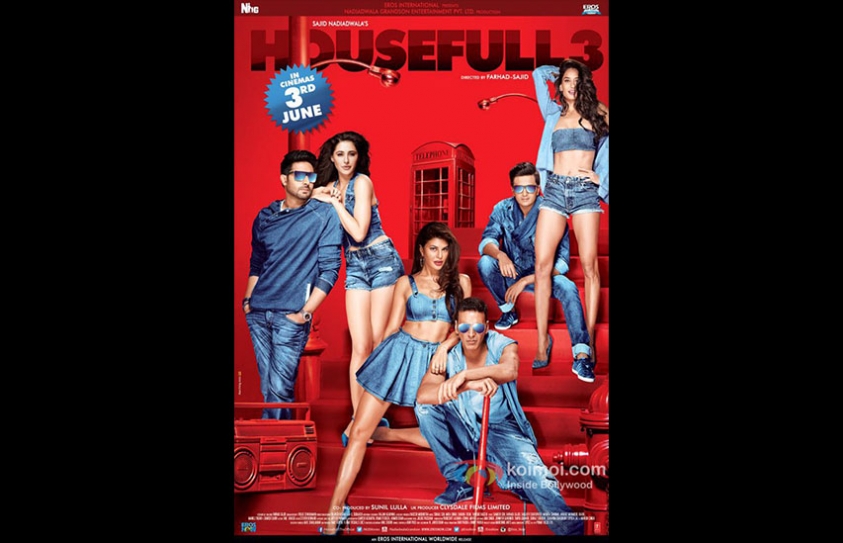 True Review Movie - Housefull 3
by Niharika Puri
June 6 2016, 11:27 am
Estimated Reading Time: 2 mins, 28 secs
Cast: Akshay Kumar, Abhishek Bachchan, Riteish Deshmukh, Jacqueline Fernandez, Nargis Fakhri, Lisa Haydon.
Direction: Sajid-Farhad
Produced: Sajid Nadiadwala
Written: Sajid-Farhad, K Subash
Genre: Comedy
Duration: 145 Mins*
And so, it returns... the mistaken identities, the opulent mansions, Aakhri Pasta, topped off with racial and handicap jokes. There is also a grotesque rape blackmail gag in there too (featuring the mansion's black househelp - because nobody would put the heroines through this), though this is apparently not the film to take umbrage. If the brain was a companion for the sheer cinematic lunacy, it would be reduced to the kind of sludge even Dr. Lecter would politely decline from eating. To honour the spirit of coherent reading, it is necessary to sift through the 'humour' and find a story.
Batook Patel (Boman Irani) is a rich, high-profile Gujarati businessman who does not want to marry off his daughters (who translate literally when they say "woh bachche nahi banaa raha" if they want to say "he is not kidding"). Marriage is a curse and an ill-omen to his family. Batook also shoots down the suggestion of a live-in relationship from a suitor. His daughters Ganga (Jacqueline Fernandez), Jamuna (Lisa Haydon) and Saraswati (Nargis Fakhri) are hare-brained heiresses with a questionable choice in men.
Ganga is a psychologist, who is dating footballer Sandy (Akshay Kumar). His evil alter ego Sundy comes raring to the fore when triggered by the word 'Indian'. So a scene where Sandy is rejected during football try-outs because he is Indian leads to a one-sided dodgeball match instead.
Jamuna likes Teddy (Riteish Deshmukh), a race car driver who runs out of fuel on the day of his race, 200 metres from the finish line. No, really.
Saraswati is seeing rapper Bunty (Abhishek Bachchan), who raps "teri maa ki" to any goraa who rejects him during audition. At least one of them knew Hindi, in a minor, subversive move. Bunty also takes a selfie with an Amitabh Bachchan wax statue with the Paa theme playing in the background. The film is meta enough to include a scene where he saves a wax statue of Aishwarya Rai-Bachchan from toppling over and asks her, "Aap theek hain?"
Aakhri Pasta (Chunky Pandey) is just sort of... there. Everything just is, in the Sajid-Farhad universe. You sit resigned as the heroes feign all manner of disabilities (blindness, muteness, wheel-chair bound) to woo the father of the brides but who are instead subjected to bizarre tests ascertaining the legitimacy of their impairments. "Iss route ki sabhi linein mast hain," Batook thunders to his daughters. "No iPhone, no talk-time, no balance."
This is the film where Sandy gets trigger by the world Indian in an Airlift trailer. Where Boman Irani and Jackie Shroff get to frolic bare-chested in a pool. Where the entire climax happens in a factory for wax statues. Contrived confessions follow. That is spoiler territory for anyone actually wanting to see this. Will not ruin it for you folks.