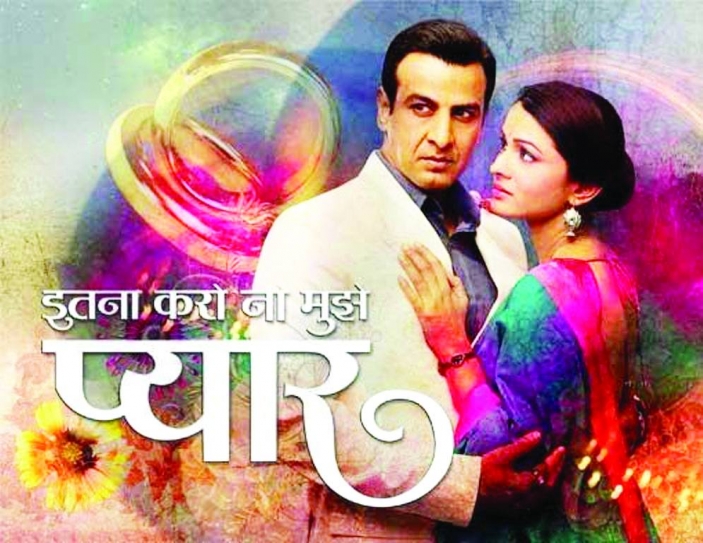 Ekta Kapoor's Changing Act
by Piroj Wadia
January 28 2015, 3:12 pm
Estimated Reading Time: 4 mins, 54 secs
There is something about Ekta Kapoor?s newest prime time show Itna Karo Na Mujhe Pyaar showing on Sony EntertainmentTelevision, which pulls you to watch it each night Monday to Thursday at 10.30. This adult romance started with quick cuts, establishing the protagonist s Neil K (Nachiket Khanna), a New York based NRI cardiologist and Ragini Patel, a hospital administrator in Mumbai. The estranged couple parted ways 15 years ago and their divorce deed had them divide their four children equally.
Most often, television features young romantic stories. But over the years, Ekta Kapoor and Balaji Telefilms have been exploring middle aged love stories, which have a strong, connectwith the viewers in their 40s-50s. Kya Hua Tera Vada and Bade Achche Lagte Hain have made a mark with such narratives. BALH resorted to the middle class, middle aged Priya Sharma meeting Ram Kapoor, a tycoon and finally marrying him. BALH was doing pretty well, when the story line got so distorted, that viewers were surfing away into another channel. Thank god, the channel pulled the plug as Ram Kapoor had film commitments and the series ended in 644 episodes. Currently, on Colors television channel, Balaji is showing Meri Aashiqui Tum Se Hi, which has long gone the way of a convoluted soap opera; and Ajeeb Daastaan Hai Yeh on Life OK, which marks Sonali Bendre?s debut in the fiction genre on TV. The latter serial is a mature narrative dealing with relationships.
Usually, Ekta Kapoor locates her stories in grand mansions, with women in metres of embroiderd saees, heavy jewellery and mangal sutras; and a heap of family members going up and down a grand staircase. IKNMP has its actions between two cities across continents ? Mumbai and New York; Ragini?s middle class home is in Parla East, where she lives with her grandmother, mother, daughter Nishi and son Aarav. Neil?s dwelling in New York is in a plush condowith his sister Pam, sons Ranbeer and Agham. Placing it as an urban tale, in contemporary settings.
There is a great deal of grounded reality in this narrative about interpersonal relationships and value- based upbringing. The children with Neil are starved of parental affection and attention, particularly Agham, as Neil has no time to spend with them; so he lavishes them with gifts.While Nishi and Aarav crave for materialistic things, which Ragini can ill afford on her earnings. Agham and Ishani dream about coming to Mumbai forNishi?s wedding, and they meet Ragini.
What is good about the screen action is that the makers didn?t waste too many episodes in hit and miss encounters between Neil, Ragini and the children. Sure, unknown to both Agham and Ragini meet on the bus. Ragini helps Ishani settle her saree. Ranbir, who is the only one who knows what Ragini looks like, isn?t looking when she?s around Agham and Ishani. But within 15 or so episodes Ragini and Neil come face to face. Conflict lines are drawnand each episode has the excitement of events to come waiting in the wings. Just when we thought that Ranbir ?s incarceration will lead to a court room drama, that has been pre-empted and the emotional distance between Neil and Ragini has got a step closer. In fact, Neil is firm about Ranbir apologizing to Ragini and thanking her dropping charges.
Spiked with some well written and enacted scenes, humour is well taken care of by Sunny Tai. The ultra mod house help, is more family than maid. In the early episodes, she was trying to play cupid between Ragini and her bossDr Aman. However, so far her best scene was when she puts down Pam, Neil?s dominating sister, by leading her to a photo studio when Pam was looking for a designer?s studio! Dr Aman too has his funny streak, as he runs out of his home in printed pyjamas and goes with Neil to Jignesh?s house.
Since there are many relationships at stake, gradually the pieces are falling into place. As when Aarav and Agham discover they are twins. Aarav and Nishi can?t understand Ranbir?s animosity for his mother and the other two siblings. Where does Ishani fit into Nachiket and Ragini?s lives? The customary teary scenes of reunion have been dispensed with, and done with underplayed emotions.
What makes the viewer engrossed in IKNMP is the well written script which inspires the director to keep the narrative ticking. The stand out amidst it are the extraordinary performances by Ronit Roy and Pallavi Kulkarni as Neil and Ragini. Each is matchless alone or when opposite each other. Both actors, episode after episode, have delivered finely nuanced performances bringing out all their expressions from within into their eyes and face. Both share a fine on-screen chemistry, as though they have been working together for long. Ronit Roy?s Best Actor Award at the Star Guild Awards is one of the many he so deserves to get. The rest of the cast is well matched, especially the younger actors who play Jignesh, Nishi, Argam, Aarav and Ranbir. The actor who plays Argham brings to the screen and outburst of energy. The two antagonists Pam and Nivedita couldn?t have been cast better.
There is much more to come between 10.30 pm to 11 pm on IKNMP that viewers can hardly wait for the next day?s episode. At present, it is trotting at a good pace, just hope it doesn?t go cantering into a wild maze.With her courage and the potential to venture into uncharted terrain, Ekta Kapoor could pioneer the finite series?trend with a good cast, a tight script and great direction ? a superlative series. She has it in her to be a game changer. Itna Karo Na Mujhe Pyaar could be that.Will 2015 showcase Ekta Kapoor with a hat other than that of a soap queen?