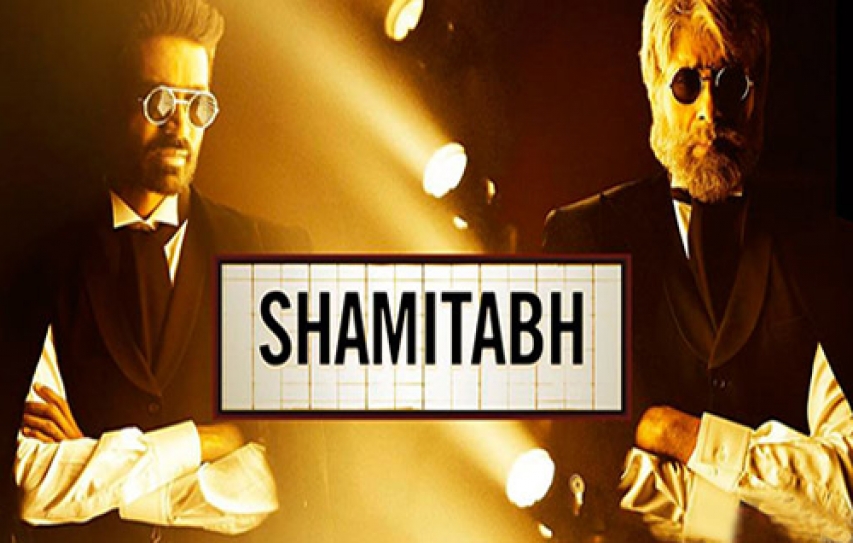 SHAMITABH
by Niharika Puri
February 6 2015, 6:19 pm
Estimated Reading Time: 2 mins, 54 secs
Critics rating: 3.5 Stars
Cast: Amitabh Bachchan, Dhanush, Abhishek Sood, Akshara Haasan.
Direction:R. Balki.
Produced: Sunil Lulla, R. Balki, Rakesh Jhunjhunwala, R. K. Damani, Amitabh Bachchan, Abhishek Bachchan, Sunil Manchanda, Shobha Kapoor, Ekta Kapoor, Dhanush.
Written: R. Balki.
Genre: Drama.
Duration: 153 Mins
It worked for Singin' in the Rain (1952) and Padosan (1968). The idea that a character needs to be dubbed over by another to create an impression, paving the way for conflict and complications to follow.
Except here, our protagonist Daanish (Dhanush) is a mute Igatpuri local, who is cinema-obsessed and more so than the fervent movie-going populace. That his later superstardom must rely on Finnish technology which allows the irascible and inebriated failed actor Amitabh Sinha (Amitabh Bachchan) to project his theatrical baritone into his own vocal chords makes for an intelligent twist, even if it may require a suspension of disbelief.
Daanish is a force to reckon with, despite the vocal disability. When asked who Mahatma Gandhi's wife is, he writes 'Rohini Hattangadi' on the black board. He terrifies his teacher with a silent portrayal of grieving for his mother's passing, when challenged about his acting chops. Daanish frequents the town's Paradise cinema to watch and learn, something that seems to be a fleeting nod to the titular theatre in Cinema Paradiso (1988).
Perhaps it may be unintentional subtext, but Daanish is as determined to escape to Mumbai to become an actor as his mother is to keep him home. So while he regales passengers with his antics as a bus conductor, she puts up an act as convincing as an ailing old woman to ensure he stays.
Her demise leads to his freedom and a period of struggle. Daanish could have languished in obscurity like any other newcomer if it was not for assistant director Akshara (Akshara Haasan) and her doctor father making him a guinea pig for the voice processing technology that will eventually help him overcome his impairment.
The unlikely partnership between Daanish and Amitabh leads to the portmanteau Shamitabh. And that is only the beginning of a stormy collaboration to follow.
The film gets inventive and is thankfully not as vague as the trailer was made to be. Instead of corny bonding scenes, we get irreverence and a clash of two fierce performers, each egoistic and unable to carry off their brand of stardom with grace. Amitabh Bachchan steals the scene every time, his voice being a presence where he, himself, is not. There are some interesting nods to his dialogue from Deewaar (1975) and his breathless recitation of verses from Mughal-E-Azam that underscore his character's searing, unrequited love for cinema.
There is an awkwardly funny moment where Rekha hands Shamitabh (Daanish's star name) his Best Actor Award and is mesmerised by his God-gifted voice. Another one is the 'Piddly Si Baatein', a love ditty featuring a snowy commode. See it for yourself.
The stand-out scene involves Amitabh Sinha's drunken soliloquy to a gravestone, when he rants about inconspicuousness. However, despite a powerhouse performance, Shamitabh gets repetitive in the second half, with ego clashes, intoxicated outbursts and an awkward Akshara Haasan playing flitting in and out of the storyline.
The shortcomings are insignificant in the bigger picture. And the Amitabh Bachchan-Dhanush combination makes for a heady cocktail. R.Balki does not disappoint in his third outing, making this a must-watch.