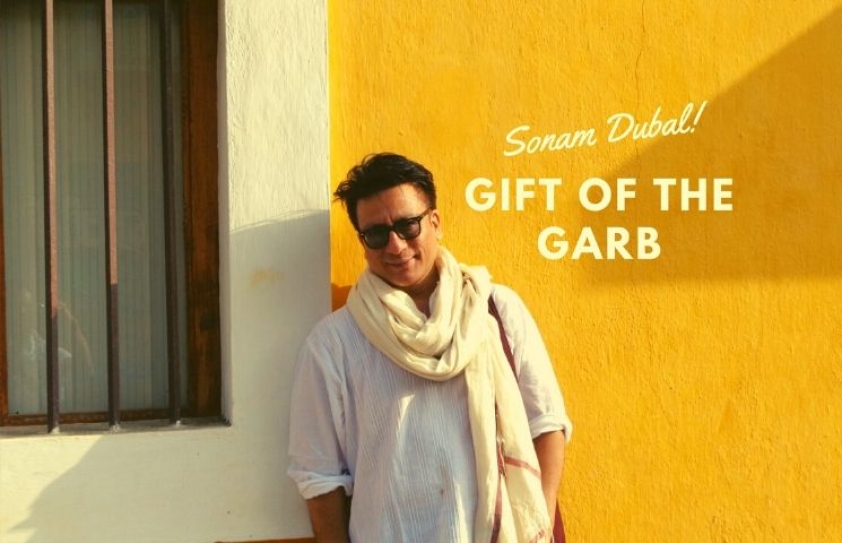 Gift of the garb
by Khalid Mohamed
March 9 2020, 4:12 pm
Estimated Reading Time: 4 mins, 51 secs
Meet Sonam Dubal, a fashion designer of New Delhi, who won't sacrifice his happiness to become an A-lister
Khalid Mohamed
He has kitted the Lancome model and actress, the American-Italian Isabella Rosellinni. His couture has been worn by Sonam Kapoor, Tabu, Radhika Apte and more hefty names than I can count of my fingers.
Chronically shy to name-drop, fashion designer Sonam Dubal of the fashion line, Sanskar, in New Delhi clams up before I can scrawl any more notes.
On the right side of the 50s, born to a Tibetan mother and a Maharashtrian father, Sonam Dubal ("yes, I'm always teased because of my namesake Sonam K. Ahuja..so I explain that for both of us it means a person of fortune) works out of the Shahpur Jat neighbourhood, which is choc-a-bloc with fashionistas, artists, artisans and bohemian coffee shops.
My curiosity is aroused because despite dozens of top-line fashion shows, and his designs which are a blend of banjara prints and cuts as well as cool Euro-chic, Dubal is surprisingly bereft of any ambition to make it to the ramp world of A-listers.
"I'm hopelessly unambitious. Perhaps that was because of my troubled childhood," he unwinds. "My mother passed away when I was very young. From her, I guess, I inherited my flair for playing with colours, aesthetics and sketching." Graduating from the second batch of the NIFT, he interned with Rohit Khosla who taught him styling and how to fuse the retro with the contemporary.
Next, he speaks about his 'gayism' which he accepted during his growing up years. "I was okay with my sexual orientation. If I developed crushes in college, I would neither hide nor flaunt them," he narrates. " As I took to fashion as a profession, I understood that it shouldn't become a ticket to social engagement – hitting on male models and that sort of stuff . A distance has to be maintained. Right now, I have a partner whom I've been in love for years… he's into architecture in Jaipur.I would never ever contemplate marriage, though, because then the headache of financial sharing springs up inevitably."
His main agenda is to be a "happy man without ever being feeling pressurised to become a celebrity designer and mingle with the rich and famous." To be comfortable in his own little acre, he's built a home in Puducherry. That serves as a retreat when the demands of deadlines and offers to set up franchise stores give him sleepless nights. "No stress, no killer instinct, no bitching," he states matter-of-factly. "That's how I've succeeded to make my own little heaven. I've never wanted to be big brand."
That's his modesty speaking. His creations do sell in most Indian stores. Sanksar also has its flagship store in Vancouver.
At the same time, Sonam Dubal has embraced the idea of suffering from what he calls "spells of loneliness. "See, unless you're thick-skinned and a party animal," he reasons "you can't escape moments of loneliness.Although my partner and I are very much in love – and that love shows up in my designs – neither of us can afford the very notion of possessiveness."
Delhi's extremeties of weather are, he laughs, a blessing, allowing him to create ensembles for the scorching summers and the freezing winters:"And the idea is never to go over the top. Since I opt Indo-Asian influences….which can be traced to the Silk Route…my designs are minimalistic, and the silhouettes are clean. And I don't make a distinction betweeen the designs for everyday wear or red carpet events."
The man who wouldn't be a biggy in the fashion realm, however, does admit to an Achilles heel. "I would love to dress each and everyone of the characters – from the lead parts to the supporting ensemble -- of a period film from Bollywood. The intrigue, the power struggle and the mystery of historical sagas are fascinating. Imagine doing thorough research on the costumes of a bygone century. Now that would be a once-in-a-lifetime challenge. But then I guess established designers of Mumbai have a monopoly on such projects."
On another note, he regrets the disappearance of the super model ever since Bollywood stars began to be used as "show stoppers" at even the crustiest of ramp shows. Even if the stars are having a bad hair day or just going through the paces, the audience adores them, and so do the sponsors.
Of his favourite Bollywood films, in terms of costumes, he cites Sanjay Leela Bhansali's Bajirao Mastani and Zoya Akhtar's Dil Dhadakne Do. Vis-à-vis Karan Johar, his take is, "Karan's been very courageous, he can still carry off anything he wears with elan. And let's not forget that after Yash Chopra, he gave fashion priority even in his first film Kabhi Khushi Kabhie Gham which introduced branded gear."
Rekha is the ultimate diva, he states. And Deepika Padukone rarely makes a fashion misstep. Among the males, he selects Hrithik Roshan and Randeep Hooda as the best-dresssed.
So why doesn't he make a pitch for a Bollywood assignment? "No, no" he balks. "Why would I do that at the expense of losing my very being…my happiness? My heart belongs to my little store in Shahpur Jat in Delhi. See, I haven't even developed a wrinkle on my face yet."