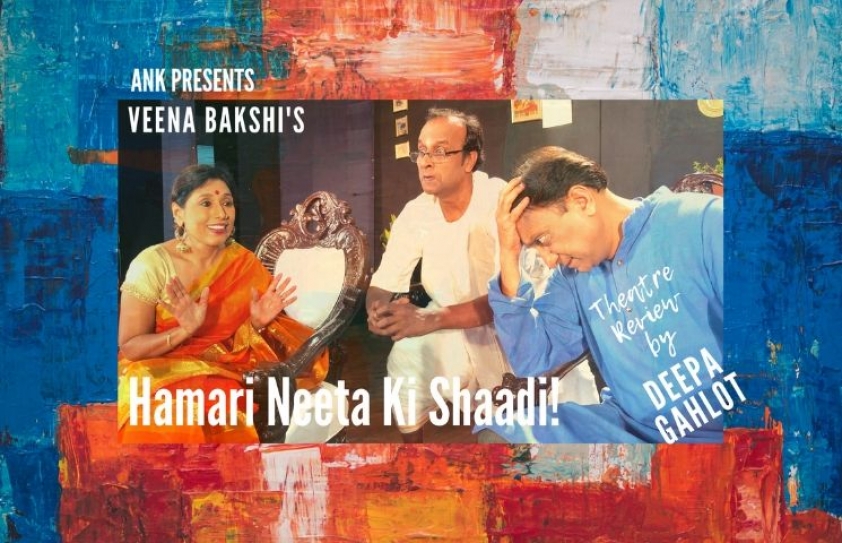 Wedding Woes
by Deepa Gahlot
August 1 2019, 4:29 pm
Estimated Reading Time: 2 mins, 25 secs
There can be no wedding in our country, without high stress and drama, some of which playwright-director Veena Bakshi has captured with humour in Ank's production of Hamari Neeta Ki Shaadi.
Kaveri (Preeta Mathur Thakur) and Dashrath (Aman Gupta) are the parents of the bride, Neeta (Arunima Joshi), whose day begins with the excitement of the commencement of the multiple pre-wedding rituals (haldi, sangeet, mehndi and so on) that mark Indian weddings and goes rapidly out of control. Kaveri, from suburban Mumbai, suddenly finds an affinity to her Uttar Pradesh roots and wants everything to be just so, according to tradition. Dashrath goes along with her wishes, so he and his 'pandit' friend (Shankar Iyer) tick various lists of things to be done.
In the melee, it is discovered that many people that should have been invited (like Kaveri's kitty group) were inadvertently left out, and cards have run out. Their son Alok (Burhanuddin) offers to collect back as many cards as he can from his friends, and even the temple, where a card is ritually offered to the deity—who he argues is not actually going to attend.
Neeta prances in and out, dressed in an odd hybrid of her wedding blouse and trousers, generally throwing tantrums when things don't go her way. And at some point, she locks herself in the bathroom (like the bride from Neil Simon's Plaza Suite) in protest.
The parents, brother and his 'duh' buddy Pinchu (Rajat Yadav) have to devise ways to get her out; the domestic helper, Lallan (Javed), obviously loyal only to Kaveri (he makes the biggest cup of tea for her), and the harried driver (Mani) are also dragged into the chaos.
Without really underlining it, Bakshi makes fun of the old wedding customs that seem out of place in an urban setting, as well as the tendency of well off families to flaunt their wealth (Kaveri wants ice sculptures!) in the attempt to host a memorable 'event'.
The play also observes, that far from questioning this ridiculous excess, today's young generation—probably fuelled by all the flashy clothing ads, shaadi exhibitions and gushing reports of celebrity weddings —actually want to add to the needless extravagance.
Preeta Mathur Thakur and Aman Gupta are seasoned actors, who catch the comic timing of the play with ease but the younger actors join in with gusto and add to the mood of this enjoyable farce.
Audiences are welcomed at the entrance with gajras and tikkas, like at real wedding function, and a fine pick of UP folk songs punctuate the brief blackouts. Hamari Neeta Ki Shaadi is quite different from the plays Ank has been doing, and hopefully points to the direction in which the long-running group is headed, to stage contemporary plays by new playwrights and directors.