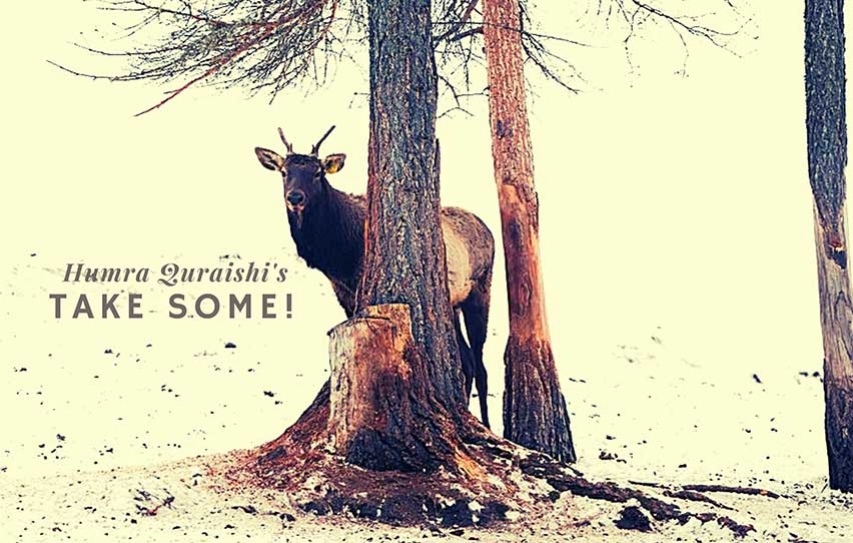 Take some!
by HUMRA QURAISHI
June 27 2020, 11:57 am
Estimated Reading Time: 8 mins, 37 secs
Humra Quraishi tells the story of a young boy who was angry that his hen was killed to feed guests when they payed a visit to his house
Over two summers back I landed in the Kashmir Valley to write on the Sufi dargahs and ziarats, standing out, in and around Srinagar. But the particular houseboat where I was to stay seemed overtaken; what, with a couple of tough looking tourists making their presence felt.
'Not staying here, you'll get bullied out… thrown out! They look terrible… ruffian sorts,' advised several local friends, who helped me shift, to the accompaniment of a commentary, 'You're alone, so can't stay just anywhere! Safest is the Central hotel. Taking this khaas permission for you… This Central hotel is not really for commoners, but you are a woman writer so somehow okay… this hotel will be safe for you… There are only some non-sarkari commoners there, mostly sarkari janaabs on deputation fill the rooms otherwise. Also, a great view of the Dal Lake and of the Zabarwan range.'
Settling down in that hotel room, peering from the window, the Dal Lake looked seemingly calm. That lone shikara was there, on still-waters, tempting me to get carried away by the turbulent times. Brushing aside temptation, I was lying on the bed, pulling the pillows with an intensity. No, not for very long. Only till the next morning.
Heaping the shawl on uncombed hair, walking down the corridors… some-what restless, somewhat determined to move out of the main gates of this hotel, but I couldn't. With the announcement of a sudden clampdown, there seemed little choice but to go back, as far back as the hotel lobby, which was congested and overcrowded.
Then not so, with all those on deputation fitted into big-bodied vehicles. The convoy moved towards the Central Secretariat.
Staying unmoved, was only one particular woman.
Dragging a chair close to where I sat, throwing side glances towards me, lisping an introduction to herself she said, 'I'm Mrs Commissioner… the commissioner's spouse.'
She was looking around, seemingly over-content with the attention that unwarranted power drags along, she lisped some more, 'I'm told you're some writer or what… writing about shikaras or dongas or houseboats?'
'About sufi dargahs.'
'Sufis long gone… dead souls!'
'But those dargahs structures are there… standing out.'
'Near crumbling and now burning.'
'They different… very different.'
'Different! What's different?'
'Khatamband ceilings, elaborate carvings… the first Sufi school founded by Dara Shikoh still exists here in Srinagar and… '
'Putting this boring stuff in your book?' She asked.
'Much more and …'
'But Sufis are all dead!'
'They say their rooh is still around It's the soul that matters and their souls are very much around.'
'But what about their married lives… did they marry and all that?'
'No, no… they kept away from all that.'
'What! Spare me this useless boring stuff! Anyway, getting so bloody boring here, sitting stuck!'
'Stuck!'
'With him… my husband!' Shrugging, 'But today I'm going out shopping… buying Shatoosh shawls. None of the fake stuff but proper asli maal!'
'Buying… er, shopping in this curfew?'
'Not going to any shopping centre but to that fellow's home. He's one top exporter.... He's selling pure Shatoosh and what not... Come along.'
'But… this clampdown and… '
'You coming with me!... With me!'
'So…'
'So that makes the difference! All the difference! But telling you from now, you're not buying a single shawl… all those shawls are going to be mine. But, haan, this shawl exporter fellow would surely be able to tell you many things about the Sufis… fellow looks like the knowledgeable sorts.'
*****
Curfew was relaxed along a particular route. Children were peering through semi-shut windows, staring at the vehicle speeding ahead.
Passing the Boulevard, the Dal Gate, speeding towards the outer stretch of the old city's downtown locality.
Halting, with several police men pointing towards a wooden structure.
Security layers stretching… over stretching. Encircling not just that particular house but the entire area.
Going overboard, scrutinizing the limbs of the exporter Ghulam Rasool, as he assumed the task of ushering us in… into his home. Formalities were carrying on with the daughter-in-law of the family taking us into the main living room, towards an elaborate dastarkhwan.
She was placing copper bowls along with copper plates and throwing side glances towards a young boy standing at one end of this room. He had continued standing and scowling, stubbornly un-moved, staring at the chicken qorma being served to us in the copper bowls placed in front of us.
Suddenly he moved towards us, crying out, 'No one is eating my hen! Don't touch my hen. My hen has been cut to pieces to feed you two women! My hen… my pet. I called her Cherry and now my Cherry has been killed and cut for you two!'
Staring at us, with hatred dripping from his eyes, the young boy kept crying out even as Ghulam Rasool tried to lessen the strain, directing his daughter-in-law to take the boy inwards, away from the scene. But adamantly he stood on, with Ghulam Rasool trying to explain to us nervously, 'Maafi for his rudeness! This child, my grandson, been so un-well from the day his father was shot dead in front of his eyes, in that cross-firing... he is in deep sorrow. Please forgive his rudeness. Madam mohtarma sahiba, please forgive him… please continue eating.'
'I'm not hungry. I'm here for the shawls. Got to rush back. Curfew lifted only for some time for these emergencies…,' she said.
'Of course, of course, but please eat. We have done all these preparations for you. Try this zafraan yakhni. Pure zafraan plucked from the fields of Pampore. And also try some of this haaq and… '
'Please we're in a hurry… Out with the shawls.'
'Will just show them…. here they are, just are… see here!'
'Lovely! Such beauties! How much… how much?' she kept repeating rather too excitedly, as those priceless shawls started emerging from the suitcases, Touching them in that ongoing way, with much want, before lisping, 'Can't afford much… five thousand for each. We're salaried class.'
Seeing his crestfallen expression, an additional flow of words came from her, 'Ghulam Rasool sahib be assured that these creamy shawls are for the creamy lot. World's top dictators will be using them. Fascist rulers would flaunt them without the slightest fuss!'
'Jee mohtarma sahiba. You know their value! What you're offering is nothing. No, no bargaining… how can I dare bargain with you! Take them away. They'd be anyway taken away!'
'Nah, nah, nah… nothing free from you all! Last year that exporter Ahdoo Ashraf gifted antique pieces to me and so much useless gossip about it… such rounds of faltu talks. Will pay you some token stuff. You okay with twenty thousand bucks?'
'You know these shawls are priceless, worth lakhs. But you just take them for free! My home can be raided or looted or searched!'
'Nothing for free… giving you fifty thousand and that's it! Final deal!'
Suddenly, that young boy neared, screaming, throwing a couple of those shawls at us 'Take them… go from here… from my home. You have eaten my hen… My hen killed for you two… go from here! You'll kill us… kill us!'
And as the boy cried out in a voice laden with intense emotional pain, Ghulam Rasool and his daughter-in–law tried pacifying him but he continued crying. In a voice dripping with a combination of anger and pain and hurt, he kept saying, 'Go from here! Take these shawls but go… leave! Leave us! Go from my home, from my place… go from here, forever! Don't trouble us… leave!'
His cries uncontrolled till, we, Mrs. Commissioner and I, started stepping out… out of the main entrance.
Returning without a single shawl.
Sitting still in the moving vehicle.
Absolute silence overtook us. Not a single word coming out from her. Just the sound of her fingers slipping into the interiors of her blouse. Pushing or pulling the breasts together with the saddling bandobast on them.
Or, perhaps, curbing her inner voice from bursting out.
That angry-pained-hurt look in the boy's eyes played havoc as the night progressed. I kept tossing and turning that entire night in the hotel room. Stifling and suffocating was the atmosphere.
Till around early morning, I decided to get out of the room and stand by the calm waters of the Dal lake.
Walking down… Halting at the outer gates.
Spotting Ghulam Rasool, standing with a bundle in his hands.
Not sure whether it contained those shawls or the still remains of his grandson.