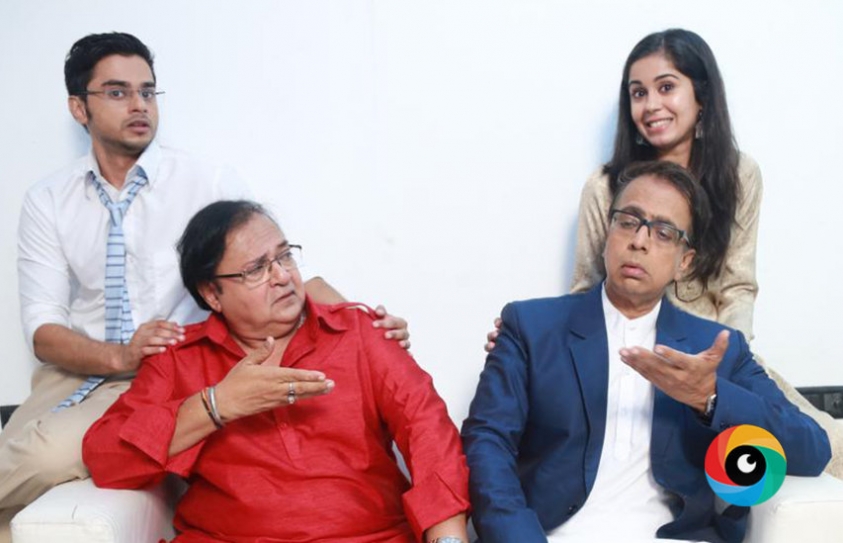 Papa Don't Preach
by Deepa Gahlot
August 4 2017, 7:37 pm
What would happen if two cantankerous, cricket-crazy men, one from India and the other from Pakistan were forced to share an apartment? Bedlam, that's what.
If the two actors playing them – Rakesh Bedi and Ananth Mahadevan—were almost equally matched, then, their repartee would be hilarious.
Theatre group Out Of The Box does pleasant little comedies—nothing outrageous or even mildly offensive. That's why playwright Abhishek Pattnaik and director Suketu Shah are able to pull off Last Over, a play about an Indo-Pak couple, with such warmth and good cheer.
Sunny (Pattnaik) and Zubaina (Gunjan Malhotra) live in London and work at a catering firm. He is from Amritsar and she from Karachi, so it takes them a while to muster up the courage to tell their families about their marriage. Then, her very opinionated father Nazir (Mahadevan) and his happy-go-lucky dad Jasjeet (Bedi) – both mad about cricket--arrive in London and start their game of one-upmanship.
The Urdu-speaking professor Nazir looks down his nose at Jasjeet, who is the loud and slightly coarse owner of a restaurant called Pyo Da Paratha. (He translates thodi si jo peeli hai as a little yellow!) Throwing them into the cauldron of a one-bedroom apartment is asking for a migraine.
The couple has to go to work and find ways to keep their dads placated so that they don't tear each other's hair out, and keep their marriage a secret from their boss (Zachary Coffin), who frowns on his staff getting together. The fathers fight about everything right from who gets the bedroom to what music they play in the tiny apartment. But, to make their life really miserable, the fathers demand tickets for the World Cup match between India and Pakistan to be played at Lord's in London, which is well-nigh impossible, even though their company is the official caterer. The tout they manage to find cheats them with fake tickets, and Sunny is annoyed to find a Pakistani colleague (Abhishek Krishnan) trying to butter up Nazir and flirt with Zubaina.
There is very little plot; the play is made up of the small spats and domestic tensions caused by the presence of the dads, and Suketu Shah has brought out the Tom & Jerry-like relationship between the two men very well.
It is understood that in comedy like this nothing untoward will take place and the ending will be happy-- not anything grand like Indo-Pak peace, but certainly a better understanding of the other side. What better way to achieve this than the retraction of raised hackles and getting drunk together. In the end, it does not matter who wins the match, the game is meant to be enjoyed. If only governments as well as cricket fanatics on both sides of the border understood this, they would perhaps find a formula for living in harmony.