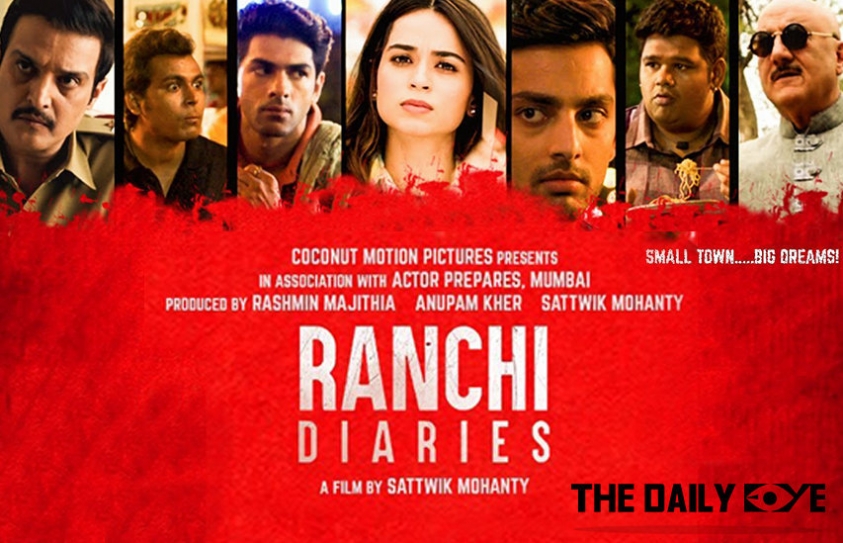 Raanchi Diaries
by Himanshi Saboo
October 13 2017, 6:57 pm
Estimated Reading Time: 2 mins, 6 secs
CAST: Himansh Kohli, Taaha Shah, Soundarya Sharma, Anupam Kher and Jimmy Shergill
DIRECTION: Sattwik Mohanty
GENRE: Comedy
DURATION: 1 hour 37 minutes
Fair warning: Even if you don't have anything to do and are sitting idly, planning to watch a movie, DO NOT I repeat DO NOT go for this movie.
A good movie comprises of the following ingredients, story, direction, engaging sequence of events, talent. This movie has none except for maybe talent.
Gudiya, a small-town girl and a local youtube sensation, played by Soundarya Sharma, is frazzled by all the wrong attention given to her by Thakur bhaiya, a local politician, played by Anupam Kher. She plans to run away with her childhood sweetheart, Monu (played by Himansh Kohli), to a big city and give her singing aspirations a shot. All she lacks is money and that's when she plans a bank robbery with Monu and his gang. Though Anupam Kher and Jimmy Shergill provide the much-needed intrigue to the movie, they have small roles. Himansh Kohli speaks in a Bihari accent which is painful to watch.
The movie problem of this movie is there is no chain of events and the audience is left to figure out for themselves the story's plot. Jimmy's entry is remarkable and reminds of the every cop role he has done to perfection. It seems that the movie doesn't have a storyline and has random scenes. Though the writer/ director, Sattwik Mohanty, might have a good sense of humor, this lazy and hast screenplay fails to showcase it. The only talent we could see in the movie was Taaha Shah, but this project was definitely was not worthy for him to do.
Too many elements in the story like, Pinku, the local hooligan, Sub-Inspector, S.N Chobay, Pitobash as a Naxalite leader, makes the movie a difficult watch. At first, you might enjoy the actors and their weird accents, but once you realize the storyline is as clueless as the people in the movie you would want to shut your brains and eyes and take a nice nap.
A small town tale of a bank robbery could have been more interesting when told with a proper storyline, alas this fails to do so. The songs are boring, styling is also a misfit, the character and sound look urban for a city like Ranchi. There is a high chance that you might want to leave the theater. So we suggest, sit home and enjoy this pre- Diwali weekend instead of wasting your money at the theaters.