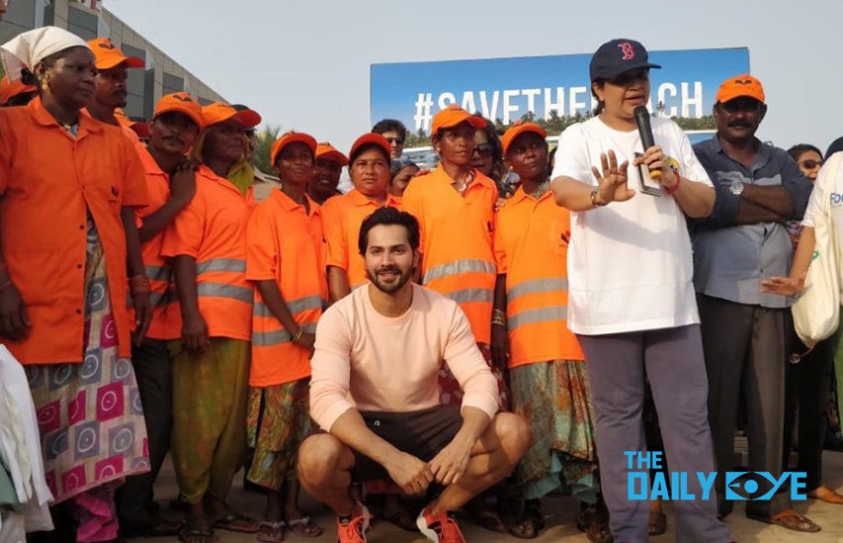 World Environment Day: How are the Stars saving the Environment?
by Yash Saboo
June 11 2018, 4:48 pm
Estimated Reading Time: 3 mins, 3 secs
June 5 marked World Environment Day - a day dedicated to generating awareness regarding the threats lurking over the environment. Every year World Environment Day is celebrated with a different theme and agenda hosted by one country. This year's theme was 'Beat Plastic Pollution'. Concerns have been raised worldwide because of the excessive use of plastics. This has also led to rising plastic-ban campaigns, with dignitaries from all spheres of life coming together to beat this evil.
Source : EVENTFAQs
Bollywood celebs such as Dia Mirza, Juhi Chawla, Varun Dhawan, Ayushmann Khurrana and more are taking up the cause and using their stardom to create awareness regarding the hazards of using the non-recyclable and single-use plastic. Here's how the Bollywood stars are curbing the plastic splurge:
Dia Mirza:

Dia Mirza always leads the bandwagon when it comes to saving the environment. She was appointed as the United Nations Environment Goodwill Ambassador for India in November 2017 and resorted to social-media for the cause. The

Rehnaa Hai Terre Dil Mein

actress posted a video, where she talked about how nearly 45 billion feminine hygiene products are disposed of each year, which, when incinerated, release toxic fumes. Else, ''they end up in landfills or even in the ocean, causing serious harm to the health of the environment--to your health and to my health,'' warned Dia. She asked women to switch to biodegradable sanitary napkins, and do their bit in saving Mother Nature.
Varun Dhawan:

Varun kick-started an environmental preservation event in Mumbai called

Save the Beach

. "I have spent many evenings on the beach, playing cricket or enjoying gola (snow cones) with my friends. It pains me to see the state of affairs today. Versova beach is an example of how beaches can be cleaned if people put their mind to it. It's time to make a beginning. I want my new-born niece to play on Juhu beach like we used to, as kids," he was quoted as saying.
Ayushmann Khurrana:

Ahead of the World Environment Day, Ayushmann Khurrana also joined the league - the star took to social media and posted a video, where he can be seen singing the viral song titled '

Tik Tak Plastic

', for an NGO Bhamla Foundation in collaboration with United Nations. The song melodiously highlights the doom that plastics are for the planet, and hits right where it hurts the most.
Kangana Ranaut:

Kangana Ranaut too joined the fight against single-use plastic bags, and resorted to social media to share a picture - where she is seen wearing a mask which reads "Stop Plastic Suffocation". She shared two posts, in the first one, she urged people to wear a plastic mask for just ten seconds to understand the kind of environment the future generations will live in. In the second video, she stated, "In 30 years, there will be more plastic in the sea than fish," highlighting the alarming rates of plastic is sea.
Juhi Chawla:

Juhi Chawla also stood in support of the plastic ban, and took up the

Beat Plastic Pollution

challenge making rounds on social media. For World Environment Day, the actress shared a picture of herself on social media, holding wooden toothbrushes, thereby implying that she is ditching its plastic counterpart, and tagged the others to join the challenge.
Source : Social News
The Beat Plastic Pollution challenge that Bollywood stars are taking up involves -
Choose which type of single-use plastic you are ready to replace

Take a selfie with a reusable alternative you are ready to embrace

Share your selfie on social media with the following #BeatPlasticPollution & #WorldEnvironmentDay and challenge your friends.