Director Alfonso Cuarón returns with Heart-breaking 'Roma'
by Yash Saboo
September 6 2018, 4:52 pm
Estimated Reading Time: 3 mins, 0 secs
Alfonso Cuarón's Roma, playing at the Venice Film Festival, isn't just his most personal film; it may be his masterpiece. The film marks his first on-screen return to his native country since 2001's Y Tu Mama Tambien. The film is an ode to his own childhood, growing up in Mexico City at a time of huge upheaval. And after a rapturous world premiere at the Venice Film Festival, the film is firmly in the Golden Lion mix.
Alfonso Cuaron
Shot in black and white and drawn directly from Cuarón's memories, the filmmaker didn't just keep the screenplay from his actors (who found out what they were doing in each scene only as they did it), but from his creative team too. He would describe and detail set and costume choices, rather than allow for interpretation of what was written down. And he served as his own DP, after scheduling counted out his regular collaborator Emmanuel Lubezki, demanding that he be more present in every moment of the film than ever before.
The year is 1971: posters for the previous summer's World Cup, held in Mexico, are still seen in one child's bedroom. The title refers to the "Colonia Roma" district and to director's belief that Mexico City been evolving in the four decades since into a non-imperial grandiosity, a quasi-Rome in its commotion and sprawl, and the streetscape and crowd-scene sequences Cuarón stages are truly stunning, especially his sensational evocation of the Corpus Christi massacre, when around 120 people were killed by the military during a student demonstration, notes The Guardian.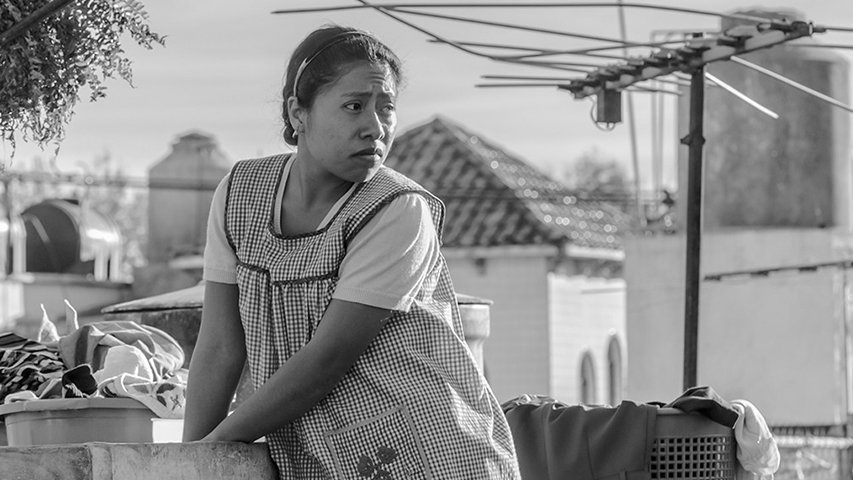 A still from Roma (Splash Report)
Cuarón has an extraordinary way of combining the close-up and the wide-shot, the tellingly observed detail – humorous or poignant or just effortlessly authentic – with the big picture and the sense of scale. At times it feels novelistic, a densely realized, intimate drama giving us access to domestic lives developing in what feels like real time. In its engagingly episodic way, it is also at times like a soap opera or telenovela. And at other times it feels resoundingly like an epic.
Cleo's personal life is beginning to unravel in tandem with that of her employer and Cuarón shows how the household, though placid enough, is under pressure. The tiled driveway, which is shown being mopped clean over the opening credits, is covered in the excrement of the family's much-cherished dog. Some of the things that happen to Cleo are painful to watch. She'll be forsaken by someone she should be able to trust. Even her role in the family, the most secure relationship in her life, renders her an outsider—but only to a point.
Every scene, every character, and every shot has been nurtured with loving care. There are lovely set-pieces when the family, uneasily without their patriarch at Christmas, visit an uncle – whose clan have a hair-raising love of guns and go cheerfully off for a shooting spree, with minimal warnings on safety. A New Year's party in the country is interrupted by a dramatic forest fire – Cleo is the first to see the shimmering heat above the dark shapes of the trees, and it looks at first like a hallucination. The party atmosphere dissolves into panic, but then turns into a robustly determined group effort with someone singing what sounds like a hymn.
It is mysterious and beautiful.