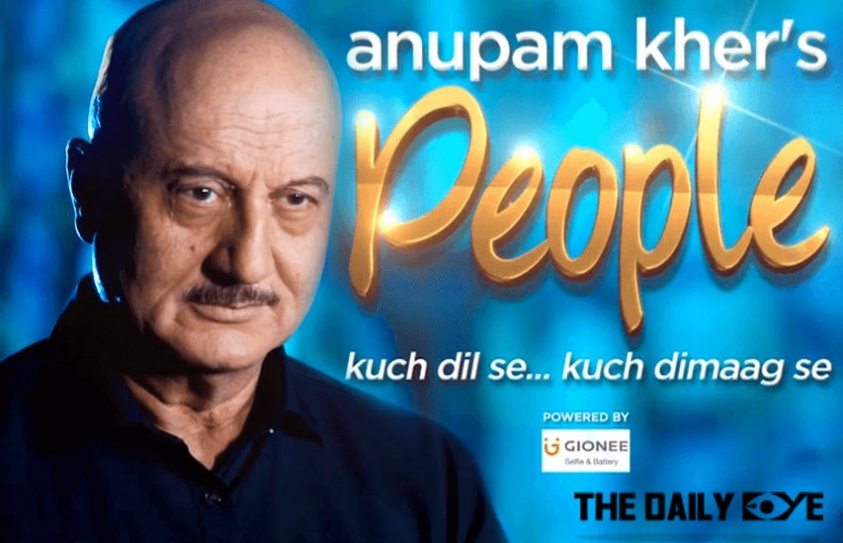 Anupam Kher's 'People'- Lights, Camera, Candour!
by Shubhangi Jena
September 4 2017, 5:44 pm
Estimated Reading Time: 3 mins, 18 secs
Anupam Kher's 'People' is a tiny window or an admirable kinetophone into the lives of our favorite celebrities- be it yesteryear or still rocking- earmarked generously for the populace. To begin with, the show is an austere flag bearer of life's simplicity. No drama. No glamour. No chinwags or ostentatious mirth. The opening lines of the show 'People are what life makes them; find out what makes your stars' are the underpinning for what follows. It uncovers tiny tales from their sagacious journey for the starry-eyed commoners.
The first episode commenced with a heart-warming chat with Akshay Kumar- the beloved thrill-seeker of Indian cinema. Kher's wondrous questions were met with equally delightful responses from Kumar with an air of candour filling the distance between us and them. The episodes that followed witness many more bigshots from the showbiz- each conversation being a redolent one. Be it audacious and outspoken Kangana Ranaut who allows us to catch a fleeting glimpse of the delicate artist in her. Kangana Ranaut or South Superstar Kamal Hassan, every new chat is a foot into a different dimension. The actors very frankly evince their stories, journeys, opinions, their beliefs and all the albatrosses they have crossed to follow their heart and some lip-curling jollity that buoys up the entire conversation.
Moreover, the show offers some brow-raising lines like (to Akshay Kumar) 'if his wife is the producer of Padman has she chalked out remuneration too?' to which Kumar answers sportingly though or Nawazuddin Siddiqui's revelation on his 'fear of death' and the fact that this apprehension has sailed his boat so far. On the same lines, Kangana Ranaut and Mahesh Bhatt unfurl the intricacies of the industry's bitter truths, the fact that after success comes the fight for survival which ultimately outflanks the hardships of the initial stages. An unapologetic Ranaut also speaks about her stance on the nepotism zinger- there is a difference between catering to the expectations of an inherited populace and drawing the attention of the masses through one's sweat, blood and acting prowess over decades in order to establish- the latter, she says, is earned. A great admirer of Kangana's spirit, Kher is seen quizzing Mahesh Bhatt, in his episode as to whose struggle – novices or starkids- is applaudable. To this, Bhatt is seen acknowledging that everybody has to champion their own trial and tribulations; nobody escapes through the litmus test of slams unscathed.
So far, Anupam Kher has had a good repertoire as the host for a couple of talk shows; all of which have whipped out outstanding reviews from viewers and critics alike. No wonder, he has recently been spotted donning the patriotic skin and blatantly wearing his sense of nationalism up his sleeve- this show on Republic TV was no surprisal. Both Anupam Kher and Akshay Kumar (his initial guest) portray glaringly their deep-seated love for Indian soil. One can easily grasp the 'nationalism' or 'pro-India' aspect of the show and that's what you call an ingenious way of sowing the seeds of patriotism amongst the masses. In a nation with the largest democracy in the world it's a pretty mindful tact of brushing an insight of what the semblance of politics actually looks like.
If however, the crux of the show being so simple, that not much can be elaborately described further about Anupam Kher's 'People', what makes it a compelling watch are the anecdotes that our B-town headliners reveal. Preach! The alpha has proved to be such immensely power-packed that it has set some animated anticipation around who might be lined up next for an enthralling appearance. Some people tread on soil to not leave their names behind, they are here to leave their saga behind for the people around.