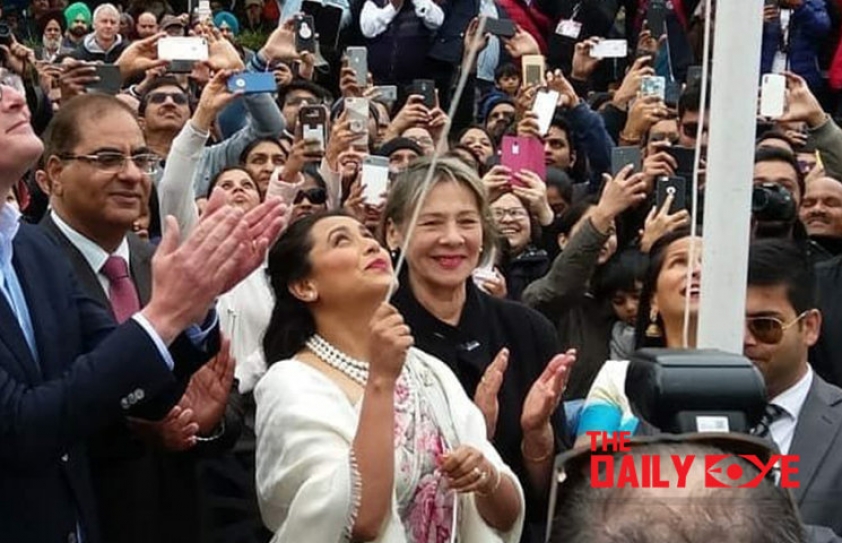 Rani Mukerji hoists National Flag at the Indian Film Festival of Melbourne 2018
by Yash Saboo
August 13 2018, 7:38 pm
Estimated Reading Time: 2 mins, 56 secs
The beloved Rani Mukerji is currently in Melbourne for the prestigious Indian Film Festival of Melbourne 2018 (IIFM). The Hichki actress had the honour of hoisting the Indian National flag at the Federation Square. In addition to that, she was also bestowed with the Best Actress award for her incredible performance in Hichki. The list of honours doesn't stop there. Rani was also honoured with the Excellence in Cinema for her extraordinary film career so far.
Nothing could be prouder for Rani than a moment like hoisting her own country's flag in another country. She shared her experience with Pinkvilla and said, "When it comes to hoisting the National flag or when we sing our national anthem, it swells anybody with pride. For me, to be bestowed upon this honour because of the love and adulation that I have received from so many people from around the world that today after so many years I've been able to represent my country and actually do such an honour. This honour has only come to me because of the love that people have given me over the years. I'm feeling extremely proud for being able to represent my country in a foreign land, especially at the pulse point of Melbourne, which is Federation Square. To be able to hoist my country's flag in another country, I can't express to you the emotions because there are so many emotions that run through you. The fact that you feel so much more closer to your homeland. When the national anthem plays, it takes it to another level. When you leave your country and go to another country, you always start missing your country even more. It was a great moment when they had the confetti with the tricolours of our National flag. It was a beautiful phoenix shot to see our National flag flying so high, it felt wonderful. I'm so happy to be able to do that through my work."
Rani also thanked her fans for loving her and her work through the years. Hichki has always been close to Rani's heart. On winning the Best Actress award, she said, "I've always maintained and said that awards for me are the love and adulation that I get from people who watch my movies. The audience are the people who actually make a movie, a success. But, this time around it was very different. There were judges from Australia, from the Australian film industry who saw our film (Hichki) and judged us as they were on the jury. For me, the language of cinema transcends all boundaries. When people in Australia are watching Hichki and connecting with the movie, the character and the emotions, I think that is the true spirit of any movie around the world".
Apart from Ranji Mukherjee, Raju Hirani won the Best Director for Sanju while the IFFM Vanguard Award went to actor Ranbir Kapoor for his "breakthrough performance" in bringing alive Sanjay's tumultuous life journey on-screen. The director couldn't be happier with the recognition for the movie and said that he is excited about showcasing the movie at La Trobe University, with Sanju co-writer Abhijat Joshi and actor Vicky Kaushal.
The supporting actor award was grabbed by its rightful winners. Vicky Kaushal won it for his stupendous performance as Kamli in Sanju and Richa Chadha won it for her power-packed performance as a brothel owner in Tabrez Noorani's Love Sonia.
The Indian Film Festival of Melbourne began on Friday, 10th August 2018 and will conclude on August 22.