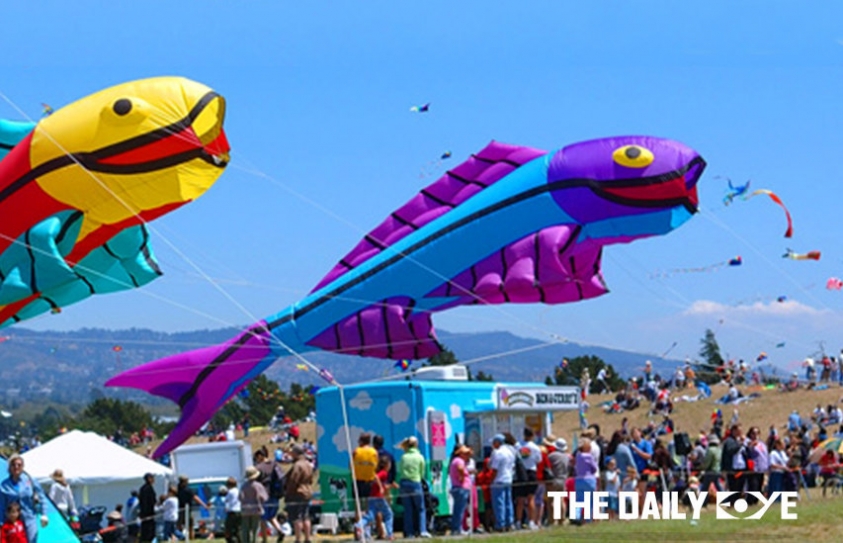 A Tako for Berkeley
by Revati Tongaonkar
September 13 2017, 7:40 pm
The annual Berkeley Kite Festival, took place in the eponymous city in California in July, featuring Japanese kites, and hosted workshops to teach the ancient craft of making them.
The Berkeley Kite Festival has been taking place for the past 30 years, and is one of the most well-loved family events in the city. This year, it took place in the end of July on 29-30th of the month, and featured a display of Japanese kites, along with a workshop on how to make them.
Japan has a long history of association with kites. Kites, called tako in Japanese, first came to the island nation with Buddhist monks from China around 710-794 CE, in what is known as the Nara period of their history. They were originally used for practical purposes, such as, lifting materials to workers during construction of tall buildings, and were later used for recreational purposes, in religious festivals and thanksgiving ceremonies. Kites soon evolved, becoming highly decorative, with embellishments depicting some character from a folktale, or having a religious or symbolic meaning. Every region of the country soon developed its own style of tako.
Out of these, the Hamamatsu Kite Festival was born. The festival, which began 430 years ago to celebrate the birth of a prince, is hosted from May 3 to May 5 each year in the city of Hamamatsu, in the western half of the nation. The celebrations include a Tako Gassen, a kite fight, and creative palace-like floats, called yatai, that are carried through town in a parade of sorts, with traditional Japanese music playing. The festival is an innate part of Japanese culture, and is celebrated with much aplomb.
At its heart, though, the entire exercise of kite-building is but a social activity to promote communal bonding. As Kazuya Gojo, kite-maker from Hamamatsu puts it, "Making kites by hand takes lots of time, so you need lots of hands."
Gojo works with the International Association of Tako Age (IATA), an association of kite-lovers in the San Francisco Bay area, who take part in the event at Berkeley each year. Gojo was part of the workshop teaching Japanese kite-making, showing people how to work around with bamboo and rice paper at the event. Berkeley hosts several such events, with a little bit of something regarding each aspect of kite-flying; apart from teaching workshops, they also host Giant Creature Kite Expos, Kite Battles and team kite-flying events, apart from companies displaying new products for avid collectors. They also have candy drops from kites and kite shops, apart from other activities such as face painting, petting zoos, bouncy castles, food and drink stalls, apart from live music by Taiko drummers, making it a thoroughly memorable event.
Source:
https://ww2.kqed.org/arts/2017/08/22/pictures-in-the-sky-the-traditional-square-kites-of-japan/?utm_medium=Email&utm_source=ExactTarget&utm_campaign=20170831Arts&mc_key=00Q1Y00001kZC24UAG
http://www.mercurynews.com/2017/07/26/berkeley-kite-festival-what-you-need-to-know/
http://www.bbc.co.uk/ahistoryoftheworld/objects/43plIonsR5mVf92KS4Wbyw
http://takoageusa.org/aboute.html
http://www.highlinekites.com/pages.php?pageid=21