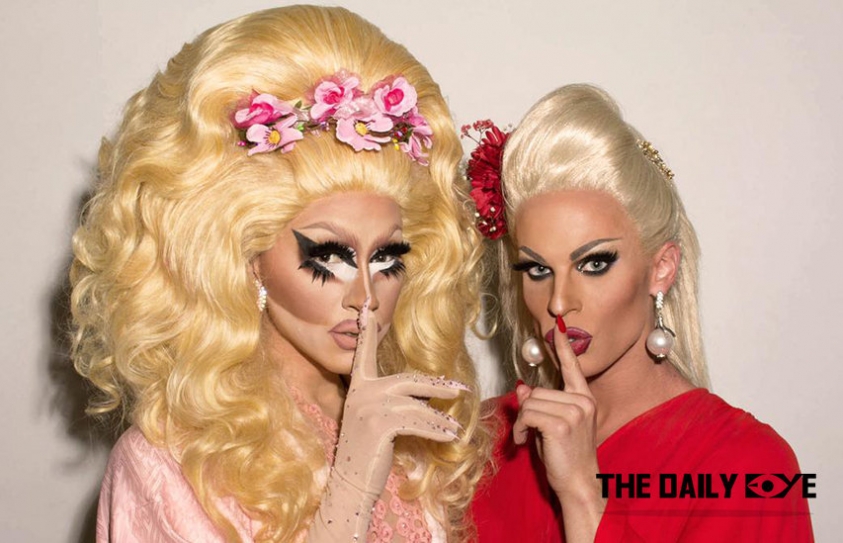 Drag Icons Trixie and Katya begin their new show 'The Trixie and Katya Show'
by Yash Saboo
November 15 2017, 6:30 pm
Estimated Reading Time: 2 mins, 18 secs
The Trixie and Katya Show is an upcoming television series, featuring former RuPaul's Drag Race contestants Katya Zamolodchikova and Trixie Mattel. Ahead of its premiere on November 15, 2017, Vicel and made the show's first episode available online on November 3.
After RuPaul's Drag Race scoring eight Emmy nominations comes the news that two of Drag Race's most beloved contestants are getting their own show. The new show taps two drag icons to dig into life's most pressing issues—from love and sex to fear and death, one topic at a time. They'll take questions from fans (and sometimes, trolls), grill complete strangers about big questions, and explore what it really means to live your best life.
Though neither of the pairs won Drag Race season 7, they've since scored success with their hilarious YouTube series "UNHhhh" and the new series, also produced by World of Wonder, looks like it'll provide plenty more of Trixie and Katya's distinctive banter and now they're bringing it to TV screens.
People call it the next evolution phase of UNHhhh. The trailer for the show shows the Drag Race contestants hitting the streets and terrorizing tourists on Hollywood Boulevard, asking them questions like if they know what a "ballcuzzi" is. Even though Trixie and Katya have moved to cable and are actually stepping outside in their new series, this new preview shows that you can take the girls out of UNHhhh, but you can't take UNHhhh out of the girls.
Just as in their web series, the pair will riff on a variety of topics including drag, hookups, breakups, fear, God, death, sex, porn and more. The girls will also get out of drag to walk the streets of Los Angeles and interview locals. In the first episode, Trixie and Katya will tackle the ins and outs of hooking up, going over online dating, meeting up IRL, and a few bedroom dos and don'ts. Navigating the subject leads them to some pretty weird places, and after tricking some dude from Grindr into appearing on TV and treating a rubber chicken like a sex toy, they get to the bottom of everything you'd want to know about getting it on.
Trixie and Katya told HuffPost they didn't become good friends until after they left Drag Race, and started their YouTube series just for fun. "People always say they love watching our show because it feels like they're just hanging out with their friends, which is absolutely what we're doing," Trixie said.
The Trixie And Katya Show premieres November 15 on Viceland and you can watch them both now on RuPaul's Drag Race Season 7: RuVealed