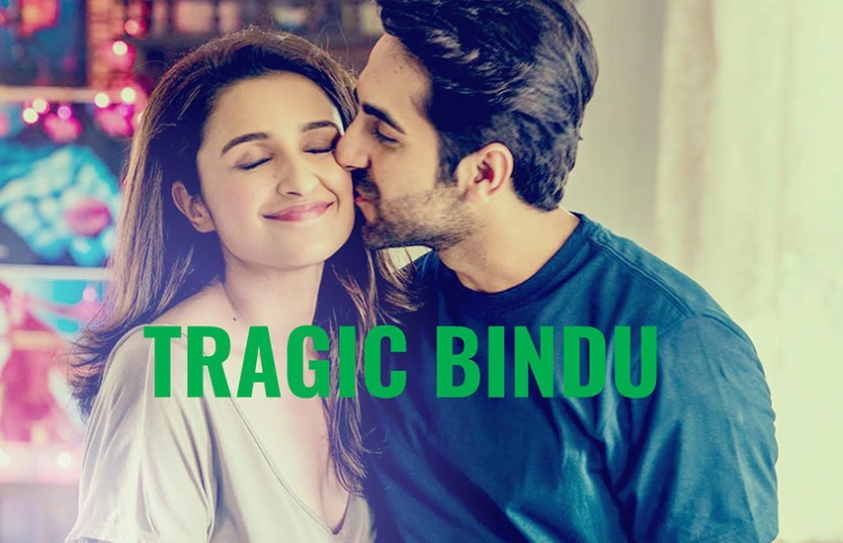 True Review Movie - Meri Pyaari Bindu
by Denver Fernandes
May 12 2017, 7:21 pm
Estimated Reading Time: 3 mins, 27 secs
Director: Akshay Roy
Stars: Ayushmann Khurrana, Parineeti Chopra
Runtime: 2hr 25mins
Genre: Drama, Comedy
Bollywood has tried its level best to shove happy endings down our throat for so many years but has failed to accomplish anything that's actually good when it comes to bittersweet love stories or feel good tragedies. This movie is Akshay Roy's directorial debut, based on Suprotim Chatterjee's screenplay and it shows off bright 1980s Kolkata, populated by humming Bengalis, emotional mix tapes, typewriters, classic retro songs and post cards. The story itself is surprisingly well told with flash backs and flash-forwards along with a well-crafted narration. Despite some evident flaws in story and a few character motivations, this movie is a Bong delight.
The story is told from the perspective of Abhimanyu (Ayushmann Khurrana), a cheesy horror novel writer who's been facing writers block for about 3 years. He finally decides to write a love story based on his seemingly failed relationship. As he starts to recite his tragic love tale the story flashes back to when he first saw Bindu (Parineeti Chopra), an over enthusiastic, fun loving girl who's confused about life more often than not and ends up running away from things instead of facing it head on. Abhimanyu is the opposite of her personality, a studious, pacifistic, tame, lover boy who apparently doesn't like moving on or getting off the hook.
Meri Pyaari Bindu is not a movie for someone who expects a typical happy ending. It's a Rom-Com, which gives you quite a reality check just like Hollywood's very own La La Land. Abhimanyu or as she lovingly calls him Bubblewrap, grows an infatuation for his neighbor, Bindu, over the years. Abhimanyu and Bindu meet as kids, share the same college and friend circle, part ways over the years and keep running into each other again and again. Abhimanyu's love for her never ceases, whereas she is always in two minds about him. So, he's basically friend zoned for like a large part of the movie. It takes two failed engagements and one breakup for Bindu to get closer to Bubblewrap, emotionally and geographically. He eventually asks her out and she says yes while her whole singing/dubbing career angle plays out only to fail miserably. The director relies on Abhimanyu's desperation and frustration to find the love of his life, making us relate to the character. It works on the basic principle that everyone has felt helplessness or desperation in a relationship at least once.
The supporting cast for the movie are packed with surprises and have hilarious dialogues all throughout. Abhimanyu's dysfunctional family and peers and Bindu's alcoholic retired army man father are a delight to watch. The director elegantly nudges in one liners and situational humor just when you think you've had enough of drama.
The movie overflows with soothing Gulzar lyrics and Geeta Dutt's amazing voice. The retro playlist is a breath of fresh air from laptop sounds. The mix tape the duo record, plays a big part in the movie, which symbolizes past memories and times of happiness. The end confrontation of the lead characters was a big let down. The editing was clearly not synced taking you out of the movie and the dialogues stretched way too long than it should have been, leaving you checking your watch. Few character motivations were a tad bit confusing. A sudden emotional dialogue by Bindu's father towards the end seemed extremely sudden and unnecessary.

Both characters sit on opposite sides of the spectrum but still fit like a hand in a glove. The crux of the story is emotional and makes you wonder about your first love or the one that got away and then hits you in the head with- life is not about dwelling in the past but about learning to accept, love and probably move on. Yes it might sound creepy but the director really sells the concept with good storytelling, music and humor.