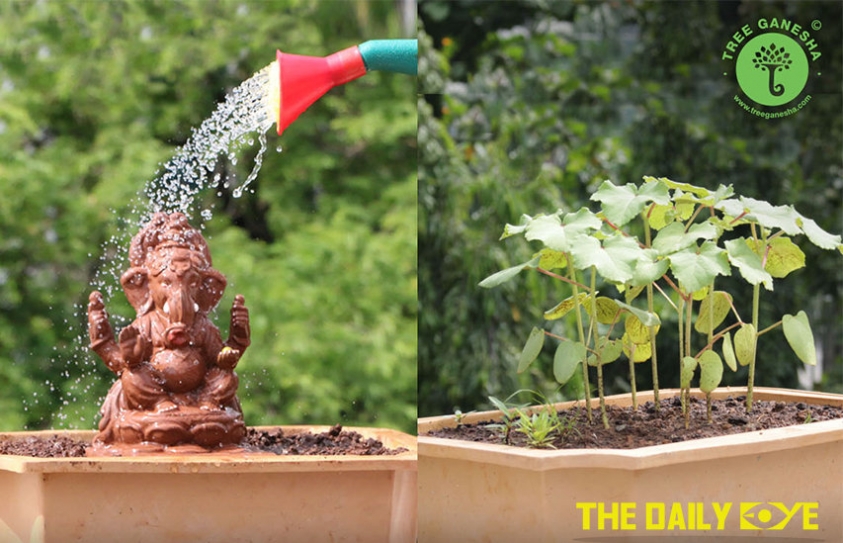 Tree Ganesh – an Eco-friendly Celebration
by Revati Tongaonkar
August 28 2017, 6:44 pm
Estimated Reading Time: 2 mins, 27 secs
Actress Richa Chadda recently lent her support to an Eco Ganesh initiative in the city.
The versatile actress is known for her presence in the alternative cinema industry. Her strong screen presence and off-beat choice of roles speak of her eclectic taste. From a love-blind girl in Main aur Charles, to a foul-mouthed wife of a gangster in Gangs of Wasseypur, she has played a wide range of characters, making her mark in even the smallest of roles, such as Rasila in Goliyon ki Ras Leela Ram Leela.
Chadda has also always been extremely vocal about building a better future, and has supported a variety of causes, primarily being known for her contribution to promoting gender equality in several spheres. She has spoken up about the entrepreneurship skills of women, sports for women in India, and against eve teasing. She has also collaborated several times to create instructive videos to create awareness about women's rights and against the inappropriate portrayal of women in cinema.
This time, the actress visited Tree Ganesh, to lend her voice and support. Tree Ganesh is a startup working to create eco-friendly Ganesh idols for mass use. As the city lines up to celebrate the arrival of the elephant-headed god, the actress wants people to do their bit for the environment by buying nature-friendly Ganpati idols instead of those made of harmful and non-biodegradable materials, such as plaster of paris.
Tree Ganesh is a unique initiative, started by Dattadri Kothus, an art director in the city. A passionate sculptor and artist, his work is the winner of several awards. He strongly supports the cause of environment-friendly celebrations, and his startup is a result of the same. Tree Ganesh manufactures Ganesh idols made from environment-friendly materials such as riverbed clay, which break down easily. Each idol contains a seed within it. Once the worship is over and the idol has been immersed into the water, the material dissolves naturally, and the seed, at the same time, gets sown to grow into a tree, a beautiful way of making sure that the immersion does not pollute our waters, while planting a tree to make our planet a little more green at the same time.
"I'm happy to be supporting this. This initiative is something I have heard of in the past but this is the first time I have physically been part of something like this. I think it's high time we need to stop polluting the environment in the name of festivities and be careful as soon as possible or it would be too late. It saddens me to see such state of the beaches and roads during Ganesh festivities when burnt crackers, dirty beaches are the outcome of the Visarjan. So I think Tree Ganesha is a perfect solution that helps not only save the environment but also add value to the environment by planting trees," she said.