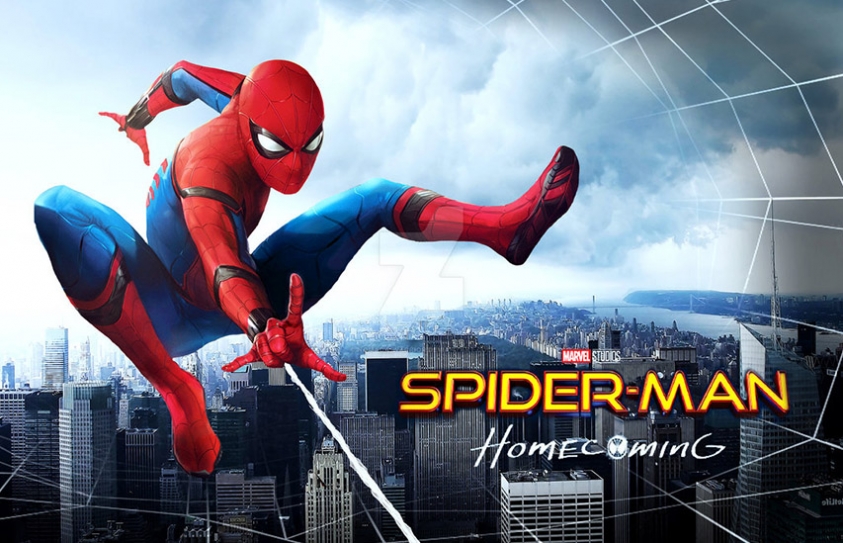 True Review Movie - Spider-Man: Homecoming
by Denver Fernandes
July 7 2017, 6:17 pm
Estimated Reading Time: 4 mins, 1 sec
Cast: Tom Holland, Michael Keaton, Jon Favreau, Zendaya, Donald Glover, Tyne Daly, Marisa Tomei, Robert Downey Jr.
Director: Jon Watts
Producer: Kevin Feige, Amy Pascal
Writer: Jonathan Goldstein, John Francis Daley
Genre: Sic Fi-Superhero
Duration:133 Mins*
Everyone's favorite web head is back and this time he's younger, clumsier and funnier than ever before. Seems like all Spidey needed is the warm embrace of Marvel Studios to make us fall in love with him all over again. After the utterly disappointing Amazing Spider-Man 2, the only logical choice for Sony Studios was to collaborate with the franchise's original owner, Marvel and rightly so. The filmmakers stay true to the early Spider-Man character from the comic's - a geeky kid in High School who's just trying to ask a girl to prom. The best and most fun parts of the previous Spider-Man movies were mostly all the scenes in High School. So it's not a new concept but since the character is significantly younger, the director chooses to focus on kid problems rather than adult ones making this a fresh fun take on the character. The director did take some liberties and make bold choices like casting Mary Jane/MJ (Spider-Man's eventual love interest) as African-American and making Aunt May (Marisa Tomei) a 30 something year old, hottie. All the same, we get a great coming of age story and a fantastic superhero film.
After the events of Civil War, Spider-Man (Tom Holland) finds himself waiting around for Tony Stark (Robert Downey Jr.) to call him for more Avenger missions. Amidst all the waiting, he swings around catching street level thugs and helps old women with directions, till one night he witnesses an ATM heist in which the robbers use alien technology. Here is where the primary antagonist or anti-hero, 'Vulture' (played by none other than Birdman himself, Michael Keaton) comes into play. Vulture and his team of goons are what pose a serious threat to our Spider-boy. Keaton has more often than not nailed emotionally complex characters and this performance was nothing short. His character was grey unlike the usual Marvel one-off villains. The struggle of being an average father by day and a crook at night gives his performance more gravitas. Tom on the other hand is phenomenal as Spider-Man. His teenage innocence and devotion to live up to Tony Stark's expectations make him a perfect fit for this iconic role. Throughout the movie his character constantly tries to be more responsible and adult about everything and Tom portrays that brilliantly. The father-son or master-pupil dynamic between Tony and Tom was interesting and it pumped up a quite a few laughs out of me. The castings of all the other side characters are spot on. Weird awkward girl, nerdy genius, bullying jock and High School remind me of Dazed and Confused. The director, Jon Watts cast a very diverse bunch of actors, contrary to the source material and this choice worked marvelously. Every character fit into their respective roles like a hand in a glove.
In all the previous Spidey movies and comics, the side characters and love interests were not very racially diverse. It's great to see a director who went against the tide and proved that no matter what race, a good actor is a good actor. Moreover, Spidey always had to adhere to some sort of responsibility after the death of his Uncle or losing the love of his life and so on. In this movie, there are no 'moment of clarity due to a death' scenes. The director went full on balls to the wall coming of age comedy. The movie moves away from the sappy business of the previous versions and swings towards a more lighthearted enthusiastic Spider-Man which is great because that's the Spidey we know and love from the comics and video games. The movie also touches upon logical things like, "What if there were no buildings around to swing from?" or "How would he change his costume on the street?" The director also manages to sneak in a couple of race related jokes. Its subtle things like these that just bring life into the movie.
All in all, it's nice to know Marvel does not ignore character development for the price of a cool scene. The 'Ferris Bueller with superpowers' angle of the director is what this dead franchise needed. This movie has tons of humor, excellent CGI action sequences and an amazing cast of child actors. It appeals to the younger generation and also to old school Spidey fans. Marvel has done it yet again by making perhaps one of the best Spider-Man movies ever.