9th Jagran Film Festival creates a Deeper Cinematic Impact on People
by The Daily Eye News Desk
July 2 2018, 4:54 pm
Estimated Reading Time: 3 mins, 8 secs
The day 2 of the 9th Jagran Film Festival continued to receive warmth and applauds by its audience. The highlight of the day was the recollection and the celebration of 20 years of the film Satya with a special conversation between Saurabh Shukla and Mayank Shekhar. The day also saw a 'live' panel discussion involving India's top journalists, related to the world of cinema and its mega-effects. The journalists engaged in the discussion were Rahul Dev, Vartika Nanda, Bhupendra Chaubey and Anant Vijay led by Mayank Shekhar.
Rahul Dev, Vartika Nanda, Bhupendra Chaubey, Mayank Shekhar and Anant Vijay at the 9th Jagran Film Festival
Among the other celebrities that attended the festival were Actor-director-theatre artist Yashpal Sharma during the premiere of his film Karim Mohammed along with the child artist Harshit Rajawat, Director Kamal Swaroop, Director Sanal Kumar Sasidharan, Director Raj Vitthalpura and Director Zakaria Edayur.
Pushpendra Singh and Tejas Deoskar at the 9th Jagran Film Festival
Actor-Director-Theatre Artist Yashpal Sharma said, "This is my third time at the Jagran Film Festival and I am very thrilled that my film Karim Mohammed which is to be released on August 24th this year is having an exclusive premiere at 9th JFF. Film festivals like Jagran Film Festival are a great platform for doing movie premieres as this film festival has a broader reach as it is India's largest travelling festival."
A special screening of the film Satya was organized as a part of the 20 years celebration. The audience was seen enjoying the recent Bollywood release, October starring Varun Dhawan. In the movie list of the second day was Steven Spielberg's 'The Post', Lijo Jose Pelissery's Ee.Ma.Yau, Reema Das' Village Rockstars and Sanal Kumar Sasidharan's S Durga. Shashi Kapoor's Homage special New Delhi Times was also enjoyed by his fans.
Jagran Film Festival Day 3- 1 July 2018: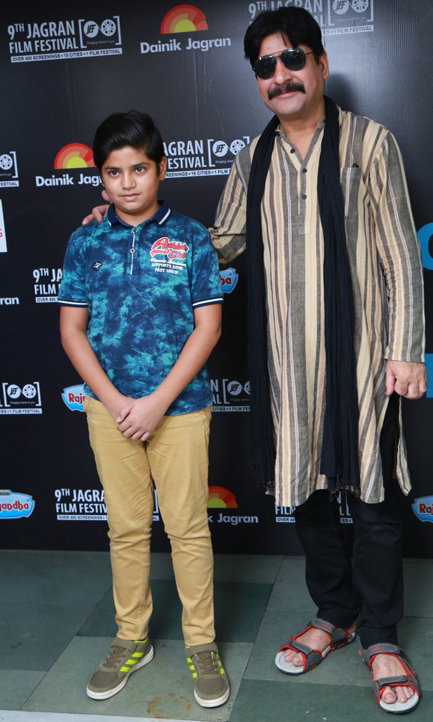 Harshit Rajawat and Yashpal Sharma at the 9th Jagran Film Festival
In-progression, the 9th edition of the Jagran Film Festival received a wide audience response as they continued to watch the whole variety of movies telecasted from across the world, of different genres. The third-day highlights included an interactive session with Director-Writer Tejas Deoskar. He spoke in volumes on the Jagran Film Festival initiative, while engaging his audience on his successful professional stint in Marathi Cinema. Among other celebrities was also Director of 'Ashwatthama', Pushpendra Singh.
Day 3 of JFF saw special screenings of films like Madhuri Dixit starrer 'Bucket List'. It garnered the same attention and enthusiasm from the audience as it was when it was released on celluloid. The event also showcased a special screening of 'Being Bhaijaan', a documentary on the heartthrob of Bollywood, Salman Khan. Followed by a screening of 'For the love of a Man', a documentary on the legendary actor, Rajnikanth. The festival also showcased Khushboo Ranka & Vinay Ranka's 'An Insignificant Man' and Shoojit Sircar's 'October'.
The 2018 edition of the Jagran Film Festival that will connect 18 cities and showcase over 200 films will commence in Delhi and tour to other Indian cities like Kanpur, Lucknow, Allahabad, Varanasi, Patna, Dehradun, Ranchi, Jamshedpur, Bhopal, Indore, Gorakhpur, Agra, Ludhiana, Hissar, Meerut and Raipur before concluding in Mumbai in September.
Dates: Friday, 29th June - Tuesday, 3rd July
Venue: Siri Fort Auditorium, Delhi
Time: 10.00 am onwards
Registrations: www.jff.co.in
Follow them on
https://www.facebook.com/JagranFilmFestival/ or https://twitter.com/jagranfilmfest