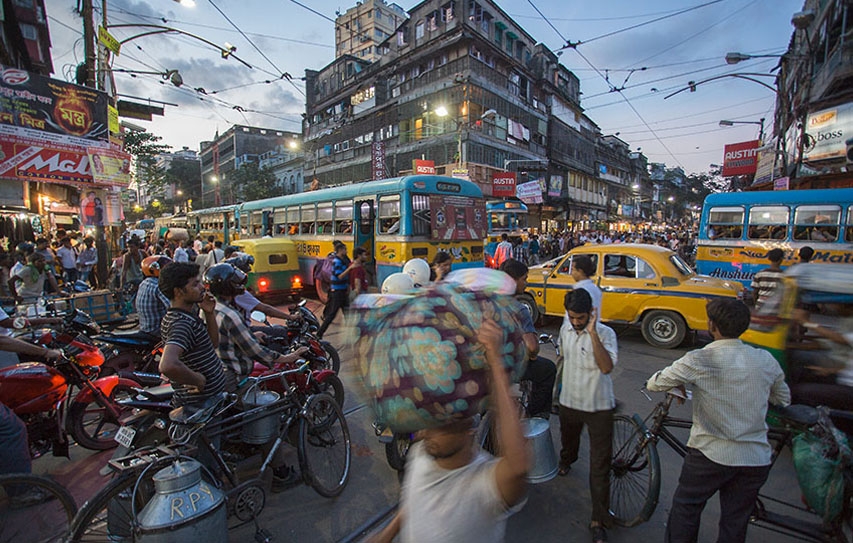 Dil Ka Haal Sune Dilwala
by Rinki Roy Bhattacharya
January 30 2016, 9:12 pm
Estimated Reading Time: 5 mins, 55 secs
Growing up in Calcutta gave us grounding in sound middle class values out of which I was constructed. We lived in a four room rented ground floor place, P92 SardarSankar Road. It is a miracle the road has survived with that same name till date, but not the house where we lived. There were numerous residents, apart from my own immediate family. The largest room was occupied by Jethamoni's family. Jethamoni was father's second eldest brother. What a darling of a man he was. Jethamoni was full of fun and ready for adventures.It was he who introduced us to Club life in Barrackpore, and fed us sumptuous European goodies. He, naturally, was our chief ally and favouritestuncle. His wife, Monima, mother's cousin sister was a gourmet queen. Their three daughters and little son lived at the farthest end of the house.
The second room known as the middle room, literally, belonged to dad's distant uncle and aunt. That room was a sort of dumping room for the bed linen, and the washing. By night it doubled up as a bedroom for the childless, elderly couple. The drawing room always had someone along with dad's youngest unmarried brother, the somewhat stern Chotokaku. The current notion of a 2 or 3 BHK was alien those days, at least in Calcutta. There was always room for an extra person or two turning up. There was always enough food for someone casually dropping in during meals, and life went on without a hitch or hiccup.
Strangely, I don't remember a telephone at home. Because we had none! A telephone those days was a rare, very rare item. The radio however was an important part of middle class households. We had the gramophone in addition that played songs on special occasions. Every home had a radio of course. The evening news had to be heard for its important headlines. Television was not even dreamed of. It was therefore not missed. Thank God for that. We had enough to keep our little minds and busy feet active all day long.
Not having a garden mattered but we could do little. The road outside our home was treated as a general playground. We played hide and seek some days. On Sundays and even at other times, we drew large chalky squares to play hopscotch. We chatted aloud,argued, fought with our friends next door through the barred window, climbing on to the bed for better eye contact. Communication was constant as was the commotion over trifles. Imagine life without telephones, cells, PC, FB, twitter, Skype, blog, whatsapp or something called viber! The strength of the human bond was so strong, so powerful and insistent that everyone interacted with everyone in this festival of life- sharing their dil ka haal , daily little things that appear superficial or un important but spices up life to the fullest.
My friend Renee reminded me how we loved to read books lying in bed. Still do! Sometimes we fell asleep with the book open on our breast. The joy, the comfort of holding a book, inhaling the fragrance of paper has no parallel. And what about my first love, writing letters, and postcards? Just imagine the immense delight of receiving letters. When did you last write to a friend or a relative? When did you last visit a family friend or go on picnic? Do these pure delights exist in this wired world of virtual reality?
One day, we migrated to Bombay or Mumbai as we ought to call it. We moved from one rented home to next. By the time we were in Bandra, the telephone had become my absolute priority. In our Bandra home on Mount Mary, we shared a telephone with our kind Parsee landlords. Very soon the landlords gave up the telephone to us. What luck, it was positioned in my bedroom! There was no greater joy, no better thrill than to chat on the phone for hours with school friends Katy, Mumtaz or Nazira. Pick up a piece of gossip where we had left it – or simply share dil ka haal .Baba grumbled he could not get through to the home as I had kept the number engaged. The poor man was no match for his 'phoney' daughter. Oh, those uninterrupted phone chats with friends, and later with boyfriends, there is no greater thrill- that wait, the unbearable expectancy, was enough to give us a tremendous high. How I long for the telephone to ring- to cut through the long afternoon when work is momentarily in remission, or, on a rainy afternoon, with the unexpected sound of thunder & lightening startling the silent hour.
I have kept a land line, though it hardly rings. A special request to friends to call up on that number instead of the cell makes it work at times. It is frustrating that we have to book everything through the stupid smart phone downloaded app. From cooking gas to an Ola taxi! Ironically even a complaint for the MTNL has to be recorded on the cheeky answering machine. We cannot talk to a real person. Some recorded messages are so clever, you actually say Hullo then realise it is the machine at the other end. Life entirely depends on apps, machines, which quickly go out of fashion before you know to use them. I am reminded of Roald Dahl's book Charlie and the Chocolate Factory, and the regime of automation Dahl created, is here to stay.
I heard love affairs are conducted via sms. Sure they are, it will be no surprise if a cell phone suddenly produced a baby conceived by a sms affair! We would obviously name it Cellophino? Or Cellophina!
My old habit of picking up the phone and dial it is daily frustrated by hearing the machine with a nasal Yanky accent .What a pitiable fate of personal calls in this age of cell phones. Writing letters, making a real phone call to real friends, visiting folks, going for long walks by the sea, these are some of my favourite things…
If you count the many options we have to communicate-sms, emails, buzzing cells, whatsappreputed to be the ultimate connector, face book entries, the skype, viber- am amazed how none of us are better connected? Or bonded and in touch. At the work place, office colleagues sit in the same room to whatsapp one another. Seriously, what is wrong with us?Do we share more? Share at all with the proliferation of options? I think not. People have turned into islands, isolated, unreachable, and distanced. We have lost the natural gift of making conversation, having a hearty adda and sharing something over a cup of tea about dil ka haal, or duniya ka halaat.
Dalai Lama was convinced that human relations happen over a shared meal. Trust me, they do. Invite someone home for chai wai, warm up, and listen to their dil ka haal…. End of story, beginning of friendship. Perhaps even romance? Try.