Concerns about Sexual Assault and Harassment at Music Festivals
by Yash Saboo
August 23 2018, 5:23 pm
Estimated Reading Time: 2 mins, 59 secs
Music festivals are events where you can unwind, enjoy listening to performances by a variety of artists, down some delicious food-truck delicacies and let yourself loose. But there's a darker side to these festivals too: the rampant sexual assault and harassment that often takes place at the events. Two-thirds of women worry about being sexually harassed at music festivals, a new survey has found.
As reported by The Guardian, the survey, conducted by Durham University in the UK took into account responses from 258 people. Of the survey respondents, 66% said that they were "worried about sexual assault" at music festivals. That's comparable to the percentage of those who were concerned about theft at festivals, which was the case for 64% of respondents. And while 65% of women reported being worried about sexual harassment, plenty of men were, too. Of the men surveyed, 56% saw sexual assault at festivals as a concern.
And, unfortunately, this isn't only restricted to the UK. There have been similar findings of festivals in the United States.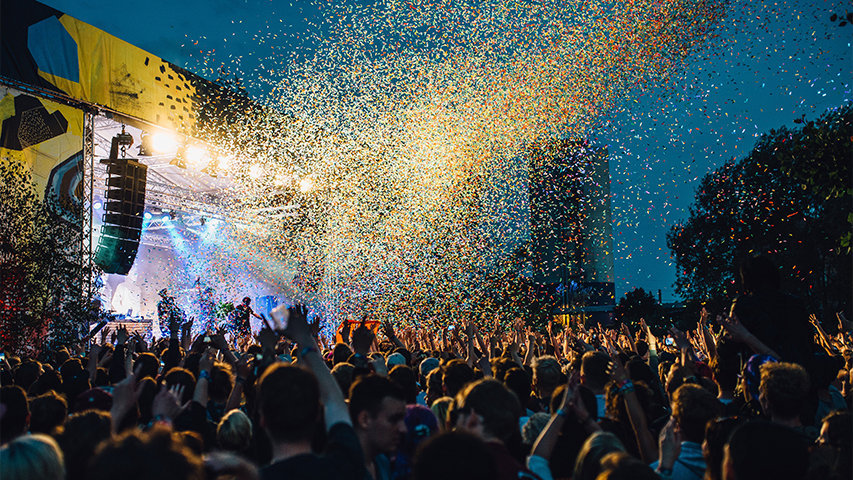 ISO Republic
Citing a survey from Our Music My Body, The Chicago Tribune reported in March that of the respondents, 92% of women who'd attended concerts had experienced harassment at the events. And as with the U.K. survey, it's more than a women's issue. Thirty-one percent of men surveyed by the activist group also said they'd been harassed at concerts.
In terms of the types of incidents, 29 percent of women recalled "forceful dancing" while 23 percent reported verbal harassment. The poll of 1,188 festival attendees also revealed that only two percent of these experiences were reported to the police.
Criminal law professor Dr. Hannah Bows, who is leading the research along with four colleagues, says that this is the first time academic research has been conducted on examining levels of crime and safety at festivals, explains The Independent.
"Concerns about crime and safety, particularly around sexual violence and harassment, has been emerging over the last few years and a number of festival initiatives have been established to raise awareness and prevent sexual violence and harassment," she tells The Independent, citing the Association of Independent Festivals' 2017 #SaferSpaces campaign which saw several festivals introduce Sexual Assault Referral Centres (SARCs) on site.
"We wanted to provide evidence to inform festival management about the concerns festival goers have in relation to crime and safety and how common different types of victimisation are, including sexual violence and harassment," she adds. "The study is ongoing but the emerging findings suggest high levels of concern about crime and violence and a significant number are being victimized at festivals."
Meanwhile, sexual harassment was also reportedly rife at this year's Coachella festival in Palm Springs, Los Angeles. According to a report by Teen Vogue, one female writer was groped 22 times in the space of 10 hours, while 54 women interviewed reported incidents of sexual assault or harassment at the festival.
Speaking to The Independent, Tracey Wise of the Safe Gigs for Women initiative explained that harassment at festivals can manifest in myriad forms, varying from catcalling to rape. However, the type of harassment she hears about most frequently is groping, particularly within crowds.
"We encourage all festival and gig goers to never be a bystander," she says, "if something doesn't like right, what can you do to make it better?
"We are also carrying the message that #consentrocks across festival season. Festivals are great places to meet new people, but always ensure consent is clear and emphatic by all persons involved in taking friendships forward."