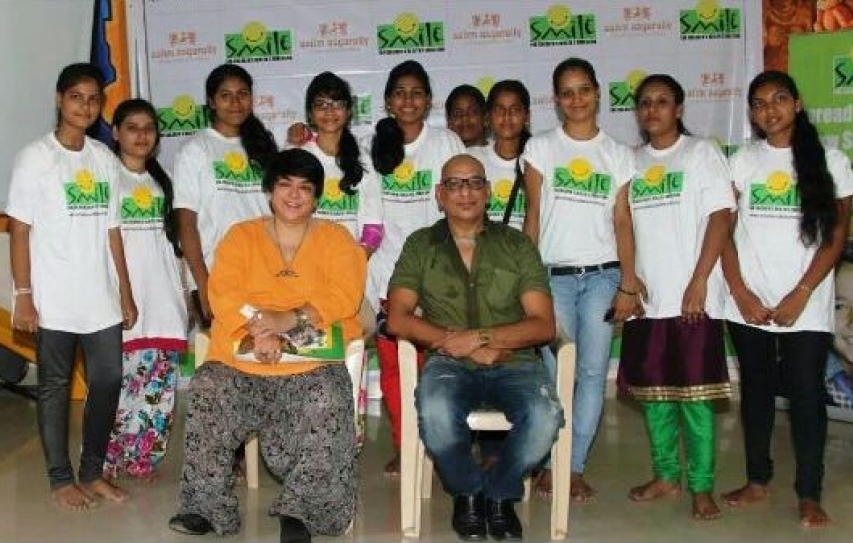 Global Designer Salim Asgarally Sets Example For Fashion Industry To Open Its Arms With Scholarships For The Underprivileged
by The Daily Eye Team
May 26 2014, 4:29 pm
Estimated Reading Time: 4 mins, 1 sec
Salim Asgarally is a name synonymous with high craftsmanship. His creations are a creative blend of the east and the west, with many of them gracefully adorning the homes of Hollywood celebrities like Brad Pitt and Madonna. Top models like Bipasha Basu & Aishwarya Rai have modelled his creations in fashion shows.
Designer Salim Asgarally is now showcasing fashion as a platform for change. In April 2014, he presented his latest collection RED, where six top women directors from the world of films and television walked the ramp for The Smile Foundation's fashion show, Ramp for Champs, expressing their solidarity with underprivileged children.
In continuation of his support for the cause, Asgarally held a Fashion Workshop forOHOWMAN (HOWMANY KIDS) underprivileged youngsters in association with the Smile Foundation. The youth, all in the age group of 18 to 25, are part of the STeP program conducted by the Smile Foundation across its centres in Mumbai.
This effort by Asgarally is now part of a continuing exercise with The Smile Foundation towards positive social change in the area of education for underprivileged children.
Through this first-of-its-kind Fashion Workshop, Asgarally seeks to inspire young minds towards a career in fashion as designers, costume designers, stylists, merchandisers, pattern makers, retail professionals, fashion buyers or any of the other varied work-options in the trade at both the creative and the management level.
Those among the group who are inspired and wish to be a part of the fashion business will then, through the able offices of Mr Asgarally be given year-long scholarships to study fashion at an institute of repute and offered assistance in securing placements within the industry.
The Fashion Workshop outlined the role and function of the fashion business and explained the opportunities available for gainful employment and career growth in the world of fashion and costume. Asgarally has been instrumental in getting scholarships for a Diploma in Fashion Design for deserving students based on merit to cover their tuition and hostel facilities from Anupam Goyal, CEO of the Institute of Design Technology, Surat, and hopes to get more such scholarships organised with other schools of fashion in India and abroad in the near future.
Salim Asgarally said, "It gives me great pleasure and deep satisfaction to make a difference to the lives of those less fortunate children and their families through my talent, skills and work experience as a fashion designer."
Further, on the conclusion of the Workshop, he said "It was very heartening to see a good level of awareness with regard to fashion amongst the children and their eagerness to know more about it in terms of employment and future growth, which was very indicative about their will to change their lives in spite of the difficult circumstances they face coming from an underprivileged background. And we at Salim Asgarally's would be overjoyed to see these children come into the mainstream and uplift the lives of themselves and their families."
Asgarally believes that if every business dedicates a small percentage of its profits or resources towards upliftment and education of underprivileged children, this world will be devoid of stress, strife and poverty. And this move is merely one step in the right direction.
In the Workshop, Salim Asgarally was accompanied by the award-winning celebrity filmmaker Kalpana Lajmi, who spoke on the importance, potential and need for qualified and trained Costume Designers in the film industry. Kalpana Lajmi has several socially relevant and critically acclaimed films like Rudaali, Darmiyaan, Daman and Chingaari to her credit.
Kalpana Lajmi said, "This is a beautiful endeavour by SMILE, to introduce and absorb underprivileged children to the world of fashion. Congratulations especially to Salim Asgarally for his compassionate philanthropic involvement in uplifting these deserving students into the world of fashion."
FASHION WORKSHOP DETAILS
Date: 21st May 2014
Time: 10.30am to 1.30pm
Address: SHED, Sunder Nagar, Last Stop of Bus no 333, Mahakali Caves, Andheri East.
……………………………………………………………………………………………………………………….
STeP is a livelihood programme for underprivileged youth, wherein they are given training on key employability skills like English language proficiency, computer operations, personality development, etc. with the objective of helping them get employment in the growing retail and service sector. As of today, there are 54 STeP centers located in 19 states of India, and approximately 12000 youth have been trained through STeP centres and more than 8500 youth have been placed in companies like Café Coffee Day, Westside Stores, ICICI, HDFC, Reliance Retail, Big Bazaar, Spencer, Croma etc.