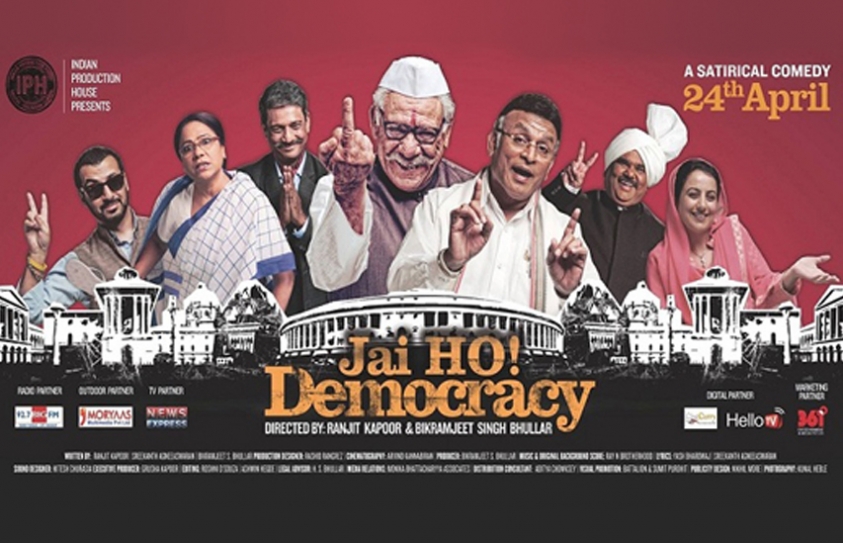 Jai Ho! Democracy
by Niharika Puri
April 27 2015, 8:40 pm
Estimated Reading Time: 2 mins, 33 secs
Critic's Rating : 0.5 Star.

Cast: Om Puri, Annu Kapoor, Seema Biswas, Satish Kaushik, Adil Hussain, Aamir Bashir

Direction: Ranjit Kapoor, Bikramjit Singh Bhullar

From the dialogue writer of Jaane Bhi Do Yaaron and a cast of veteran performers who have been a part of remarkable Hindi films (from epoch-making to critically acclaimed to commercially successful) comes a political satire so vapid that the censor-board controversy over the cusswords pales in comparison to the larger picture..
The film opens on the Rajasthan border where the barbed wire fence divides India and Pakistan. Soldiers on both sides trade bullets and expletives with minimum provocation, if you can even buy into the idea that unevenly swaggering, pot-bellied actors can pull off the parts. Major Virendra Rana (Mukesh Tiwari) heads the regiment of the slovenly Indian armymen when he notices a hen strutting along "no man's land".
He and his Pakistani counterpart Major AO Abbas (Ashwin Chaddha) are determined to lure the fowl to their side of the border. It is little more than a petty ego tussle but escalates into a border feud, fuelled by the reportage of the over-enthusiastic press and leads to a bunch of apathetic politicos forming a committee.
This assorted group consisting of former Supreme Court Judge Ramalingam (Annu Kapoor), Finance Minister Pandeyji (Om Puri) and other parodies of contemporary politicians (and communal stereotypes) form a highly unproductive commission. Their conversations revolve around trivialities, which are less amusing and more frustrating to endure for the audience. This is a shame, because we have a good cast here and Annu Kapoor's rambling Southern-accented speech during the commencement is pure genius. However, it is all downhill from there.
A prolonged discussion in the second half is mainly about the difference between coughing and laughing. Mahatma Gandhi's portrait in the same room has varying expressions of shock and incredulity, depending on the turn the deliberation takes. (Essentially, Bapu mirrors what we have been feeling inside all along). The drama at the border, featuring a stranded soldier, the still-strutting hen and loud, ranting pre-Partition melodrama, does not ameliorate the fast-descending boredom.
Lampooning the press and using "Saving Private Hen" as a leading title for breaking news on television does not count as humour. It is all much ado about a bird, when an idle thought comes to mind. What if the hen is a metaphor for Kashmir? But judging by the dreadful execution of nearly every scene combined with the juvenility of the dialogue and the situations points to a 'no'. There was an intelligent, profound, hard-hitting satire in here somewhere, but it devolved into something that was more suited for a school play.
The film's greatest asset is that its running time is a little over 90 minutes. Its worst? That it was made with such callow sensibilities. Jai Ho! Democracy is not an improvement on either Kya Dilli Kya Lahore or War Chhod Na Yaar. Skip it since there is little to cheer for here, ironically or otherwise.