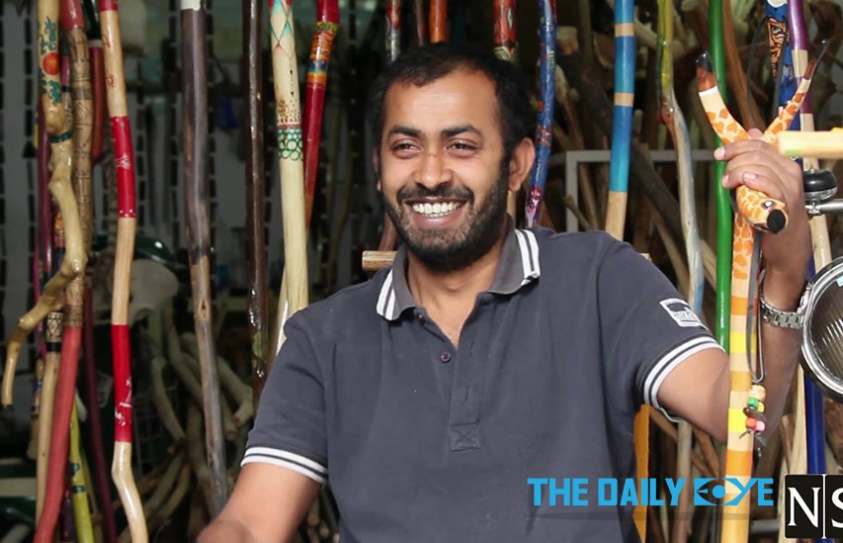 Sticks for a Stroll
by Revati Tongaonkar
September 11 2017, 6:01 pm
In one of the bylanes of Indiranagar in Bengaluru, a small store is attracting a big crowd, selling customized walking sticks.
Made by Bheemstyx, these aids to hiking are unique in their make, their skins and the in-built functions that they come with- some are painted exquisitely in multicolor, some are carved with details of animals, birds or fantastic monsters. Some have in-built compasses or whistles inserted, or pretty baubles hanging.
Bheemstyx meaning 'strong stick' was started in 2014 by 33- year old Bheemaiah KK. Bheemaiah, an event manager in the city, began designing sticks when walking around the plantations that he grew up on in Coorg, Karnataka. He got into the habit of picking up good walking sticks after a friend gave him a rattan vine stick to help him trek, and later began to carve them for use.
Bheemaiah treats the sticks well before putting them to use, cleaning them well, smoking them to dry them out, and then carving them. His friends soon joined in, and started getting creative by painting them and customizing them. They make sure that all the sticks they use are ones that have fallen down naturally. "All the sticks we use are ones we pick up from the ground. We don't chop down anything," he says, "I've picked them up from hills, parks, public and private properties." The whole process of making a stick can take up any time from a month to up to a year, subject to the nature of the stick, the complexity of the design and the features inserted.
Today, Bheemstyx are made by a varied group of around forty people, friends, neighbours and students, letting anyone who wants to lend a hand join in. Bheemaiah enjoys the varied group, and revels in it "We even give some college students monthly perks if they want to sit and paint" he says. The sticks that get made are as varied as their backgrounds- one can get a traditional gentleman's stick, sticks for hiking with inbuilt compasses and whistles, carved ones with animal and bird heads, deep river walking sticks to aid while crossing rivers, home decor elements and garden sticks among others.
And Bheemstyx seems to be doing quite well, in spite of being run and owned by freelancers. The sticks sell well, the price being a tribute to the effort that goes into their making. "Our sticks sell for anything between ₹500 and ₹12,000. The highest price I have charged till date is ₹15,000 for one stick," Bheemaiah says. They also set up shop at the recent Covelong Point Surf, Music and Yoga Festival, drawing a huge crowd, and selling like hot buns- almost 22 sticks in two days, with a profit of 52,000 rupees.
With international orders slowly pouring in, Bheemaiah found that he was becoming more involved in the management of his resources and the money than actually making sticks, which was when he shifted to an online storefront via the Sellfie app.
Bheemaiah is thinking of taking his initiative full-scale. People have raised their eyebrows at the odd venture, but he is adamant about taking carving sticks further, and changing people's perceptions about walking sticks."A lot can be done with sticks, and I have only just begun," he beams.
Source: http://www.thehindu.com/society/bengalurus-stick-artists-come-to-chennai/article19594466.ece?utm_source=email&utm_medium=Email&utm_campaign=Newsletter