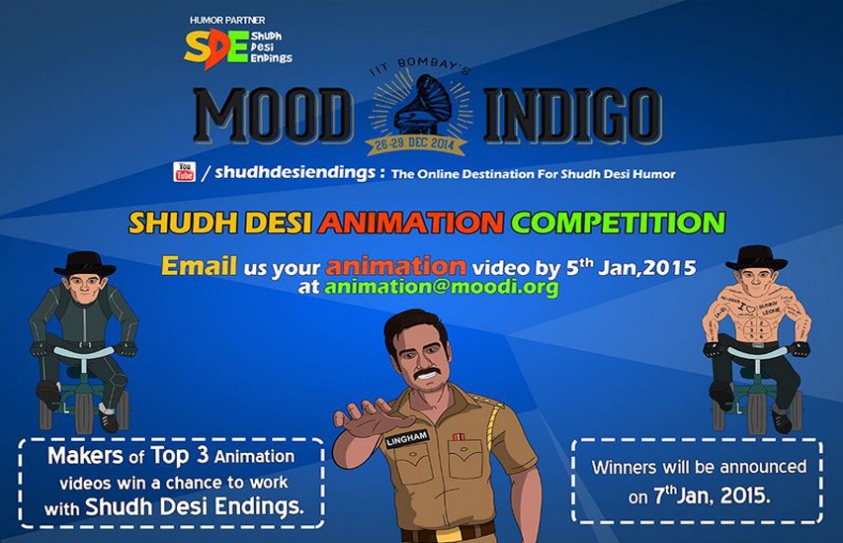 'Shudh Desi Endings' – Mood Indigo online animation competition, call for entries
by The Daily Eye Team
December 22 2014, 5:05 pm
Estimated Reading Time: 2 mins, 12 secs
Humor-based Youtube channel Shudh Desi Endings and IIT Bombay's Mood Indigo collaborate for online animation competition
~ Online submission closes by 5th January, 2015~
Mumbai, December 22, 2014: Shudh Desi Endings (SDE), YouTube's highest rated Channel for Bollywood spoofs collaborates with Mood Indigo, IIT Mumbai's iconic cultural fest to organise a one of its kind online animation competition. SDE & Mood Indigo are inviting online animated clips from students across India. The makers of top 3 animation videos will win a chance to work with Shudh Desi Endings.
The two geniuses are coming together to fuel the imagination of young and vibrant students who have a penchant for animation. SDE and MI together want to share some small wonders of animation created by the young students
Short and creative animated video clips can be submitted online by 5th January 2015. The theme and duration for these clips are open-ended and is entirely the participant's call. The winners will be announced on 7th January 2015.
Anand Doshi, Creative Director of SDE expressed, "Mood Indigo is one of the most iconic festivals of the city and we are excited to be part of it. Through the online animation competition, we hope to tap upon and encourage young students who have a flair for it. I'm looking forward to the buzz!"
Shudh Desi Endings is a YouTube channel that specializes in animated spoofs of Hindi movies. With 125,000 subscribers and 1.5 million views, SDE is amongst YouTube's top rated original content channels. Shudh Desi Endings has successfully redefined animated content production and consumption for the online platform.
Mood Indigo started in 1971, by a bunch of enthusiastic IITians has come a long way to become Asia's largest festival of its kind and an important event marked in the student calendars. The four day carnival that marks the annual celebration of youthful spirit every December in its 44th edition is only getting bigger and better. Last year's festival was attended by over 88,000 students from more than 700 colleges from across India.
SDE-MI online animation competition is arranged now for the first time alongside with the traditional four-day cultural fiesta that takes place that takes place from 26th-29th December 2014 at the heart of the IIT Bombay campus.
Rules:
1. There are no rules
2. There is no theme
3. There is no time duration
4. Age: Anyone who is a college student
5. Group Size: Solo or Gang
6. Last Date: 5th January, 2015
7. Make us laugh, if you can
8. If you can't, we will laugh anyway
For more information, please visit: https://moodi.org/events/competitions/animation