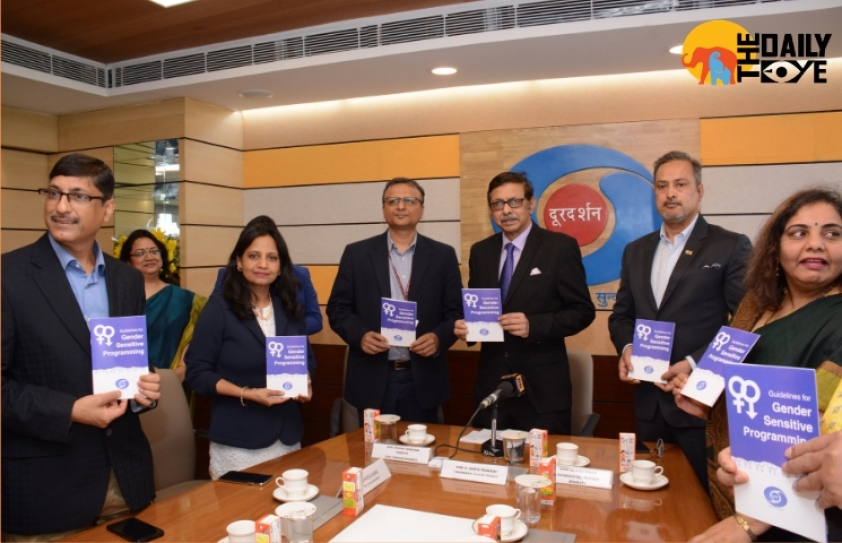 Doordarshan releases "Guidelines for Gender Sensitive Programming"
by The Daily Eye News Desk
March 13 2019, 5:24 pm
Estimated Reading Time: 3 mins, 4 secs
On March 8, 2019 to mark the International Women's Day, Shri. A. Suryaprakash, Chairman PrasarBharati released the "Guidelines for gender Sensitive Programming" for Doordarshan. These Guidelines will be applicable for all future content acquisition and commercials and will to encourage creation of gender transforming narratives.
As a responsible Public Service Broadcaster, Doordarshan has developed these guidelines for encouraging gender transformative programming across its network. These guidelines establish principles to challenge gender stereotypes and inequity in society. A checklist with Dos and Don'ts is included to translate the principles in production outputs and easy to implement. Ways to institutionalize these guidelines across all Kendras and production staff is also outlined in this document.
Speaking on the occasion, Sh. Suryaprakash reiterated the commitment of Prasar Bharati to these guidelines and chalked out the future plan of action to sensitize Doordarshan content creators by holding workshops across the country in all DD kendras and making it mandatory for all DD Channels to incorporate these guidelines and report monthly progress in this regard. Also present on the occasion were Sh. Shashi Shekhar Vempati, CEO, PrasarBharati and Sh. Rajeev Singh, Member (Finance), Prasar Bharati Board.
Gender Sensitive Programming
Sh. Vempati congratulated DG, Doordarshan Ms. Supriya Sahu for taking this leap which will go a long way in establishing Doordarshan as a pioneer media organization working for gender sensitivity and will bring about revolutionary change in the society. He was also of the opinion that these guidelines should be circulated to all private channels so that stereotypes can be broken in their programming too.
The principle of equality is enshrined in the Preamble of our constitution. However, to realize this equality in reality between men and women is still a dream. Making this dream real is challenging but achievable through transforming content and powerful mass medium like television. Doordarshan, since its inception as a Public Service broadcaster, has played the role of a responsible elder by creating gender sensitive content like the shows Hum Log, Rajni, Udaan, Main Kuchh Bhi Kar Sakti Hoon, etc. On the occasion of women's day, Doordarshan Network has taken the initiative to ensure each program should be gender sensitive. It will produce gender transformative content to the make the principle of equality on screen to reflect our society. To achieve this, Doordarshan will also train its program personnel to create gender sensitive program.
The guideline is an outcome of a series of workshops conducted by UNICEF and Centre for Media Studies (CMS) for the Programme Staff of Doordarshan on Gender Sensitive Programming. These Guidelines was one of the insights from the participation and discussions in these workshops. These guidelines were also developed in workshop mode by program staff from Delhi as well as regional Kendras Doordarshan, with the support of UNICEF and CMS.
Thanking Doordrashan's partner in this endeavor- UNICEF and Centre for Media Studies, Ms. Supriya Sahu, DG, Doordarshan said, "DD has a long history of producing social/gender transformative/ empowering content. These Guidelines are a pioneering initiative of Doordarshan network to create a gender transformative content across all channels and genres. We are not just adopting this guideline but also making it living reality by ensuring each element of production should be gender sensitive."
Although these guidelines are intended to serve as guidelines to content producers, it must be borne in mind that Indian law also contains provisions which prohibit discrimination in the media. However, in recent time television, especially entertainment content on television has come under much debate for its regressive and gender insensitive content. These guidelines are therefore important landmark initiative to change the gender narrative on Indian television.