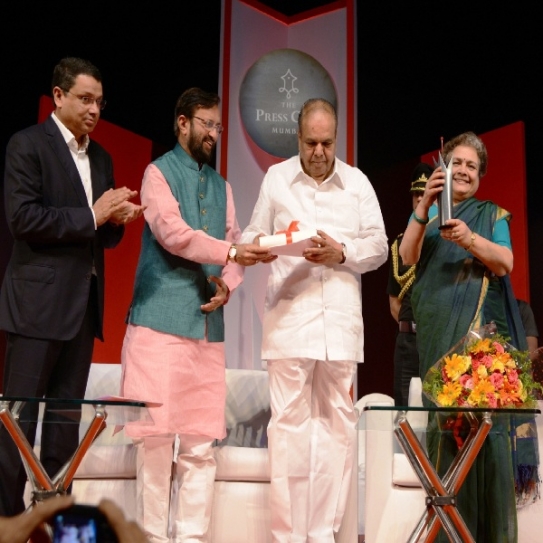 Senior Journalists Scrutinise Media At RedInk Awards 2014
by The Daily Eye Team
June 9 2014, 1:22 pm
Estimated Reading Time: 1 min, 17 secs
It was an awards night, albeit not for celebrities, but for the hard working journalists aka the fourth estate of the country. The fourth edition of the RedInk Awards organised by the Press Club of Mumbai saw 30 journalists from print, broadcast and online media receiving awards in various categories for their outstanding writing and research.
Press Club of Mumbai president Gurbir Singh opened the ceremony with a few thoughts on the state of media in the country today. "Media today is in crisis. Retrenchments are happening, companies are closing, and new ones are starting. There is something wrong with the way media is conducting itself. Is it a shortage of funds or the way the business is being done," he questioned. His voice was not alone. A discussion followed on 'Elections 2014: Were we fair or did we stoke the NaMo wave' which involved IBN18 editor-in-chief Rajdeep Sardesai, Times Now editor-in-chief Arnab Goswami and Divya Marathi chief editor Kumar Ketkar alongside O&M creative director Piyush Pandey and moderated by former journalist and current Star India CEO Uday Shankar. While Sardesai and Ketkar remained critical of the role of media today, Shankar and Goswami agree that the future is very bright.
Maharashtra governor K Sankaranarayanan and new Information and Broadcasting Minister Prakash Javadekar were the guests of honour for the evening. While Javadekar said that he would look into establishing a law to prevent attacks on press, the governor had some personal anecdotes to share regarding the media.