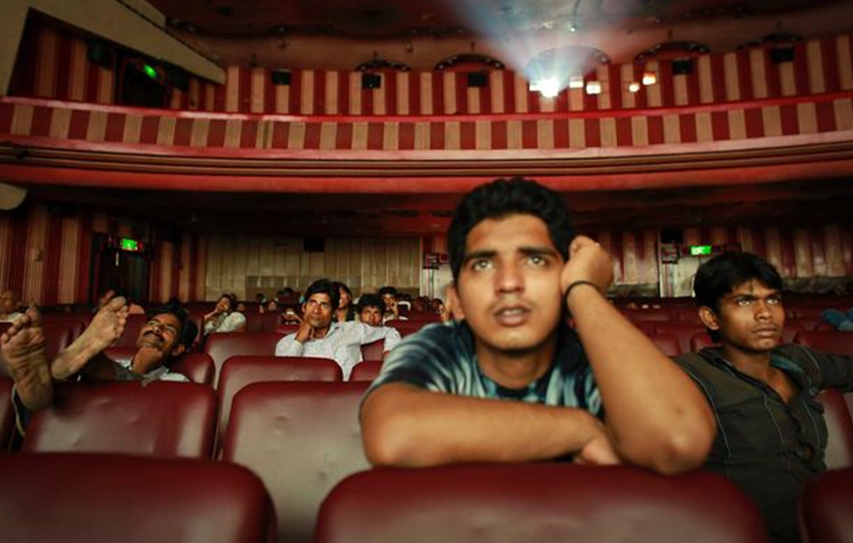 Of AAP, Yashraj, Mahesh Bhatt, Phantom And The Voter
by Vinta Nanda
January 9 2014, 12:00 pm
Estimated Reading Time: 7 mins, 14 secs
As we settle into 2014, the only cerebration that dominates every Indian mind which deliberates obsessive discussions today is the impending Lok Sabha elections and the chaos leading up to them, and also the Aam Aadmi Party.
I doubt if India has ever been in as bewildered and confused a state as in the now.
I belong to the world of entertainment so it becomes simple for us to profile audiences in categories and I think that voters can also be sorted and divided on pretty similar lines.
There is a towering youth in India which has become the decisive factor for almost every consumable and non and they, the young are also going to be the primary consumers of the governance of the future.
My friend Kalpana Lajmi asked me a question this afternoon which set me thinking.
"Which according to you are those movies that the leaders, followers and supporters of the Aam Aadmi Party must be watching"? She asked me.
I realized instantly, that she was breaking her back to figure out the present political phenomenon called AAP in India, and bending over as much as I am, and the best possible avenue that most of us players in our industry take, is to classify people according to the entertainment they consume. There is something racist and classist about it too, but that here is not the point.
So could there be a better way to find the answer than to analyse the political position of India today, in terms of audience delineation?
"Who will watch it"? …It is an oft asked question when pitching for a movie or a television show and to that in our business, there is always a ready reply.
"Ummm… Yashraj," I replied to Kalpana who was still waiting for an answer from me, and she then immediately said, "Karan Johar? … Mahesh Bhatt? … Do you think they watch Anuraag Kashyap as well?"
"Maybe, maybe not?!"… I replied …
Then both of us pondered for a longish moment and finally after a pause that lasted a substantial amount of time, she said, "Well Karan Johar has started making films in partnership with Anuraag Kashyap, so there is a sort of blend taking place there, isn't it?"
"Hmmm" I said, "We also can't rule out the fact that a large section of the audience which follows Yashraj films, also likes Dharma and are quite fine with Vishesh and Phantom too!"
"So which TV serials do you think they watch then?" asked Kalpana unrelentingly.
"You mean you're still talking about the leaders, followers and supporters of AAP?" to which she nodded in affirmative.
"The news I guess … they're all pretty acquainted as well as informed about politics … TV serials are for an older generation, I mean the ones that feature on General Entertainment Channels … but there are also many youth channels now you know … most music channels run fiction too, and the stuff is all young…"
I thought for a while and continued, "Yeah well, the viewers of youth channels are not really voters yet … although some of them qualify by age…could it be that they watch a lot of sports … Cricket?"
"Cricket is a dying sport and football is getting very popular these days…" Kalpana said and then continued, "What were you telling me the other day? …. That there are 75 Crore first time voters who will participate in the elections this year, right? … Aren't they mostly online? …
"You are right Kalpana, but you know, these guys … they do really follow the news…"…
Then she frowned so I quickly added, "Ok! Much more on Twitter and other social media than on TV… Android…? … Arnab Goswami manages to hustle the whole lot together on his show every night … They are quite aware, informed… they know what they want, and they either form support or else swear by the Aam Aadmi Party … They will definitely vote for AAP."
"Is the Congress really decimated? … Is it true?" She then asked me…
"Well, they have been destroyed in New Delhi", I said… "And AAP is set to contest 300 seats all over India in the Lok Sabha Elections later this year… and if they win in 150, the politics of India will change forever …"
"I can see a Yashraj making a Gangs of Wasseypur"… Kalpana continued…
"They almost already are," I said….
"And an Anuraag Kashyap making a Dhoom 3"…. she said…
"He almost already is," I said….
"And Mahesh Bhatt will continue making Murder 4, 5, 6… Jism 3, 4, 5…."
"Well he is making a film with Hansal Mehta… He was so impressed with Shahid, so he has signed him on as you know…." I said…
"Vishesh led by Mahesh Bhatt also seems to be changing its strategy"….
Kalpana – "The Studios … Fox, Viacom, UTV etc will obviously keep their fingers embedded in every pie, ready to go with whatever works, right?"
"Yes Kalpana… they're mostly about the bottom line"…
"So you still haven't answered my question…" Kalpana wasn't ready to give up until she got to the bottom of it … "Which are those movies that the leaders, followers and supporters of the Aam Aadmi Party, see? …
"All of them… Movies are consumed in plenty, people go to theatres and see almost everything that gets released, they watch TV, they listen to radio, and they succumb to every viral attack on the net… Why… Don't you also watch everything you can lay your hands on?" I asked her…
"Well, how else would one keep in touch with what's going on?" she answered…
"So…?" I wondered…
Kalpana – "But I'm in the business, right? I need to keep abreast of things …"
"Well everyone in the country feels like that today… with interactive media, each and every person feels like the artiste as well as the audience, the entertainer as well as the voter… the actor, as well as the politician … like I do, and so do you…" I was a bit thoughtful…
"No but let me put it like this … which kind of movies do the guys who support AAP, appreciate?" Kalpana wasn't still ready to give up.
"But why do you want to know?" I asked her, now exasperated.
"Because I want to know what kind of people are they…", then realizing that I had given up, Kalpana looked at the youngsters working at our office and I guess she thought that she might find her answer there … "Who will you vote for in May/June 2014?" She asked one of the first time voters, a young writer.
He raised his head from his work, and said "Aam Aadmi Party."
"But you don't watch Bollywood, Indian Cinema?" She asked him questioningly…
"Yeah, but I'm working on a script for you… it's a Hindi film," he said…
Kalpana (almost as if talking to herself) … "Hmmm… Change… this is the change I guess… it is across the board… so what if AAP doesn't have experience, can't tolerate the way it functions in Indian politics?…"
The boy went on with his work and Kalpana continued … "They are informed… they have ideas… the new generation is much more cinema literate than we were, right?"
As she ventured back into her own thoughts I nodded and trailed off with mine… "Muzzafarnagar … Priyanka Gandhi Vadra is set to work on strategy for the Indian National Congress … Modi … BJP's having grown too old for the present set of voters … electricity … water … poverty … health services… entertainment education…