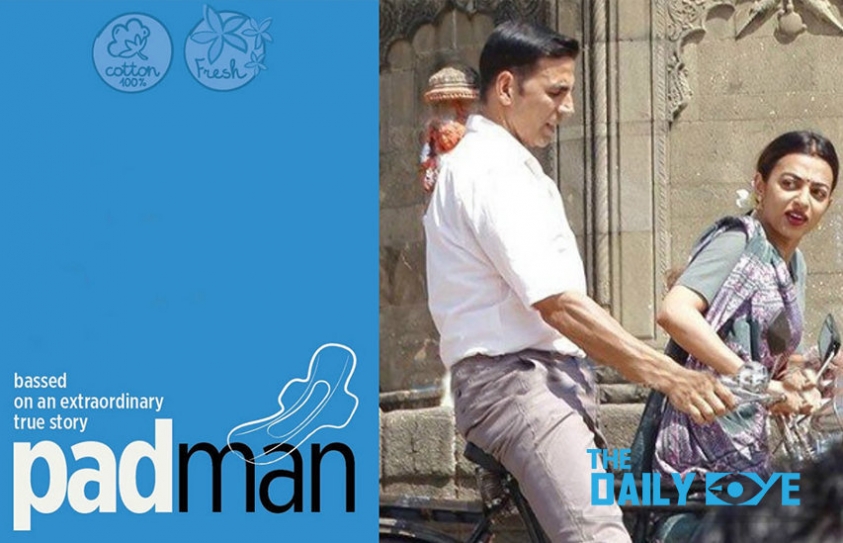 India Reacts to PadMan
by Yash Saboo
February 12 2018, 5:37 pm
Estimated Reading Time: 2 mins, 59 secs
Akshay Kumar's much-awaited film PadMan released last Friday. Produced by actress-turned-writer Twinkle Khanna, starring Akshay Kumar as the lead, the movie is based on a short story from her book The Legend of Lakshmi Prasad, inspired by the life of Arunachalam Muruganantham.
The film is an eye-opener. It tackles the issues in India which people aren't even comfortable about talking. Only 12% of women in India have access to sanitary pads. That's certainly shocking. Women in the rural areas struggle majorly, using rags and sawdust, newspapers or dirty clothes during menstruation. This is unhygienic and could lead to severe health issues. The Indian Ministry of Health estimates that 70% of women are at risk of severe infection because of this. One in 53 women in India will be diagnosed with cervical cancer in her lifetime, compared with one in 135 in the UK. This leads to every 1 out of 5 girls dropping out from school.
Source :Pinkvilla
The team has received a wide amount of support from everybody in the Bollywood industry. The #PadManChallenge which involved celebrities holding a sanitary napkin in their hands and posing for a picture which they posted on social media. Not only that, these celebrities nominated others also to carry on the challenge.
Reactions from some of the film's first audiences seem to reflect support of the film's subject matter, unapologetically addressing a topic that India's women have so long been forced to tiptoe around on a monthly basis.
Karan Johar in support of the film tweeted, ''#PadMan is such an exceptionally intended and relevant film! So proud of @mrsfunnybones to begin her foray as a producer with such an important film! Huge Congratulations to #Balki @sonamakapoor @radhika_apte @kriarj @akshaykumar.''
Bhumi Pednekar, Akshay's co-star in Toilet: Ek Prem Katha also showed love by tweeting, 'Loved #PadMan, inspired and liberated @mrsfunnybones ma'am what a brilliant start & concept. @akshaykumar sir you've killed it. The climax scenes, WOW. @sonamakapoor you lit up the screen, so endearing. @radhika_apte amaze. All the best team, #RBalki @kriarj @SonyPictures.''
Ranveer Singh posted a funny video praising the superhero Akshay's for his film PadMan. He wrote, ''All the best to my Superhero @akshaykumar for @padmanthefilm! In theatres today!''
"It's not just about a really important topic, PadMan is also such an amazing story," said Nathan D'Souza, 28, an IT professional. "And if we stopped being such prudes about periods, then maybe like Mr. PadMan, we'll wake up to what a massive entrepreneurial opportunity the feminine care space could be in India."
"Given how big our population is, I bet it's still basically an untapped gold mine," he added. India has one of the lowest levels of penetration of sanitary pad usage in the world. At 20%, the country lags behind Thailand, Indonesia, and China, all of which have over 50% usage, according to a 2017 Economic Times report. The placement of pads into the non-essential tax bracket in last year's tax reshuffle was met with outrage by activists and health professionals alike.
It's important to change people's mindset and that could be done by targeting the young. "I loved the movie!" said 13-year-old Anika Mehta, who saw the film with her parents. "I just got my period for the first time two months ago, so it's something that I'm still figuring out. It was actually my dad's idea for us to watch this film together, which I think is so sweet of him."