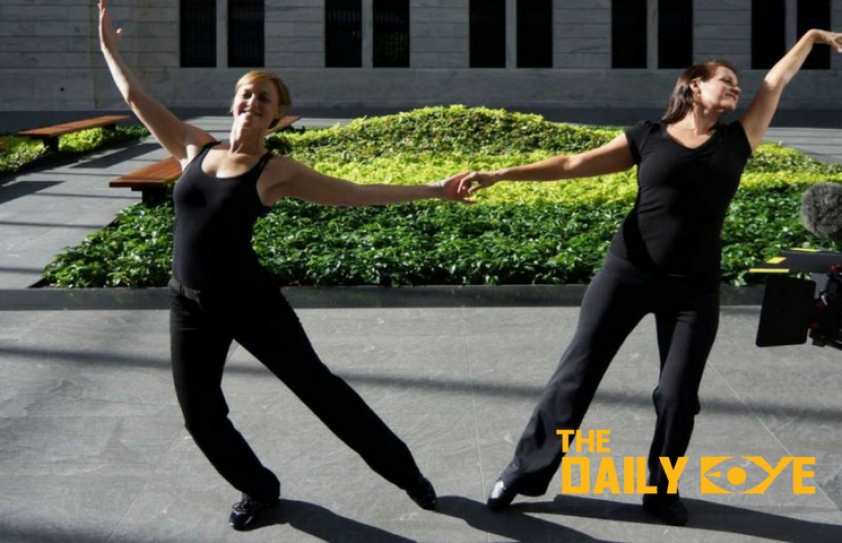 'Hot to Trot': A Glance into the World of Same-Sex Ballroom Dance
by Yash Saboo
August 29 2018, 4:17 pm
Estimated Reading Time: 2 mins, 40 secs
Same-sex social dancing has been around for at least the time that there have been gay clubs. The difference now, according to Ingu Yun, founder of the 20-year-old Sundance Saloon, a same-sex country-western dance club in San Francisco, is that same-sex social dancing is no longer hidden, becoming "more popular and open since the 1980s."
Yet, mainstream competitive ballroom dance contests still don't allow same-sex competitors. Competitive ballroom dancing is a somewhat small and circumscribed world, and so, of course, the world of competitive same-sex ballroom dancing - as viewed in Gail Freedman's uncertain and meandering documentary 'Hot to Trot' - is even smaller and more circumscribed.
Federation of Gay Games
While same-sex pairs are not allowed in the mainstream sport, there are several smaller competitions that give them a chance to shine. These competitions include the April Follies and the Gay Games. Both of which are depicted in this documentary. Freedman follows several dancers here as they compete in the April Follies, an LGBT ballroom dance competition that has been running in Oakland, California, since 2003, and the Gay Games, which happens every four years. Most of her footage was shot in 2012 and 2013, and so she attempts to build a narrative out of the changes in her protagonists' lives over time, writes The Wrap.
It is really interesting to see how Hot to Trot brings up some intriguing differences between straight and gay ballroom dancing without ever quite exploring them in depth.
In gay ballroom dancing, the partners take turns leading, and so Shpakov, a dancer finds it difficult to give up his own male dominance and to let Palma, his partner lead. "It's Fred and Fred and Ginger and Ginger," says one of the judges, and that can be difficult to arrange, dance-wise.
Freedman also follows a pair of lesbian dancers, Kieren Jameson and Emily Coles, and a great deal of time is spent discussing Coles' struggle with diabetes, which feels tangential to the rest of the film. Freedman often has her subjects speaking about themselves in voiceover while they stand at attention for her camera, stiffly and awkwardly, as if they don't know what to do, and this only emphasizes the aimless quality of so much of the film.
Hot To Trot
'Hot to Trot' only really comes to life when Shpakov is dancing, notes The Wrap. The difference between a good dancer and a great dancer is that little bit of extra physical expressiveness in their movements, and Shpakov is always doing exciting and unexpected things with his thick, powerfully built body. The surprise of his dancing comes in the speed with which he shakes his hips and the stylish abandon of his arm movements, which are so beautiful and stimulating precisely because his torso is so strong and solid and immovable.
The film was premiered last week in New York City and garnered much-deserved attention by film critiques. Next, it will be screened in Los Angeles on September 14th. Afterwards, it'll move to Lafayette, San Francisco and Pleasantville, New York, and hopefully soon be available on digital platforms.