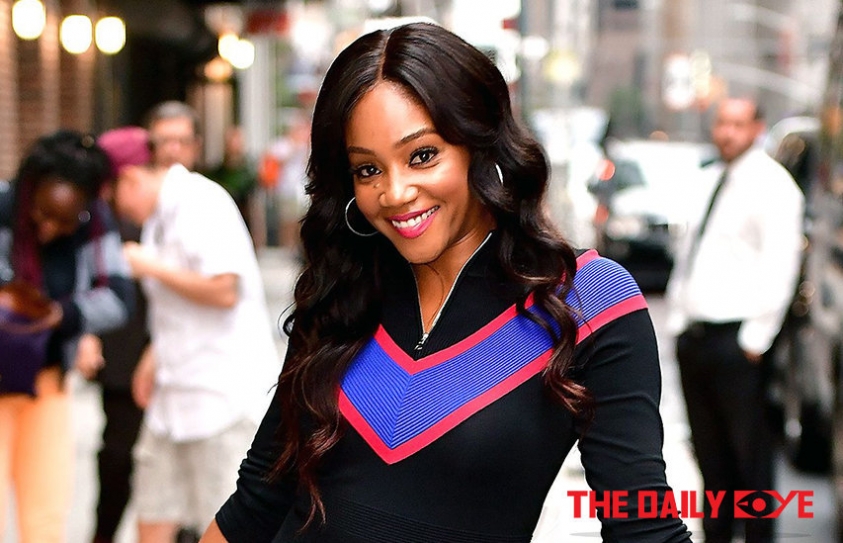 Tiffany Haddish, the first Female Black Comedian to host Saturday Night Live on NBC
by Yash Saboo
November 9 2017, 4:49 pm
Estimated Reading Time: 2 mins, 58 secs
"I'm not pregnant by Leonardo DiCaprio yet, but who knows what could happen?" - Tiffany Haddish says comically (or maybe not) in an interview with The Rolling Stone.
Tiffany Haddish, the American comedian, and actress has been turning in supporting roles in TV fare like The Carmichael Show and features like Keanu, in between performing stand-up for more than a decade. Though she didn't break into the mainstream, she was noticed by high-profile stars like Kevin Hart and kept on the long, steady path to honing her craft.
Starring in the raunchy R-rated comedy, Girls Trip, was her big break. Women worldwide planned nights out just to watch the film, which so far is the highest grossing live-action comedy of 2017. Many viewed it many times over. The movie wasn't initially expected –by some industry insiders– to be a success, but many people in the black community knew better.
Her performance in Girls Trip marks a turning point, the moment this comic's comic morphs into a full-blown star. Haddish has had an unbelievable journey to the top, learning to mine moments from her difficult childhood for rich humour. When she was nine, her mother suffered a traumatic car crash that Haddish believes triggered mental disorders like schizophrenia. Suddenly, the eldest child had to be the caretaker not only for her mother but for her four younger siblings. "I remember the day my mom came out the hospital," Haddish recalled in an interview with the Breakfast Club. "The doctor pulled me to the side and said, 'Look, she's never gonna be the person that she was—it's time for you to grow up now.'"
It's a harrowing backstory that would lead, in most cases, to a bleak future. Haddish attributes her survival to an unexpected source. "I watched Who Framed Roger Rabbit," she says. "There's a scene in that movie where the detective says to the rabbit: 'Why are the people doing this for you?' And the rabbit goes: 'Because I make them laugh. Make people laugh, Eddie, and they'll do anything for you.' And I'm like: 'This is how I'm going to survive. That's how I'm going to get kids to do my homework.' I was kind of like a Charlie Chaplin. I'd fall or I'd bump into things. It worked."
She will make history by becoming the first black female comedian to host Saturday Night Live. Haddish, known for her wry humour, will be joined on SNL by Taylor Swift, who is the musical guest for the evening. Between the two women and their respective fan clubs, the show's viewership is highly likely to go up and will certainly trend for the evening it airs. (And not for nothing, SNL's been hitting some home runs with their hosting/musical guest matchups this fall. After the Haddish/Swift matchup this Saturday, the world will likely stop everything they're doing to tune in to Chance the Rapper and Eminem the following Saturday.)
Haddish is also releasing a book, The Last Black Unicor. It goes on sale in December.
The bar is high, but Haddish will no doubt rise above it.
Sources:
https://www.vanityfair.com/hollywood/2017/07/girls-trip-tiffany-haddish
http://www.rollingstone.com/movies/features/tiffany-haddish-meet-2017s-hot-breakout-comedian-w511200
https://www.forbes.com/sites/adriennegibbs/2017/11/08/girls-trip-breakout-star-tiffany-haddish-makes-history-hosting-snl-while-taylor-swift-performs/#4c8dbe3e50bb