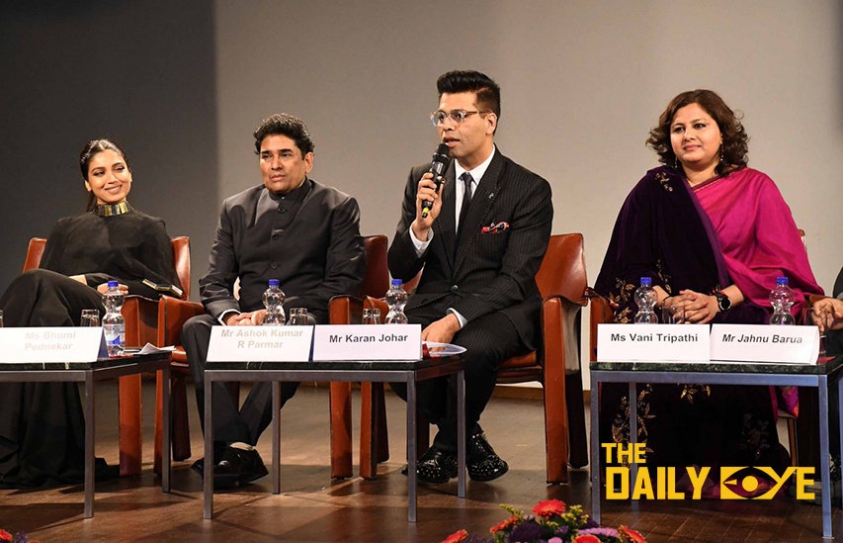 India's Participation at the Berlinale, 2018
by Vani Tripathi
March 3 2018, 7:14 pm
Estimated Reading Time: 4 mins, 8 secs
As the curtains fell on the 68th Berlin International Film Festival ("Berlinale") on 25 February 2018, India's cinematic brigade – a joint mission between the Ministry of Information and Broadcasting (MIB) and the Confederation of Indian Industry (CII) – cherished its invaluable experience of promoting the domestic film industry overseas.
Indian content is rich and vibrant, and our story-telling prowess is without parallel. Our delegation was therefore squarely focussed on showcasing these characteristics to the world – so that India can better integrate into the global content ecosystem, and generate jobs, investments and harness the creative economy's innate potential to spur inclusive and sustainable economic growth.
Consequently, we encouraged and explored multiple international collaborations that are discussed further here.
Having constituted an official delegation comprised of Ashok Kumar R Parmar, Shaji Karun, Jahnu Barua, Bhumi Pednekar, Amita Sarkar, and myself, and headed by venerated Indian film-maker Karan Johar, our concerted efforts at captivating international audiences did not go unnoticed; especially as it exuded prominence from its position at the Martin Gropius Bau Central Hall.
This was the first time that India had sent a high-level delegation to the Berlinale. The theme for the delegation centred on developing narratives on Indian cinema.
This aptly represented our objective of promoting Indian films across heterogeneous linguistic, cultural and regional lines, so as to forge an increasing number of international partnerships including, but not limited to: distribution, script development, technology, and production; to spur the growth of India's film sector.
For example, our decision to hold the screening of Neerja – a national award-winning film – at the Indian Embassy, helped bring our diaspora, foreign nationals, and Berlinale delegates under one roof to send a clear message of intent – India has arrived on the content stage and aims to grow from strength to strength.
Following from the widely acclaimed success of the International Film Festival India (IFFI), Goa, in 2017, we also focused on holding a wide range of stakeholder-discussions with a cross-section of influencers and numerous heads and directors of other international festivals such as Cannes, Locarno, and Venice. This will help us better prepare for IFFI's 50th edition in 2019, to it a truly global scope, replete with engaging discussions, networking sessions and content markets that can attract international eyeballs.
These senior-level executives included, Mr. Dieter Kosslick – Berlin Film Festival Director; Mr. Cameron Bailey – Artistic Director, Toronto International Film Festival; Mr. Jerome Paillard – Executive Director, Marche Du Films (Cannes Film Market); Mr. Matthijs Wouter Knol – Director, European Film Market; Mr. Mathias Schwerbrock – Founder, Film Base Berlin GmbH; Ms. Nadia Dresti – Deputy Artistic Director, Head of International, Locarno Festival; Mr. Paolo Bertolin – Venice Film Festivals; and Dr. Phil. Helmut Groschup – International Film Festival Innsbruck, Austria.
I strongly believe that by promoting the ease of shooting films in India through a single window clearance for film-makers and fully leveraging 'film tourism', India's existing competitive advantage in the film-making industry can be fortified. Indeed, our country already has a strong talent base, a vibrant production ecosystem, and a number of traditional and new platforms that make for a robust domestic market. Therefore, India is already very compelling proposition for international producers, and we must foster more collaborative film-making to unlock greater value in the Indian film industry.
Moreover, India's vibrant media and entertainment industry, encompassing 1500+ feature films, 900+ television channels, and 350 million smartphone users, posits the country as a post-production hub, alongside numerous sales and syndication opportunities for international corporations.
At Berlinale alone, several panel discussions and bilateral interactions held at the Indian Embassy, EFM's Buyers' Lounge, and EFM Producers' Club attracted a large number of delegates keen to co-produce films.
Additionally, officials from the Cannes Film Market – held in March every year – expressed an interest in holding India-specific workshops at the Producers' Network. In further validation of our work, Mr. Jerome Paillard, the Film Market's Head, accepted our invitation to participate at IFFI 2018, and to hold a two-day workshop in co-production.
Last but not the least, my key takeaway from this wonderful experience at Berlinale 2018 is that to help maintain India's image as an attractive destination for international film producers, it will be imperative to follow up on preliminary meetings in Berlin.
Several countries such as Germany, Spain, and Brazil, have robust film industries and have expressed an interest in enhancing co-production initiatives as a tool for greater engagement with India. As our media industry and creative economy continues to grow and expand, it is an unparalleled opportunity that we must take advantage of.
(This article is an unabridged version of what was published by the Press Information Bureau, India. Please find the link attached - https://pibindia.wordpress.com/2018/02/27/indias-participation-at-berlinale-2018/amp/?__twitter_impression=true)