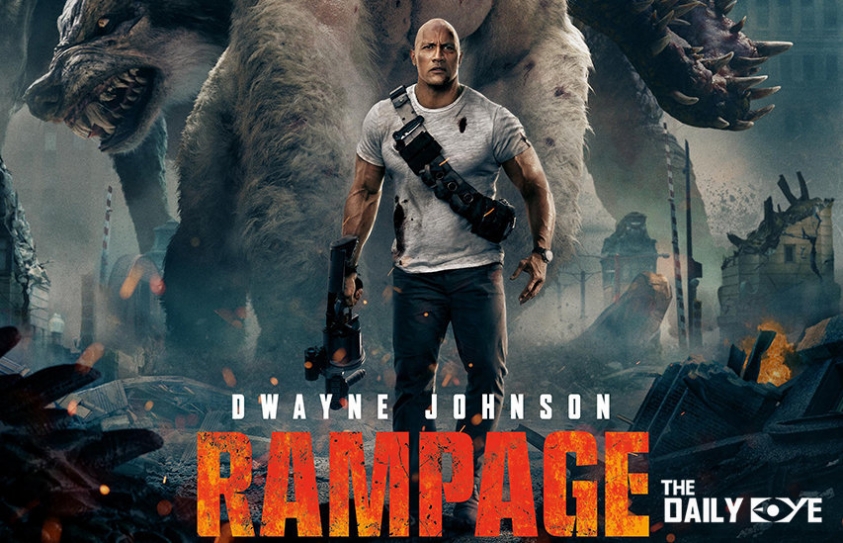 The Rock Can't Save This
by Denver Fernandes
April 13 2018, 6:13 pm
Estimated Reading Time: 2 mins, 45 secs
Cast: Dwayne Johnson, Naomie Harris, Malin Åkerman, Jake Lacy, Joe Manganiello, Jeffrey Dean Morgan
Direction: Brad Peyton
Producer: Brad Peyton, Beau Flynn, John Rickard, Hiram Garcia, New Line Cinema, Flynn Picture Company, Rickard Pictures, Seven Bucks Productions
Writer: Ryan Engle
Genre: Sci Fi/Monster
Duration:107 Mins
Rampage suffers from the video-game movie curse. What is the video-game movie curse you ask, well allow me explain. There has never ever been a good movie adaptation of a video game. From Mario to the Resident Evil franchise, every movie based on a video game has been critically panned. This film doesn't turn a new leaf. Not even the franchise steroid- The Rock, can save this movie. For a film that revolves around genetically enhanced animals that rampage the city destroying everything in its path, we get roughly 30 minutes of them actually doing that. Rampage suffers from cliché moustache-twirling villains and insurmountable convenient plot devices. But, I got to hand it to them for making me care about animals a little more than I already do.
The Rock plays a primatologist named Davis Okoye who has a special connection with his gorilla buddy George. When the gorilla and two other animals (a wolf and a crocodile) come in contact with a genetically engineered gas they grow to huge sizes and become practically un-killable. The first act sells it as an intense monster movie but as the plot hurries along, it turns into a mindless monster vs monster wrestling match.
Source : PlayStation LifeStyle
Despite the CGI fest, the relationship between The Rock and George was a good one. The most entertaining bits in the movie were actually their back and forth conversations. Jeffery Dean Morgan seemed like the only one who knew what movie he was in. He plays a cool government agent who is sort of a cowboy. The film uses a whole lot of plot devices. When the lead characters are stuck in a pickle, a convenient solution is presented to them effortlessly. One thing the movie does right is that midway through they realize what kind of movie this is, a dumb, fun blockbuster.
The film has something to say about animal rights. Davis is an avid lover of animals and he prefers animals over humans. George's family was brutally butchered by poachers when he was younger and since then Davis has taken care of him. Davis constantly tries to save George from the government and in the end, it's the other way around. The underlining message in the movie is that animals also have rights and we should be more mindful of how we treat them. I left the theatre feeling bad for yelling at my dog.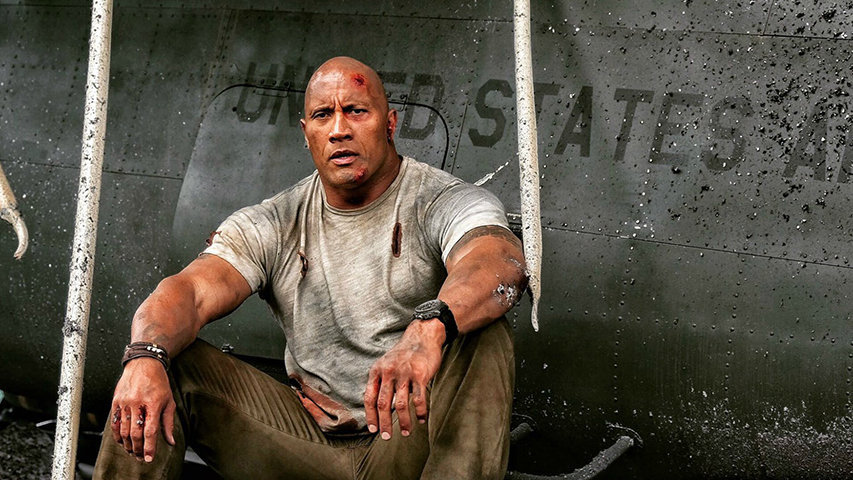 Source : screenrant.com
All in all the movie is just a dumb monster movie. It tries to be more socially conscious but it's really hard to decipher anything when a giant crocodile is fighting a giant monkey. Riddled with humdrum action this movie can only be watched if you want to turn your brain off and just go with the flow. If you believe The Rock can take down a giant monster, then this movie is for you, if not, you might want to wait for it to hit cable T.V.