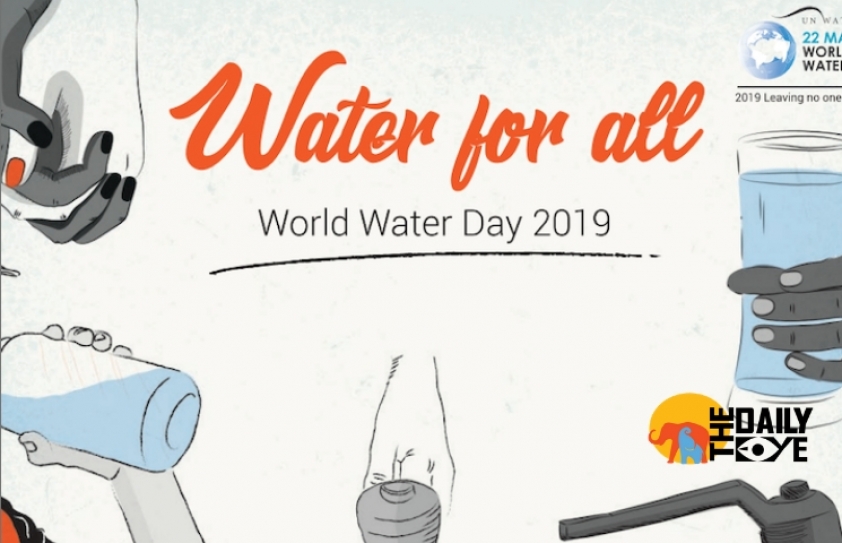 Water for all – Leaving no one behind!
by Shruthi Venkatesh
March 22 2019, 4:17 pm
Estimated Reading Time: 4 mins, 7 secs
The World Water Day is celebrated every year on 22nd March focusing on the importance of water. This year's theme, 'Leaving no one behind', adapts the central promise of the 2030 Agenda for Sustainable Development that as sustainable development progresses, everyone must benefit.
Obtaining crystal clear water by 2030 is focused under Sustainable Development goal 6. Here, the main goal is to leave no one behind and ensure pure water for all. A report by the UN Water states - billions of people are still living without safe water – their households, schools, workplaces, farms and factories struggling to survive and thrive. Marginalized groups – women, children, refugees, indigenous peoples, disabled people and many others – are often overlooked, and sometimes face discrimination, as they try to access and manage the safe water they need.
This year's world water day will address the reasons that why these people are left behind without safe water and what measures can be taken to reach them. On the account of this prestigious day, many countries have taken initiatives to highlight their own way of water conservation. Of such includes the PUB - Singapore's National Water Agency which launched a refreshed campaign to highlight the importance of water conservation, and instill stronger personal responsibility among individuals to save water. The annual celebration opened on 2nd March, as a platform to rally the community to celebrate and conserve water, and organise events about water. There will be more than 64 road-shows this month, at shopping centres and community events held island wide where the public can learn more about how to save water and pledge their commitment to do so.
"Singapore, tiny but with lots of people, is a very water-stressed place. The next drop of water, even when we can find it, will always cost more to process and to distribute. Water is scarce, and it has to go through a lot before it is fit for human use. None of it should go to waste. So, in order that everyone can have enough, all of us will have to make every single drop count," said Ng Joo Hee, Chief Executive, PUB. The theme 'Make Every Drop Count' emphasis is placed on the making of water which appreciates how valuable water is. To help the public translate knowledge to practice, PUB has rebranded its water saving tips under the mnemonic W-A-T-E-R.:​
Water for all - World Water Day 2019
* WASH clothes on full load
* ALWAYS use half-flush when possible
* TURN off shower when soaping
* ENSURE tap is off when brushing teeth
* RINSE vegetables in container
Also, on the occasion of the World Water Day, United Cities and Local Government (UCLG) reaffirm that access to water is a fundamental right everywhere, and it needs to be claimed as such even in the richest countries and in cities with sufficient resources, where too many people still suffer from very limited access to water and remain left out due to poverty and exclusion.
Water has always been an important commodity, and in recent times, the need to conserve this resource has been of utmost importance. With climate change bringing forth more intense droughts, all of us should re-consider our water usage habits. The Logical Indian explains that the call for conserving water is not new, but on March 22, every man or woman should vow to begin water conservation from their homes first. One could start with small habitual chances for a brighter tomorrow. Steps like fixing leaking pipes and taps, closing taps while washing hands or brushing teeth to re-purposing water that has been used for some other task can certainly add value to one's water habits. Every time, we turn the tap on, even for washing a few utensils, around nine litres of water is wasted per minute. Washing a whole load of utensils in a day can take up to 50 or 60 litres of water; however, using a dishwasher reduces the wastage considerably.
Many US cities have already implemented policies aimed at water conservation, with much success. The goals of water conservation efforts include:
* Ensuring availability of water for future generations where the withdrawal of fresh water from an ecosystem does not exceed its natural replacement rate.
* Energy conservation as water pumping, delivery and wastewater treatment facilities consume a significant amount of energy. In some regions of the world over 15% of total electricity consumption is devoted to water management.
* Habitat conservation where minimizing human water use helps to preserve fresh water habitats for local wildlife and migrating waterfowl, but also water quality.
The motivational initiatives for water conservation would be a helping hand to attain the goal of Sustainable Development 6 of access to crystal clear water for all by 2030.