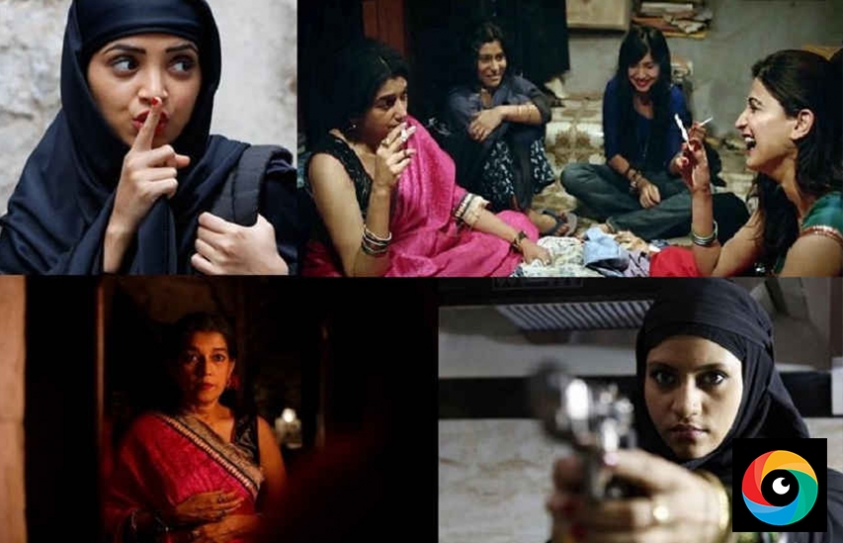 Lipstick Under My Burkha
by Aakanksha Solanki
July 21 2017, 5:18 pm
There's always been a Rosy within every girl who believes it's acceptable sometimes to go against the norms. Lipstick Under My Burkha is a perfect illustration of many such escapades a woman experiences in her life.
Thanks to CBFC! They pretty much did the job of a PR by creating hullabaloos that was needed before the release of this film.
The story is about four women in Bhopal who are surrounded by the dogmatic and middle-class society. Usha Parmar (Ratna Pathak Shah), Rehana Abidi (Plabita Borthakur), Shirin Aslam (Konkona Sensharma) and Leela (Aahana Kumra) kind of stay in the same block. All women have their different stories about struggling to live a life that they equitably deserve.
There is Usha, a 55-year-old woman who has developed interests in reading erotic fiction and must hide it in her religious books because of her age. And she is so consumed with her novel-reading that she starts picturizing herself as the young woman in the novel with her hefty and muscular swimming coach. Whereas, Leela is a beautician who is determined about what she wants. She has an affair with her photographer boyfriend (Vikrant Massey) and is very intrepid and doesn't consider SEX as erroneous. For her sex is as much important as breathing is.
Shirin Aslam (Konkona Sen Sharma) is working as a door-to-door saleswoman with great success, which her dictatorial and sexually-exploiting husband isn't aware of. Rehana is a college student who loves to sing and is a great Miley Cyrus fan. Due to her rigorous family and conformist Muslim religious rules of wearing a burkha all the time, all her dreams of living a normal life every teenage girl wishes to live is crushed.
This film is not about how women need to be treated in our patriarchal society. It simply conveys the message that every woman has her own desires and fantasies regardless of however old she is. Alankrita Shrivastva's cast is spectacular and the entire women protagonists cast in the movie have done a fabulous job. The film addresses a lot of issues – everyone, apart from the woman who is wearing her own clothes, has an opinion about how she should be dressed. Women are either used as objects or children-bearing machines. And it is addressed pertinently. It is an audacious movie that talks about marginal fetishes that exists in women too and it doesn't come out tawdry.
Lipstick Under My Burkha is going to possibly disappoint a large audience that consumes Indian Cinema. It's not very often that we come out with such films. If any woman is sexually active then, there's nothing that she needs to be ashamed of. She equally has the right to express her desire and equally deny it at the same time.