Difficult Daughters
by Deepa Gahlot
June 8 2018, 4:06 pm
Estimated Reading Time: 2 mins, 30 secs
Neil Simon (along with Moliere) must be the most popular western playwright whose works are adapted (often plagiarized) on the Mumbai stage.
There is something about so many of his plays that gives them a universal, timeless appeal, and can be translated into any language and transported to any setting and with very little tweaking.
His three-hander, I Ought to be in Pictures is one of his most picked up plays, along with The Prisoner of Second Avenue, Barefoot in the Park, The Odd Couple - probably because they are a perfect blend of comedy and drama, and, more importantly, have a small cast.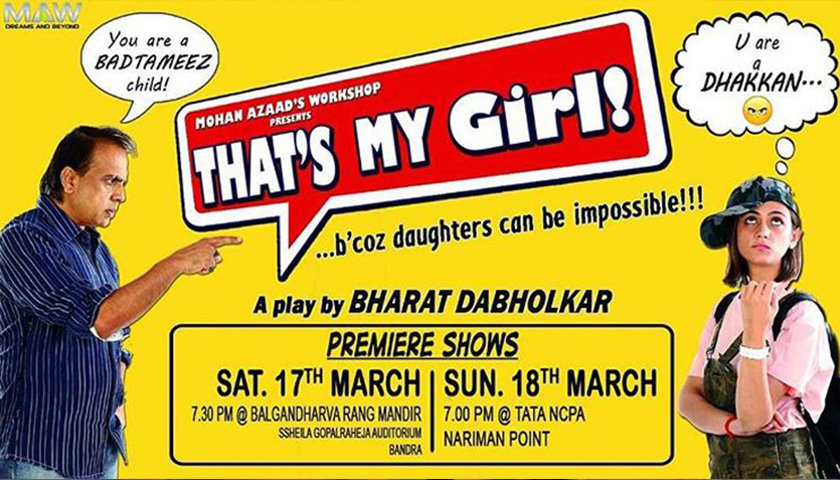 Source :SpotboyE.com
Bharat Dabholkar has directed a new version called That's My Girl, about a father and daughter, set against showbiz in Mumbai.
Anil Desai (Ananth Narayan Mahadevan) is a Bollywood scriptwriter with a severe case of writer's block. Into his shabby apartment, which is kept in livable condition by his girlfriend Anuradha (Ananya Dutta) arrives a teenaged hurricane, Aishwarya AKA Ashu (Shweta Rohira).
Years ago, Anil had abruptly walked out on his wife and two kids in Surat and left for Mumbai to try his luck in films. Now Ashu lands up without warning and wants his help to become an actress. According to her, he owes it to her for abandoning her and her brother. She is talkative, rebellious and nutty enough to chat with her dead grandmother.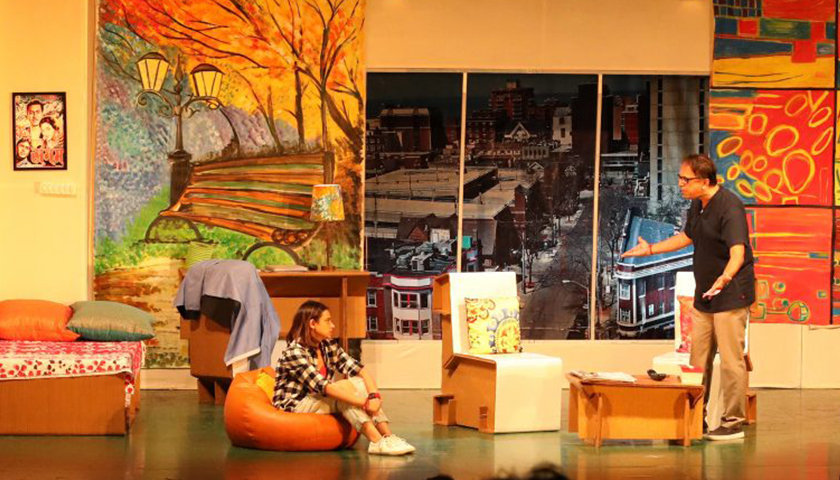 Source :Free Press Journal
As she says, "It was bad enough you were gone, but you could have left my mother there for me. She used to hug me so hard sometimes. Like she was trying to squeeze all the love out of me that she wasn't getting anywhere else. So instead of growing up to be me, I grew up to be a substitute— I know Grandma's dead. I know she probably can't hear me. But I speak to her everyday anyway because I'm not so sure anyone else is listening."
These lines succinctly explain what her feelings are towards her absentee father, and how their relationship will pan out when Anil has no idea how to be a dad. Anuradha, a film stylist, is around to soothe ruffled feathers, and negotiate her place in the changed equation. Though Ashu has no acting experience, she has confidence, and also a very strong wish to get to know her father, the acting bit is just an excuse.
The writing is warm and funny, so in spite of the tacky set and make-do costumes, the play is watchable for Shweta Rohira's confident performance in her very first play. In Mumbai, the showbiz capital, that makes no apologies about nepotism, where strugglers try to find any connection they can to get a toe in the door, the aspiring actress pulling a string she knows of, is very believable.